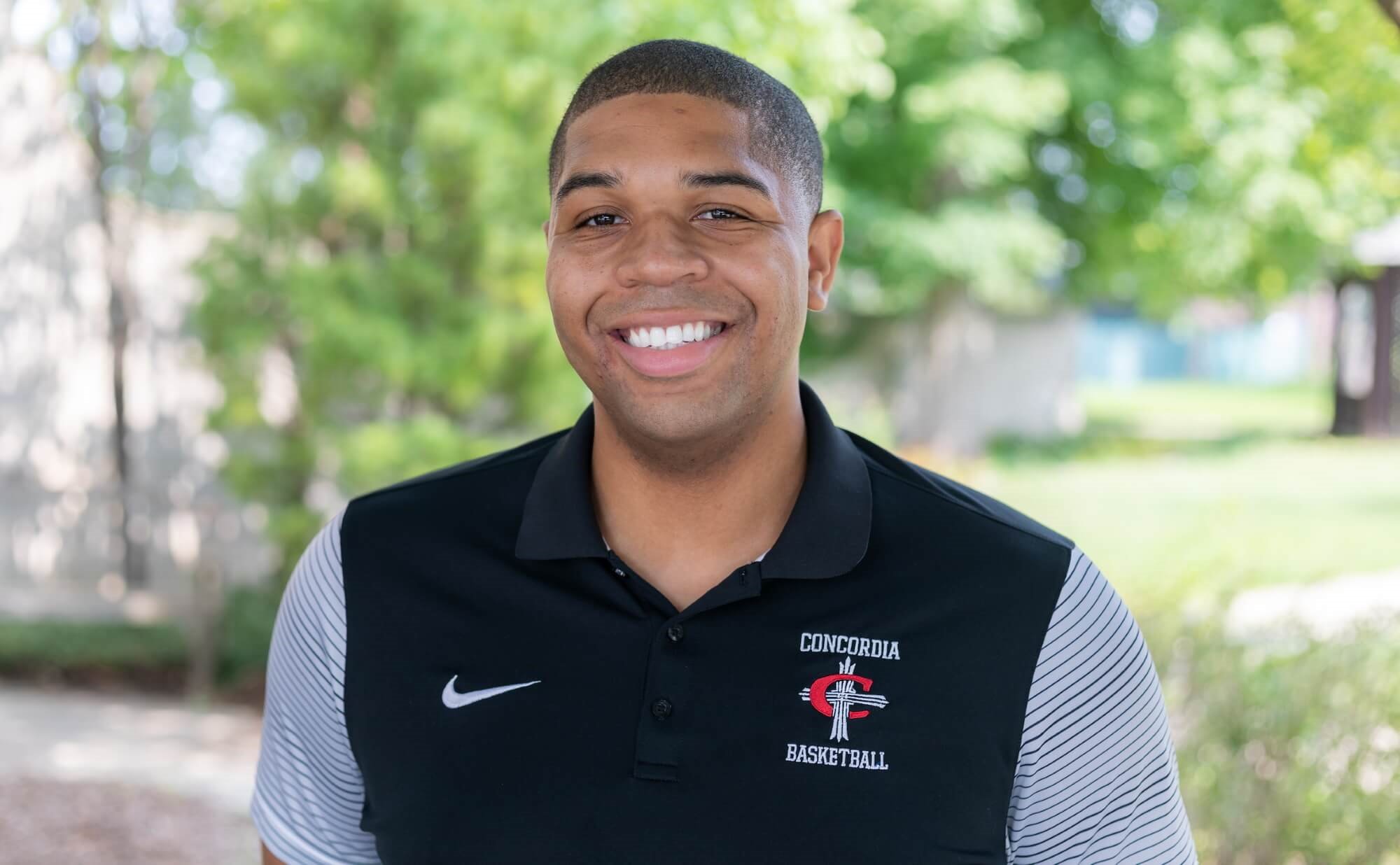 Eddie Goldston (M.S. '21) will serve a year-long internship in Concordia University Ann Arbor's office of Multicultural Engagement.
---
CUAA launched an Office of Multicultural Engagement (OME) in 2019, directed by Shanitra Cheff.
Graduate student Eddie Goldston (M.S. '21) has come alongside Cheff to support the efforts of OME. The organization's mission is to coordinate programs that educate, engage, and embrace students of different ethnic and diverse backgrounds so that all students have a richer campus experience and are better prepared for service and leadership after graduation.
Related: Meet this year's BSU club officers!
Goldston joined the CUAA campus community in 2019 as the graduate assistant for the men's basketball program. He is pursuing a Master of Science in Student Personnel and Administration in Higher Education, and will graduate in May 2021.
"As an African-American male who attended a small, private, Christian college for my undergraduate education, I am aware of the obstacles students of color may face," said Goldston. "I am passionate about helping students overcome these difficulties to ensure that students have the best college experience possible, and to provide students with the tools they need to succeed post-graduation."
As an OME intern, Goldston will assist in cultivating innovative student-focused activities and coordinating different events such as multicultural celebrations and helping to lead critical conversations inspired by prominent current or historic events.
Goldston says he's also eager to play a role in helping the OME to create a student Diversity Advocacy Team.  This team will provide students the opportunity to interact with other students and staff in discussing the current cultural climate and assisting with opportunities and events that center around race, diversity, and inclusion.
"I have been so blessed and fortunate to have had amazing people throughout my life that helped me navigate my undergraduate experience. I feel a responsibility to pay that forward and help college students navigate difficult circumstances and hopefully be a small part of those students reaching their maximum potential while in school and post-graduation," said Goldston.
— Rachel Thoms served on Concordia University's Strategic Communications team from 2015-2022. Any inquiries about this story can be sent to news@cuaa.edu.
If this story has inspired you, why not explore how you can help further Concordia's mission through giving.