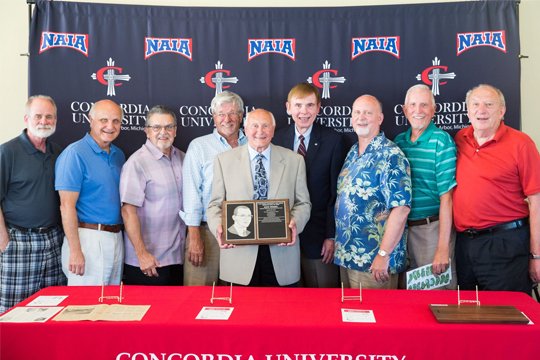 Dave Wenzel has notched a number of "firsts" in the Concordia University Ann Arbor annals during the five years he worked there (1963-1968): first athletic director, first head baseball coach, first head basketball coach, first intramural director, and first head golf coach.
---
Wenzel also initiated the development and construction of the field house and baseball field, started the CUAA summer camp program and the Lutheran Grade School Basketball Tournament, introduced tennis and track and field as varsity sports, and was the first to gain membership to the Michigan Community College Athletic Association on CUAA's behalf.
For his achievements, Wenzel was inducted into the CUAA Athletic Hall of Fame on June 3.
But just a single conversation with the athletics pioneer will reveal he wasn't in it for the accolades; he did it for the people.
"I had the privilege of working with the finest group of young men you ever saw in your life," Wenzel said. "They were just a joy."
With CUAA's student population at around 250 at the time, Wenzel and his teams did remarkably well for themselves going up against teams from schools with 60 times that many students.
"We won so many games that we had no business winning, and only because these guys were so disciplined," says Wenzel. "They were so coachable because they were so smart."
Wenzel recalls one such basketball game they played against Jackson Junior College in 1965. The school had two All-American players around 6 feet 6 inches tall. The tallest player CUAA had was maybe 6 feet tall.
Nevertheless, Wenzel put a plan in place, and the team fought hard. With six seconds left, CUAA was down by one point, and then Gary Campbell sunk a shot to win the game against all odds.
The team whooped and hollered all the way to the locker room — until they learned that someone had messed up the clock. There was still one second left in the game.
The teams returned to the court, filled with nervous adrenaline. Jackson sent a long pass down the court and fired a shot that failed to land. CUAA re-won the game.
"You wouldn't believe it," Wenzel said. "The spirit of those kids in the gym at that time — it was like us against the world."
Wenzel proudly tells how many of his former players are now pillars in the Church. Many have become prominent pastors, teachers, and founders or heads of Christian organizations.
One such former player, Rev. Ken Haugk, Ph.D., spoke at Wenzel's induction. Haugk ('65) is the founder and executive director of Stephen Ministries, an organization responsible for the training of more than 600,000 pastors, staff, and laypeople who have formally ministered to more than one million grieving or struggling congregants all over the world.
Haugk remembers Wenzel as someone who knew how to motivate people and as someone who showed respect by truly taking time to listen to his players.
Haugk's admiration for his former coach is so strong that Haugk names Wenzel to his personal list of top 10 most influential people in his life.
"You take Dave Wenzel off that list, and I am much less of a person, both personally and professionally," Haugk said. "He's a fine Christian. He lived his faith, and he was a model to us."
— This story is written by Kali Thiel, director of university communications for Concordia University Ann Arbor and Wisconsin. She may be reached at kali.thiel@cuw.edu or 262-243-2149.
If this story has inspired you, why not explore how you can help further Concordia's mission through giving.