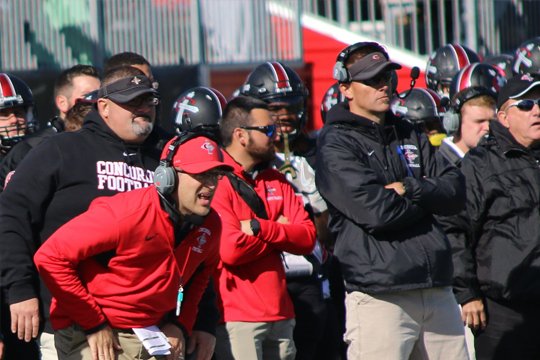 After a record breaking season for the Concordia Cardinals football team, Lonnie Pries has announced he will be stepping down as head coach.
---
Pries will remain in his role as Athletic Director and has named Defensive Coordinator, Joshua Schumacher as the third head coach in the program's history. Schumacher is an original member of Coach Pries' staff that came to CUAA in December of 2012.
"The opportunity to lead this football program has been a blessing to me and my family," said Pries. "Throughout my time at Concordia, the administration, staff, faculty, student athletes and their families have significantly impacted our lives. I am very thankful to have served as the head football coach at Concordia."
The announcement comes on the heels of a successful 2016 season that ended in a win over Lindenwood-Belleville, 49-6. Saturday's victory gave the team its seventh win of the season—the most wins in Concordia football program history and the program's first winning record.
Pries, previously head football coach at Concordia University Chicago (2006-2012), took over as Concordia University Ann Arbor's head football coach and athletic director in December of 2012. In four football seasons, his leadership elevated the winless program to a top 25 caliber NAIA program, demonstrating steady improvement each season along the way. The Cardinals received their first national ranking in program history when they were ranked #23 in the NAIA Coaches' poll on October 3rd, 2016 and received votes in two other national polls during the fall 2016 season.
"It is not easy to walk away from this great game, but I am very excited for an increased opportunity to serve and assist all of our programs in their continued growth." – Lonnie Pries, CUAA Athletic Director
Pries cited continued growth in the CUAA athletic department and confidence in the abilities of Coach Schumacher to lead this program as the primary purposes for making the change at this time.  In the past four years, CUAA athletics has grown significantly with the addition of programs and expansion of rosters, staffing, and facilities. CUAA competes in 22 varsity sports at the NAIA level, a department that serves over 400 student athletes.
"After prayerful consideration and talking to my family, I believe God is calling me to focus my efforts and service to enhancing the Concordia athletic department in a more impactful way," said Pries. "It is not easy to walk away from this great game, but I am very excited for an increased opportunity to serve and assist all of our programs in their continued growth."
"Coach Pries has been an outstanding football coach," said CUAA Campus Chief Executive, Curt Gielow. "He has provided a student-athlete experience that gives young men the foundation necessary for success in life with a focus on service to others – above self.  He has brought us the first winning football season for this new CUAA program and leaves a legacy of developing winners on and off the field."
Joshua Schumacher joined Pries' staff as the Defensive Coordinator at CUAA in December of 2012. Prior to CUAA, Schumacher was a teacher and coach at Faith Lutheran in Las Vegas, NV (2008-2012). As the defensive coordinator Schumacher helped lead the Crusaders to multiple playoff appearance while transitioning through three state classifications. While at Faith, he helped coached 28 football players to all-conference recognition and eight to all-state.
"This is a tremendous honor and opportunity to serve the student athletes as the Head Coach at Concordia University," said Schumacher. "I have played, coached, and now worked for Coach Pries, and he has laid a very solid foundation on which our program can continue to build upon. Coach Pries has been instrumental in building the team through our culture and accountability. I'm thankful for his leadership and very appreciative of the opportunity."
Schumacher has quickly turned the Cardinals defense into a nationally recognized unit. Known for his emphasis on toughness and fundamentals, Schumacher is respected among offensive coordinators for his diligent game preparation and schemes.  In 2016, the Cardinals ranked among the nation's top 20 in Opponent's third down conversion (11th, 30.9), Rushing defense per game (12th, 120.9), Total Defense per game (23rd, 330).
"After knowing Josh for over ten years and working closely with him the last four, I have been able to work hand in hand with him to build this program," said Pries. "His passion for the game, leadership within the staff, attention to detail, and knowledge of the game have been evident in his role as the Defensive Coordinator."
Under Pries and Schumacher, the Cardinals have defeated two ranked teams: #5 St. Xavier and #24 St. Ambrose as well as Siena Heights, a program that was receiving votes when the Cardinals defeated the Saints last year. Their leadership has raised the caliber and performance of student athletes as several Cardinals have received awards from the national and conference levels; 10 NAIA Academic All-Americans, 21 MSFA All-Academic team members, 15 MSFA All-Conference, 12 MSFA Player of the Week winners, 2 Sporting News All-Americans, and 1 NAIA Player of the Week, and 1 AFCA/NAIA All-American (post season awards for 2016 were not available at the time of publish)
"With Coach Schumacher at the helm, a returning staff of dedicated coaches, and returning student athlete leaders, the program is in a great position for next season and will continue to do great things."
— Rachel Thoms served on Concordia University's Strategic Communications team from 2015-2022. Any inquiries about this story can be sent to news@cuaa.edu.
If this story has inspired you, why not explore how you can help further Concordia's mission through giving.