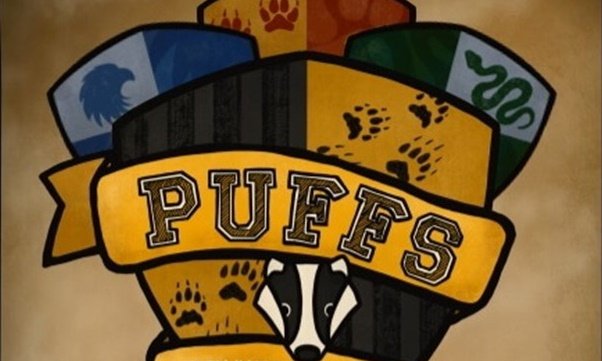 Concordia University Ann Arbor Theatre has announced the cast for the fall production PUFFS by Matt Cox!
---
Puffs by Matt Cox is presented by special arrangement with Samuel French, Inc., a Concord Theatricals Company.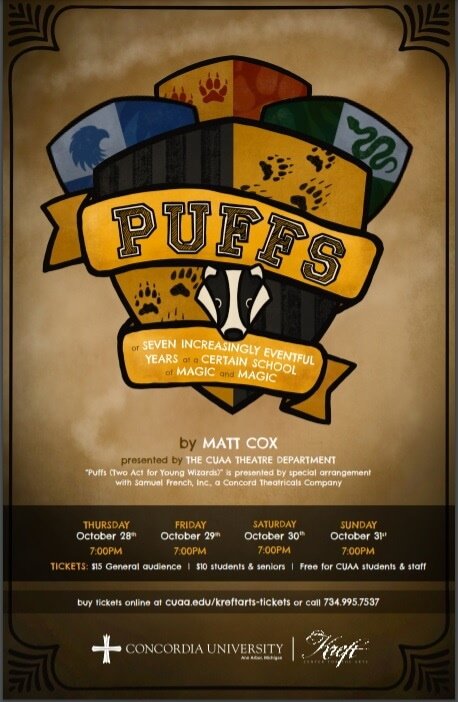 "I grew up a die-hard fan of the 'certain boy wizard' series, so of course, I loved the idea of presenting Puffs," said Amanda Williams, who has been leading Concordia's theatre department since fall 2019. "This show won my heart by their focus on friendship and that you do not have to be the leading role to make a difference."
Auditions for this positive, upbeat, and fun stage play took place the first week of classes. Students interested in living out their childhood dreams of trolls, wands, brooms, owls, and becoming a wizard were eager to join in on the fun of the Puffs production.
"Clearly there is a lot of excitement around this production. This is one of our largest student casts yet!" said Williams. "The students seem as delighted as I am with Puffs. I know I will be nerding out the entire production period."
Catch a performance of Puffs!
Puffs by Matt Cox will be performed in CUAA's Black Box Theater on 4090 Geddes Road, Ann Arbor, Michigan, 48105. Tickets are $15 for adults, $10 for seniors and students, and free for CUAA students, faculty and staff. Tickets will go on sale on October 1, 2021 at cuaa.edu/kreftarts-tickets or call (734) 995-7537. Download Puffs poster.
---
Meet the cast for Puffs!
Mackensi Wilson ('23)
Role: Narrator
Major: Secondary Education
---
Samuel Botzum ('24)
Role: Oliver Rivers
Major: History, Minor: Communications
---
Hannah Thurmond ('25)
Role: Megan Jones
Major: Art
---
Nicholas Maurer ('25)
Role: Ernie Mac, A Very Tall Man, Clumsy Longbottom, Mr. Nick
Major: Psychology
---
Chloe Haynes ('22)
Role: Wayne Hopkins
Major: Computer Science
---
Elizabeth Marie Maurer ('25)
Role: Leanne
Major: Computer Science
---
Bonnie Ford ('22)
Role: Sally Perks
Major: Family Life Ministry
---
Isabelle Arnold ('25)
Role: Susie Bones
Major: Digital Media Design 
---
Logan Davis ('22)
Role: Cedric, Zach Smith
Major: Pre-Seminary
---
Peter Bruenger ('24)
Role: Mr. Voldy, Ghost History Teach, Goyle, Dragon
Major: Art
---
Jordan Smith-Kempf ('22)
Role: Harry, Uncle Dave
Major: Psychology
---
Abigail Penhallegon ('22)
Role: First Headmaster, Professor McG, Xavia Jones, Professor Lanny, Runes Teach, Ms. Babble
Major: English, Minor: Theater
---
Sarah Jackemeyer ('22)
Role: A Certain Potions Teacher, Second Headmaster, Professor Sproutty
Major: Elementary Education
---
Kayla Dybas ('22)
Role: Seamus, Professor Locky, Ginny, Helga, Hermeoone #3, Frenchy
Major: Accounting
---
Liz Rossow
Role: Hannah, Real Mr. Moody, Hermeoone, Blondo Malfoy, Rowena, Rita Scooter, Bippy
Community member
---
Lindsey Travis ('24)
Role: Colin, Hermeoone #2, Ric Griff, Myrtle, Professor Turban
Major: Nursing 
---
Alex Elliott ('23)
Role: Ghost History Teach, Sal, A Fat Friar, Clumsy Longbottom, Hermeoone #3, Mr. Bagman
Major: Parish Music
---
Interested in learning more about CUAA Theater?
Visit the Concordia University Ann Arbor theatre website to learn about productions, academic minors available in theater, and theater scholarships.
— Rachel Thoms served on Concordia University's Strategic Communications team from 2015-2022. Any inquiries about this story can be sent to news@cuaa.edu.
If this story has inspired you, why not explore how you can help further Concordia's mission through giving.