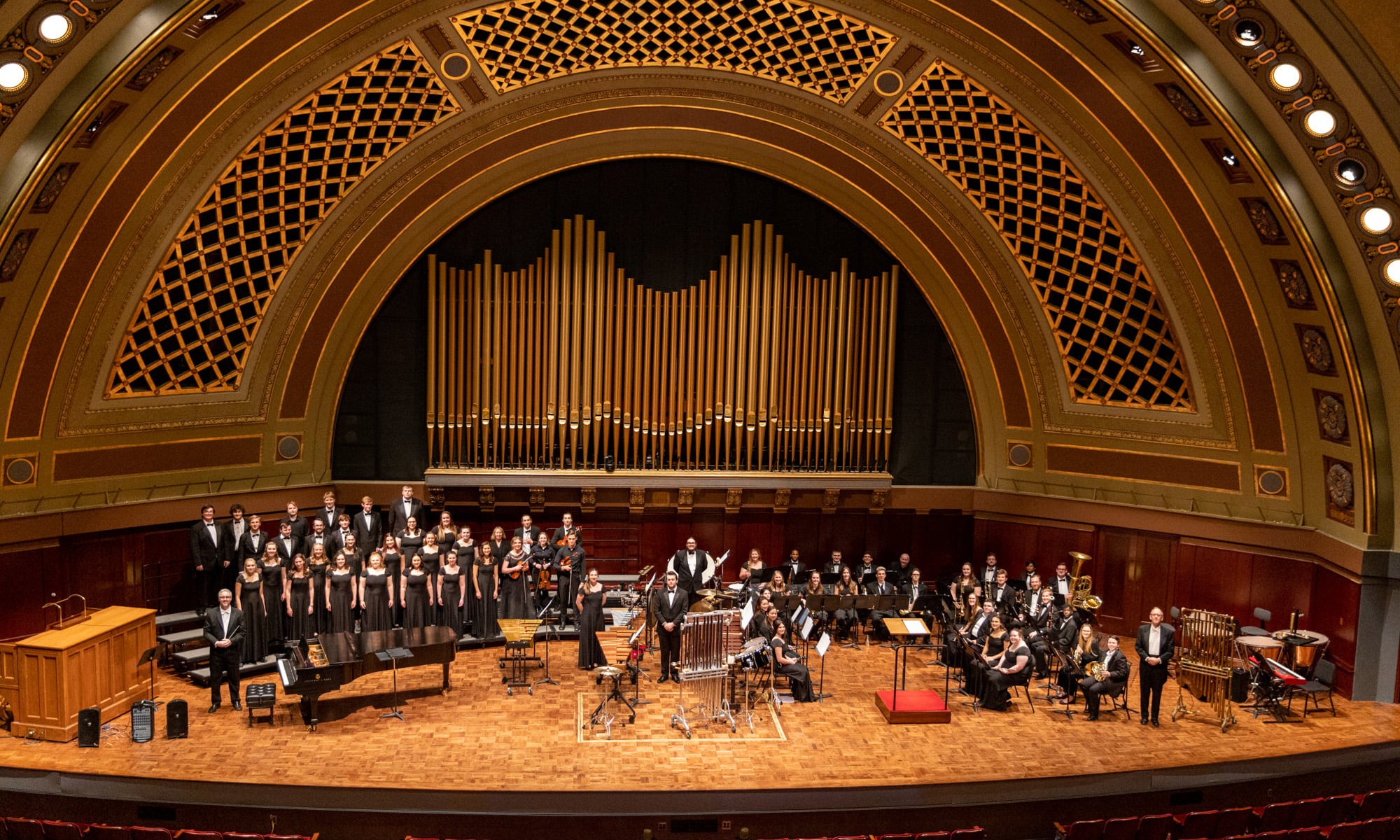 ---
After a successful concert in May 2022, Concordia Music will return to the stage at Hill Auditorium for a free concert on May 3, 2023, at 7 p.m.
---
Since it opened in 1913, the Hill Auditorium in beautiful downtown Ann Arbor has been considered one of the world's great concert halls. Known for its magnificent acoustics, this 3,500-seat venue has hosted renowned ensembles, orchestras, and speakers from around the world.
On Wednesday, May 3, at 7 p.m., "The Hill" will host the Concordia University Ann Arbor music ensembles for a free concert. CUAA's chamber choir, Arborsong, will be performing pre-show music beginning at 6:30 p.m.
"Having one of the world's premiere performance spaces right here in Ann Arbor, it is our absolute delight to offer our students opportunities to showcase their hard work and musical excellence on grand stages such as Hill Auditorium," said Dr. John Boonenberg, Kreft Endowed Chair in Music at CUAA.
"The Concordia Music Department is part of the fabric of the amazing music scene in Ann Arbor, and we look forward to continuing to celebrate our students' successes, blessing the community with our performances, and showcasing the many ways that we 'Live Uncommon' at Concordia. We invite everyone to come out and be a part of what promises to be an enjoyable and memorable evening."
Related: CUAA Music Spring 2023 Line-Up
Details
Date/Time: Wednesday, May 3, 7 p.m. (various student-led groups will perform in the lobby beginning at 6:30 p.m.)
Location: Hill Auditorium | 825 N. University Ave. | Ann Arbor, MI
Tickets: This event is free and open to the public
Program Notes
DIRECTORS
Dr. William Perrine, Instrumental Groups
Dr. John Boonenberg, Choral Groups
CONCORDIA WIND ENSEMBLE WILL PERFORM
The Michigan Premiere of Salt March by Aakash Mittal, based on the 1930 peaceful march by Mohandas Gandhi to protest British rule in India.
The Michigan Premiere of To Be Heard… by Asha Srinivasan, an experimental musical work exploring the tensions between conformity, individualism, and community.
George Gershwin's classic Rhapsody in Blue, featuring new CUAA Assistant Professor of Music, Angie Zhang.
CONCORDIA ORCHESTRA WILL PERFORM
Several movements from Edvard Grieg's Peer Gynt Suite no. 1.
Movement 3 of Carl Maria von Weber's Concerto for Bassoon, featuring CUAA junior Aaron Halboth, winner of the 2023 Kreft Concerto Competition.
Vincenzio Bellini's Recitative and Romanza "Oh! Quante volte" from I Capuleti e i Montecchi, featuring CUAA senior Katrina Miller, winner of the 2023 Kreft Aria Competition.
Contemporary Norwegian composer Ilari Hylkilä's Saga for orchestra.
CONCORDIA CHOIR WILL PERFORM
Movements from Harlem Songs—colorful and lively musical settings of Langston Hughes poetry by Gwenyth Walker.
Alice Parker's quintessential and beloved setting of "Hark, I Hear the Harps Eternal"
Movements from Morten Lauridsen's Lux Aeterna, a lush and gorgeous large-scale work that explores the inherent beauty that is tied up in the traditional Requiem texts.
"God Gives the Song," a beautiful anthem by Craig Courtney which the CUAA Music Department dedicates to the memory of our student and friend, Caitlyn Mitchell.
Moments from last year's concert at Hill Auditorium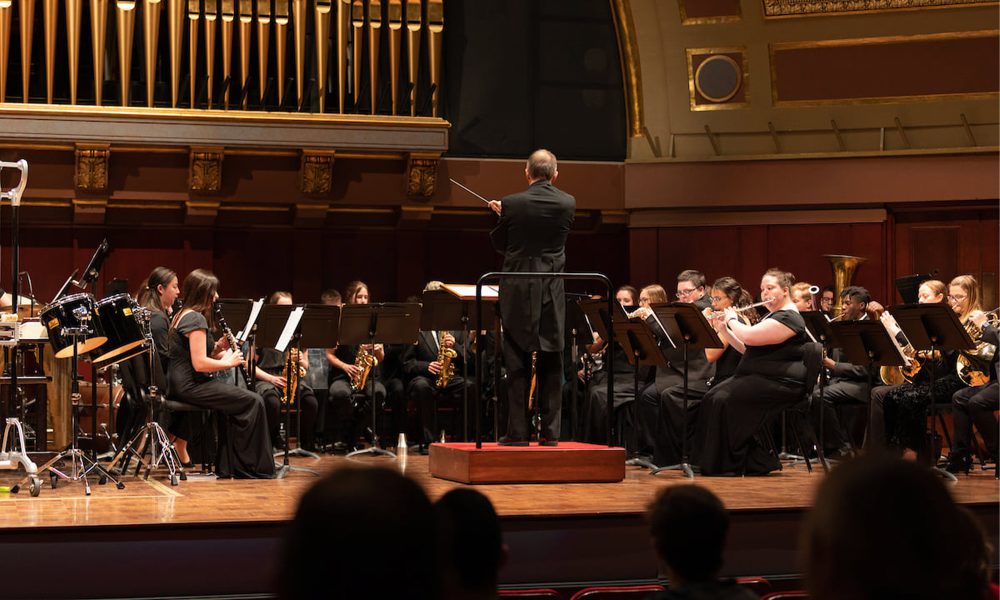 ---
Want in?
The Music Department is a comprehensive Liberal Arts music experience that offers you the opportunity to study, perform, and travel (domestically and internationally) with departmental ensembles. Click on the link below to learn more.
---