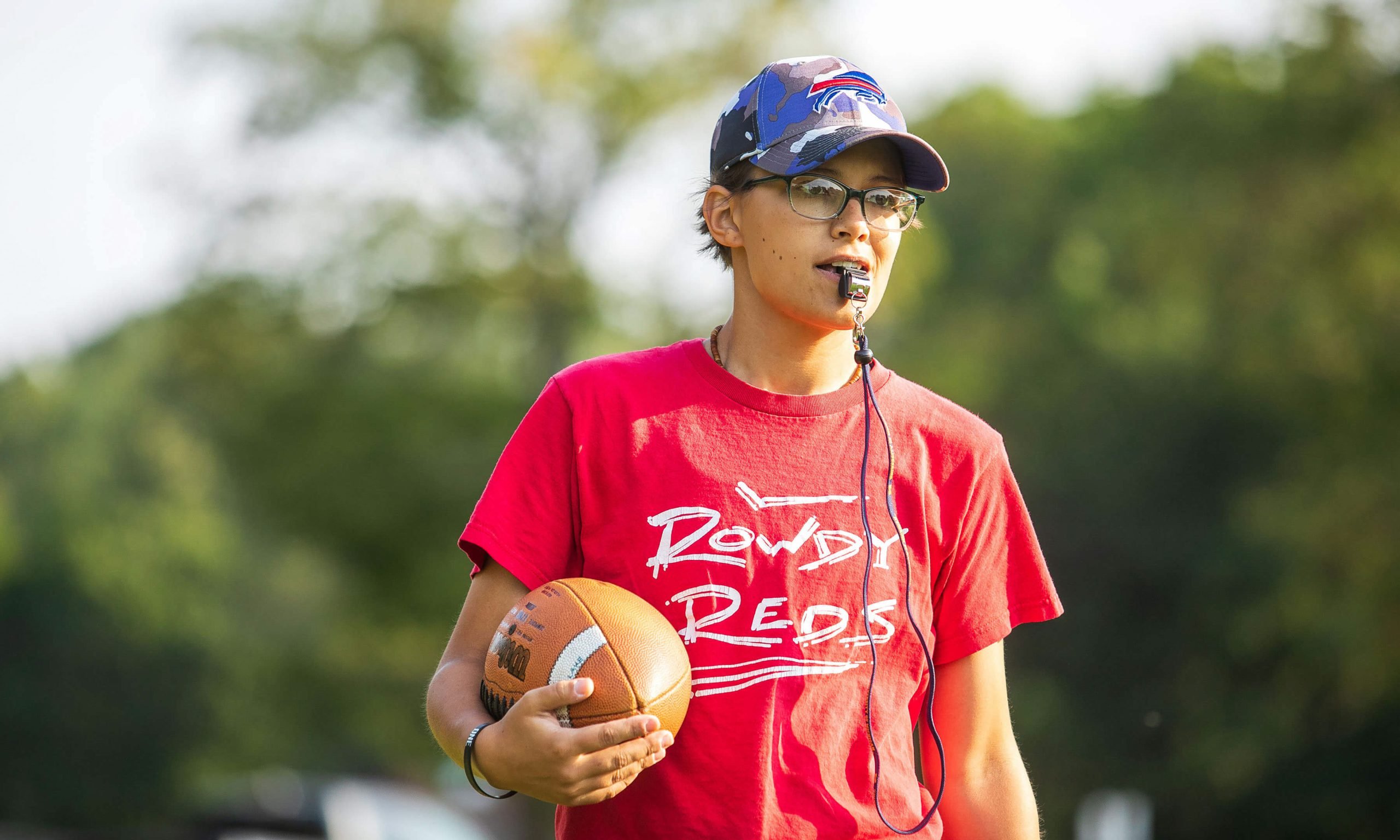 ---
Samantha "Sam" Mullet, who graduated from CUAA in December 2016 with her English degree, is the first female in Michigan to serve as a head football coach.
Editor's note: A version of this story will appear in the fall 2023 edition of Hearts Together, a magazine publication of Concordia University Wisconsin and Ann Arbor. 
---
For Sam Mullet, football and family are inextricably linked, and she has plenty of fond family fandom moments throughout her life to draw upon.
She was just 4 months old when she attended her first football game: the Atlanta Falcons versus the San Francisco 49ers in Atlanta. Of course, she doesn't remember any of the game. However, it set the tone for countless family experiences to come, mainly in the college football arena. Her parents purchased Michigan State University season tickets in 1998 when she was 3 years old. The family still holds the same seats to this day. Even during their busiest seasons of life, the Mullets made a point of attending nearly every game the MSU season, despite a 3-hour drive from their hometown of Bear Lake, Michigan, to Spartan Stadium.
Sam kept up the commutes to MSU throughout her time at Concordia University Ann Arbor. Game days post-high school became even more important, in some ways. They served as a connection to her to family during a time when she needed them the most.
A tragic start to her time at Concordia
In 2011, just prior to her junior year of high school, Sam's father received an unexpected cancer diagnosis. A mere eight months later, in April 2012, he was called to his heavenly home. Sam began her tenure at CUAA in January 2015 after spending a year at home attending community college.
Sam credits family and faith nurtured at CUAA for helping her get through the still-lingering grief.
"Concordia was a good place for me to go from a faith-based perspective," she said. "It was so important to me to stay rooted in the faith that was helping my family through losing my dad."
Concordia also helped her feel connected to her father–and mother, too. Both her parents earned degrees from CUAA. Sam even discovered her senior year that she was assigned the same on-campus room that her mother once occupied: John Mark Hall, overlooking the Huron river.
A career comes calling
Sam didn't have any solid plans for her future when she decided on Concordia. Writing and reading always came naturally to her, so she decided on a bachelor's degree in English. She thought she might find work after graduation as a freelance writer of some sort.
She certainly didn't expect to be where she is today: serving as head football coach for her high school alma mater. She's the first female in Michigan to ever be appointed to a head football coaching position. Sam started her inaugural season at the helm of the Bear Lake program this past summer.
While she wishes her dad could see her in action, she also recognizes that losing him helped create a fortitude in her that has prepared her for the role.
"I had to grow up fast when I lost my dad," Sam said. "Suddenly the world was different to me. I wasn't a kid anymore. I think that has a lot to do with my ability to command respect."
Hard work pays off
A level of grit and tenacity is needed for any head coaching position, but it's especially important for Sam. At 28 years old, she's not only an anomaly because of her gender. She's also among the youngest head coaches around.
She doesn't let age or gender slow her down though. Before being announced as Bear Lake's head coach, Sam earned herself a foothold into the NFL. While at a 2019 NFL Annual Women's Forum event, she met Baltimore Ravens Head Coach John Harbaugh. Harbaugh invited her to spend the summer interning for his program. Soon after, she was essentially recruited by former legendary Lowell head football coach Noel Dean. Dean created a position for her within his program, naming her director of football operations as he began his revitalization effort of Tift County High School's varsity program in Georgia.
Sam had the momentum to rise to bigger and better programs. However, she ultimately opted for small and close to home. Following 11 months with Coach Dean and a summer interning with the Buffalo Bills, she returned to the coach and program who helped her get her start.
In early 2017, not long after she graduated from Concordia, Sam was on the hunt for employment and something to fill her time. She approached Coach John Prokes, her former high school science teacher. She offered to volunteer for the football program, and he was all-too-happy to receive a helping hand. Prokes had just launched the inaugural football program for Bear Lake High School that past fall.
Sam thought she was volunteering to shoot game footage or take stats. However, Prokes saw more potential in her than that. She quickly rose to assistant coach. While she went off to hone her skills in Baltimore, Buffalo, and Georgia for a bit, Prokes waited patiently for her to return home. He made sure to delay his retirement until he was certain the program could be passed off to good hands.
There was no question in his mind that Sam was the best woman for the job.
A champion of character
In retrospect, a bachelor's in English may seem like a superfluous degree. But Sam says she has put her Concordia writing and communication skills to work plenty: as she's drafting emails to parents or when she's sharing game plans with her players. Her communication skills were especially tapped over this past summer as upwards of a dozen reporters came knocking to interview Michigan's history-making football coach.
Plus, college wasn't just about earning a degree for Sam. It was also about growing as an individual and staying grounded in faith and in life. These are values she now tries to pass on to her players.
"To me, servant leadership is the biggest part of coaching," Sam said. "If I'm not going to do it, then I'm not going to ask them to do it. It's just as important to me that my guys grow as individuals. I look for opportunities for them to build camaraderie off the field, so that when adversity comes, it doesn't break them apart."
---
Want in?
The School of Arts and Sciences at CUAA prepares men and women rooted in the Liberal Arts to be thoughtful and articulate people of faith who contribute in meaningful ways to their families, communities and cultures.
It encompasses a broad range of disciplines, across 12 departments, which house more than 40 degree programs. The School also guides the experience of all Concordia undergraduate students through the Concordia Core. Different from the typical "general education" track that offers limited choice or creativity, the Concordia Core is a true liberal arts education that intentionally shapes your knowledge, skills, and habits, and prepares you to achieve lifelong professional and personal success. As you move through the Core, you will explore life's most enduring questions, great conversations, and the universal issues confronting humanity.
---
The fall 2023 Hearts Together magazine will hit mailboxes in November. View a PDF version of the magazine here. If you are not on our mailing list, but are interested in receiving a free copy, email Jennifer.Hackmann@cuaa.edu.
---