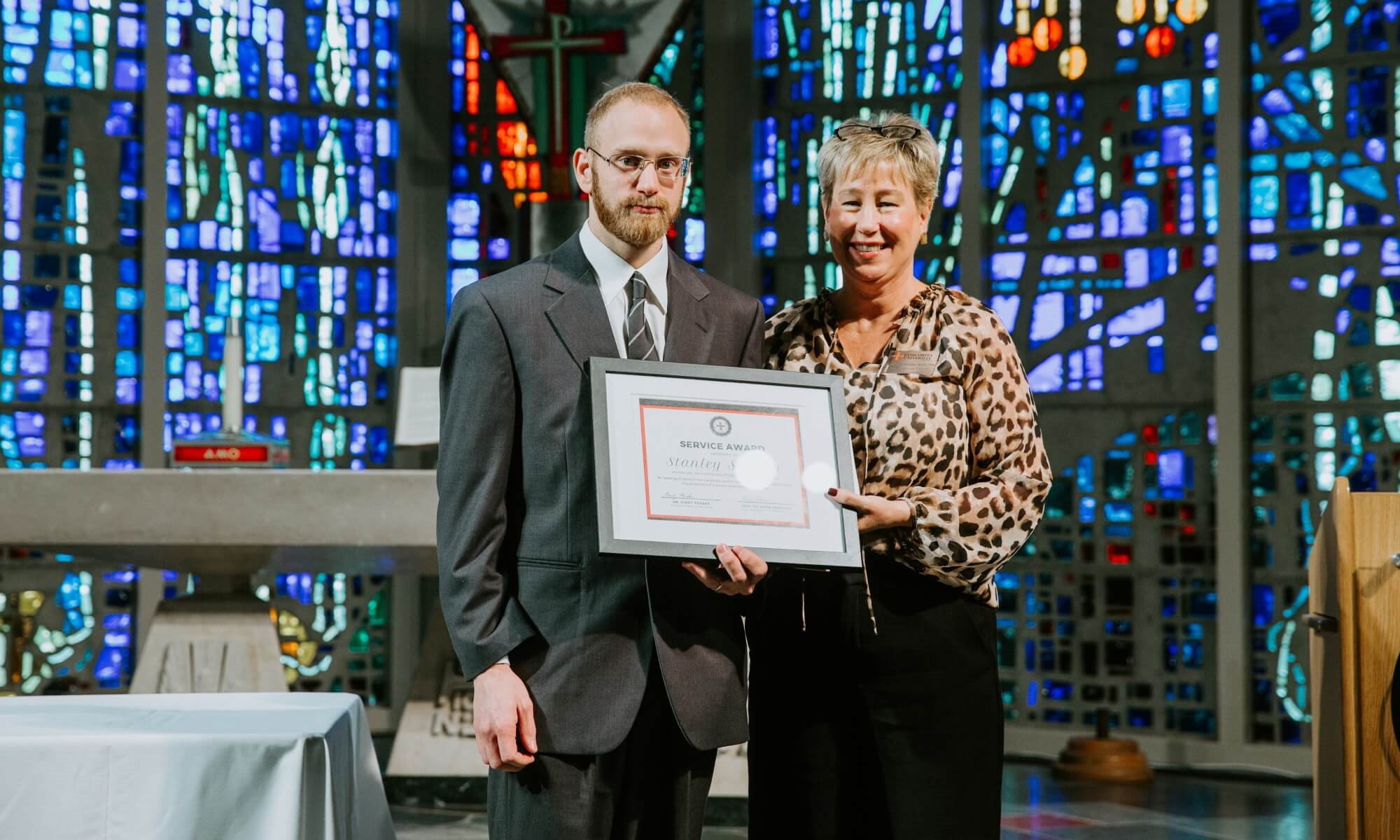 On Saturday, December 14, Concordia University Ann Arbor School of Nursing celebrated the Pinning Ceremony for the Delta Class, the third co-hort to graduate from CUAA's school of nursing.
---
Each semester, Concordia's nursing faculty and staff nominate students from the graduating cohort who best represent the core values of the nursing program: service, excellence, compassion, and integrity. An additional award, the Nightingale Award, was created as a tribute to Florence Nightingale who embodied nursing as her life's vocation. The recipient of this award exemplifies that same character and calling.
Click here to see all of the Fall 2019 School of Nursing award recipients.
Service Award: Stanley Stinson ('19)
Presented by Betsy Cambridge
The award I am giving today is for a student who exemplifies service.
Service is one of our program's cornerstone virtues.  It is defined simply as that act of doing something for someone else without the expectation of being rewarded.
Let us consider this Bible verse from 1 Peter as we think about what it means to serve others.
Each of you should use whatever gift you have received to serve others, as faithful stewards of God's grace in various forms. 1 Peter 4:10
The very nature and art of the nursing profession implies caring for and meeting the needs of others. As we have told these students many times, nurses meet people in the midst of some of the toughest challenges of their lives. An average nurse will provide care for the patient based solely on the provider orders given. A service-oriented nurse will seek ways to serve the patient and individualize care based on knowing the patient's story; taking into account the challenges and desires of that patient. Concordia nurses are service-oriented nurses.
Because service is so important to us at Concordia, we have a program designed to reward students for their service both on campus and outside of campus. The program is called the Nurse Excellence Program (NEP). Each semester students are rewarded for their hours of service. We have three levels of awards.
Students who earn 20 or more hours of service time earn the highest level or platinum level award. I am always amazed at the generosity of our students who are going to nursing school and many who are already busy with have jobs and families, yet still find time to serve others.
The student we are recognizing today has achieved the platinum level NEP award all 6 semesters of the Concordia Nursing School program. He has volunteered a total of 727.4 hours doing medical mission work for the homeless population in Detroit. Through his volunteer work, he has offered many of our other students the opportunity to share in this mission. I honestly believe that service is in the very fiber of his being. I am proud to recognize a gentleman who has a heart for service to others, Stanley Stinson, for the Service Award today.
Previous Service Awardees:
Tim Felska (Beta class, Spring 2019)
Shalena Blocker (Alpha class, Fall 2018)
Click here to learn more about Concordia's School of Nursing.
—
If this story has inspired you, why not explore how you can help further Concordia's mission through giving.