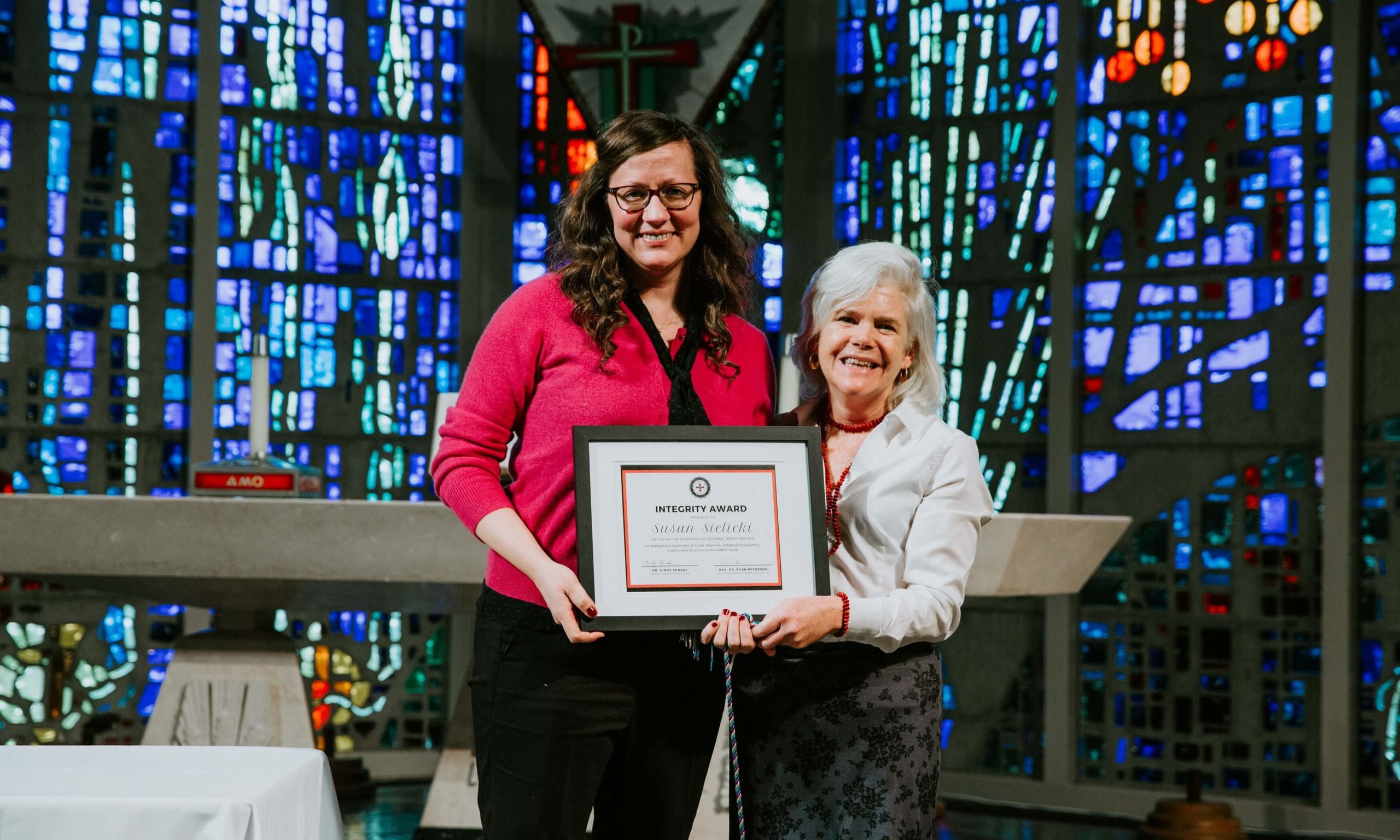 On Saturday, December 14, Concordia University Ann Arbor School of Nursing celebrated the Pinning Ceremony for the Delta Class, the third co-hort to graduate from CUAA's school of nursing.
---
Each semester, Concordia's nursing faculty and staff nominate students from the graduating cohort who best represent the core values of the nursing program: service, excellence, compassion, and integrity. An additional award, the Nightingale Award, was created as a tribute to Florence Nightingale who embodied nursing as her life's vocation. The recipient of this award exemplifies that same character and calling.
Click here to see all of the Fall 2019 School of Nursing award recipients.
Integrity Award: Susan Sielicki ('19)
Presented by Peggy McLaughlin
The award I am giving today is for a student who exemplifies integrity. Integrity is defined as soundness of moral character, and adherence to ethical principles.  In the Bible, the Book of Proverbs mentions integrity: "Whoever walks in integrity walks securely, but whoever takes crooked paths will be found out." (Proverbs, 10:9, GNB) and, "If you are good, you are guided by honesty." (Proverbs, 11:3, GNB).
From the Biblical standpoint, integrity is associated with unfailing transparency.  For Concordia Nursing, integrity means doing the right thing even when it goes unnoticed, and is an attribute of the very best nurses.
And so we expect Concordia nurses to display aspects of integrity: to be heartfelt and honorable.  Our integrity award goes to a student who is a leader without being a grandstander.  And so this graduate goes about every day ready to hit the ground running.  She has a genial mien, and you know you can trust her.  She can be counted on to follow through, and always with a smile.  It's been said about this student that, "She is unflappable."  To me, that's a pretty good thing to be able to say about an RN-2B.
To me, the most striking mark of this graduate's integrity is her alacrity—her "cheerful willingness".  She remembers the specifics about things that are important to whoever she's with, like asking about an upcoming visit from my sisters, and giving her characteristic encouraging nod as I describe my dog's latest antics.  No matter how trivial the conversation topic, you never get the feeling that she has somewhere else to go.
Our integrity award winner is someone who strives to be herself at her very best, all the time. She is a Concordia Nurse:  Susan Sielicki.
Previous Integrity Awardees:
Paula Bobosky (Beta class, Spring 2019)
Turome "Tea" Chandler (Alpha class, Fall 2018)
Click here to learn more about Concordia's School of Nursing.
—
If this story has inspired you, why not explore how you can help further Concordia's mission through giving.