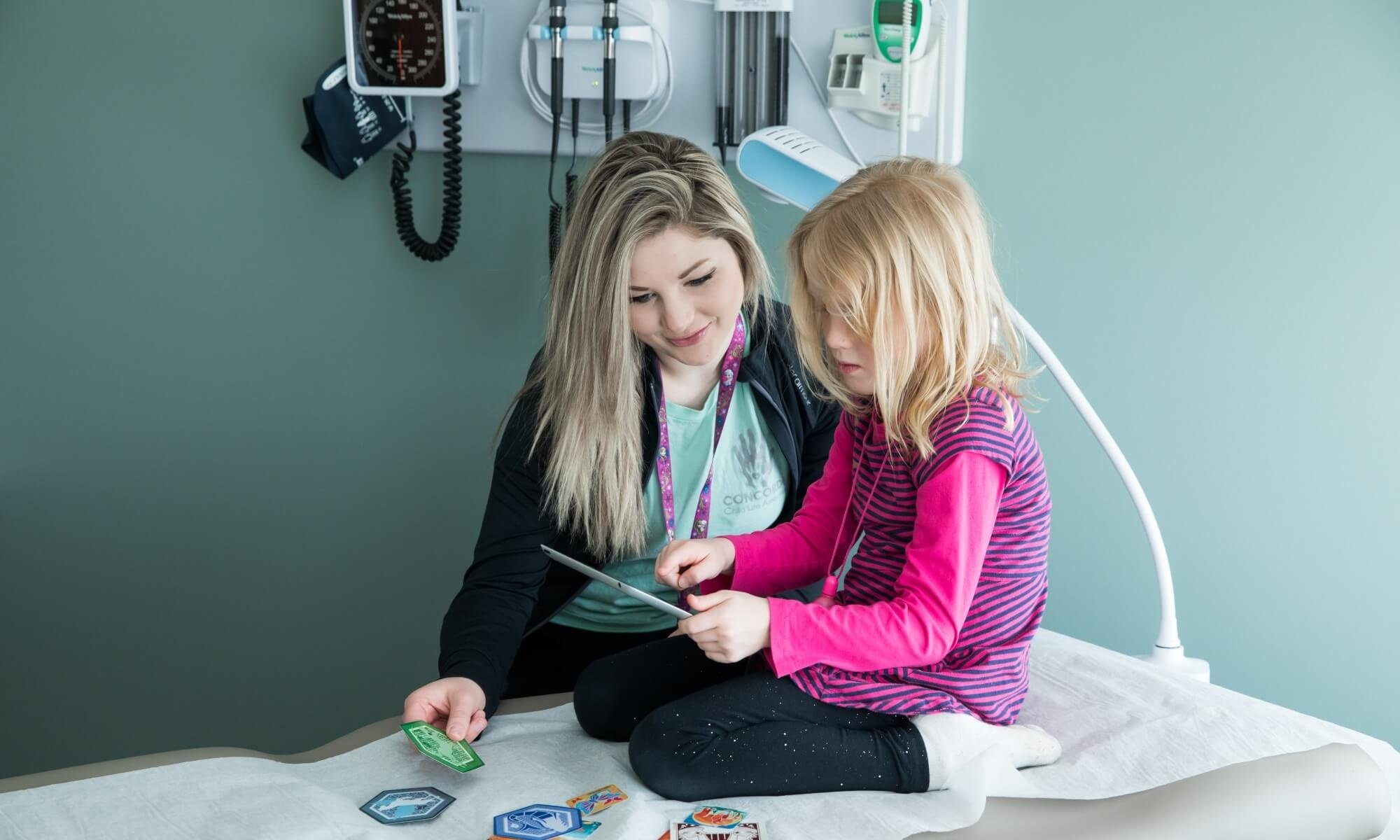 What is a Child Life Specialist? What do they do? What does a typical day look like and how does a person make a living specializing in children's lives?
---
Jennifer Fieten, MA, CCLS, Coordinator of the Child Life Program at Concordia University Ann Arbor, is here to help explain the career. She is passionate about the profession and positively impacts children's lives across the world.
1. Jennifer, tell us about this Master's program launch!
Since joining the CUAA faculty in 2017, we have been working diligently to launch this program. I am so excited that now we are able to officially offer this opportunity for an advanced degree in such a high-demand, rewarding profession.
The program can be taken post-bachelor's, or, the courses will be bundled in a 4 + 1.5 year program for those seeking a bachelor's and master's all in one. CUAA will start accepting applications in March 2019 to start the first group of face to face students in July of 2019. The first online course offerings in January of 2020.
2. How would you describe the role of a child life specialist to someone who's never heard of this career before?
That's a great question, because many people have never heard of a child life specialist. Child Life Specialists work mostly in healthcare settings with children and families. They are hired by hospitals and clinics to work with children who may be going through a challenging health obstacle or loss. Families and health professionals rely on Child Life Specialists to use their unique training and skills to work with children coping with challenges.
3. When did the child life specialist profession begin?
The profession has developed since the 1920's through family visits and early child life specialists communicating needs of children to hospital practices. A fun fact is that one of the very first Child Life Programs started right down the street from us in 1922 at C.S. Mott Children's Hospital! In 1965, a group of healthcare professionals met to create child and family-friendly hospital environments. Throughout the 70's, child life professionals worked on defining the basis of their work with children and what education courses students should take to become a Child Life Specialist. Colleges began to develop academic programs incorporating internships in healthcare settings to prepare students for work in the field. Fast forward to where we are today, and hospitals and clinics post positions for Certified Child Life Specialists and hire them for critical work.
4. How is a child life specialist trained?
A child life specialist is a professional trained in how to assess coping in a child or teen that has been affected by being sick, hurt, and/or in the healthcare (hospital, urgent care, doctor office, clinic) setting. These professionals have learned the common reactions of children to healthcare settings and ways to help support children and teens during the challenging healthcare experiences that they often face. Child life specialists assess how children are coping with their experiences with medical tests and procedures and develop ways to support them. They explain new diagnoses and medical procedures using words that are easier to understand. Child life specialists support children and teens and can also help support children affected by death, dying, and grief. This includes support for children whose parents or siblings may be the hospitalized patient.
5. Where are positions posted for a Child Life Specialist? What is the salary like?
There are child life specialists working in hospitals, clinics, doctor offices, dentist offices, hospices, funeral homes, school districts, family camps, and in other alternative settings. Of course, salaries vary by experience, but according to an April 2018 article about the career outlook of child life specialists, the median annual wage in 2017 was $60,380 with a projected employment growth of 7 percent by 2026. *Data supported by the Bureau of Labor Statistics, Office of Occupational Statistics and Employment Projections.
6. What are child life specialist qualifications?
Child life specialists have a minimum of a bachelor's degree in child development, child psychology, recreation therapy, education, or a related field with academic coursework consistent with the academic requirements of the Association of Child Life Professionals (ACLP). Students are required to complete a minimum of a 600-hour internship under the supervision of a Certified Child Life Specialist that meets the requirements of the Association of Child Life Professionals, and Child Life Certifying Commission, in order to be able to apply to take the child life certification exam.
Have you heard? CUAA just launched a Master of Arts in Child Life! The master's courses have been under development for the past year and we are so excited to offer this opportunity for an advanced degree in such a high-demand, rewarding profession.
7. Do CUAA undergraduates take the program, and are they successful?
Yes, and CUAA students are high in demand. We currently have an undergrad degree program, which prepares students for the child life certification. As part of their program, students do an internship. Some students complete their internships locally, while others take a chance to experience a different city or environment. In 2018, we had a student complete her internship at Mayo Clinic in Rochester, Minnesota.
8. What's the everyday experience like for a CUAA undergrad student majoring in child life?
There are so many opportunities. In 2018, a group of students went to Cincinnati Children's Hospital for the 13th Annual Great Lakes Association of Child Life Professionals Conference. Student Kayla Boye wrote that it was a great experience. For the second year in a row, CUAA is hosting the GLACLP Student Symposium here at the CUAA campus in March. This year, CUAA is formatting the conference in a skills lab format. The aim is to focus on competency and have hands-on experiences with manikins. We're pushing the envelope on cutting-edge trauma-informed care. Other fun classroom experiences include learning how to promote social and emotional skills in children using improv activities, and other interactive hands-on experiences.
9. Where can I go for more information?
To view information about the undergraduate program, visit here. For information about the master's program, visit here.
—
If this story has inspired you, why not explore how you can help further Concordia's mission through giving.