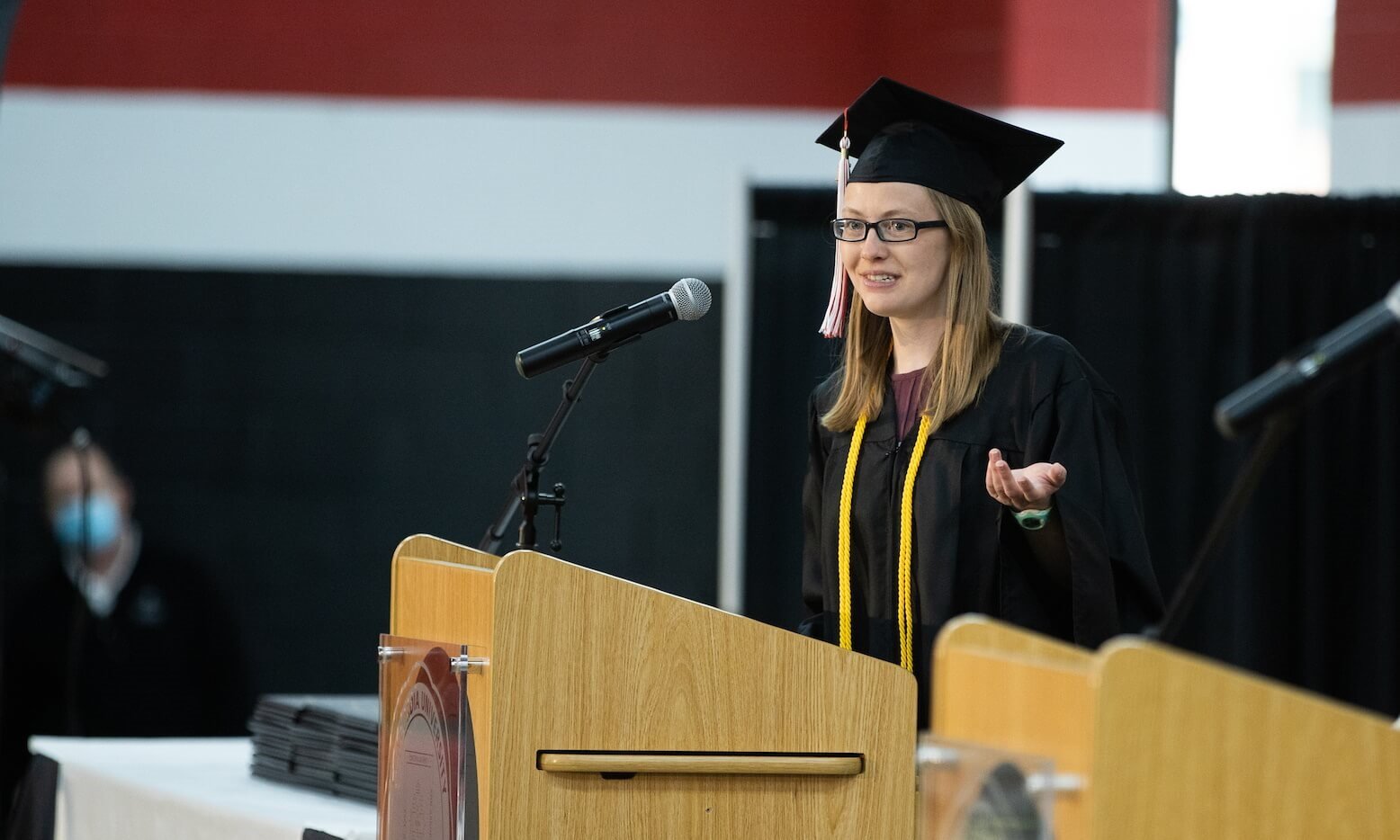 A graduating Cardinal shares her outlook on placing your Identity, Security, and Meaning in God's hands alone.
---
As a Lutheran higher education community committed to helping students "develop in mind, body, and spirit for service to Christ in the Church and the world," we couldn't be more pleased with the student address delivered by 2021 graduate Charity Felton at our recent spring commencement ceremonies.
Charity's speech truly hit the mark on what it means to have a strong spiritual foundation. She reminds her fellow graduates that aligning oneself and your values with those of Christ, rather than those of the world, is a better way to face the challenges to come.
In this Mental Health Awareness Month of May, we're also reminded how important a strong spiritual foundation is to maintaining a healthy mental outlook. With that in mind, we're honored to share the main takeaways from Charity's address with you here.
May her words inspire you to turn to Christ to firm up your own spiritual foundation, guiding you through whatever challenges you may be facing in your next phase of life.
"ISM": Identity, Security, Meaning
As we have studied, we have learned much – perhaps including some "-isms." For example, maybe you learned about metabolism, skepticism, or consumerism. The -isms that we have learned will benefit us as we leave here and begin our careers in the places that God calls us to. There is another "ism" that I want to introduce to you today. And it's one that has defined my life a lot in the past few years. It's actually an acronym, "ISM," which stands for Identity, Security, and Meaning.

In one of Professor Hopkins' religion classes, we read a book called The Christian Faith, by Robert Kolb. The idea of trusting in God was defined as your Identity, Security, and Meaning resting only in God. Often the temptation comes to let these three elements rest in worldly things. But the results of that are anxiety, worry, and insecurity. So, what does it mean to put our Identity, Security, and Meaning in God—especially as we step into the world now as graduates?

These days, our identity can be determined by a wide realm of ideas in the public eye. These ideas about our identity assault us from every side. In a moment, I'll get to the point of where our true identity comes from. You can probably guess what I'll say! But first, I want to acknowledge the challenge, even the constant struggle, that our identity drags us through.
What is my identity?
Some questions that might be going through our minds now, post-graduation, include: How am I going to make friends? What will my patients, clients, or students think of me? Am I graduating with the right degree? Well, let's hope so! Allow me this moment to encourage you. None of these questions or their answers define you. Sure, they matter. We all want friends and a career that we enjoy. But when that acceptance becomes our identity, we've lost sight of who we are. Our identity, or who we are, lies in whose we are: God's chosen children.

Isaiah 43:1 affirms our identity: "But now thus says the Lord, He who created you, O Jacob, He who formed you, O Israel: 'Fear not, for I have redeemed you; I have called you by name, you are mine.'" [ESV]

This verse, written by Isaiah, tells us that we are God's children. And, with the names our mothers and fathers gave us at birth, is our most important name: "Child of God."

So, there's our identity, but what's our Security?
Security… where do I find it?
We've lived the last year-and-a-half of our college careers during a pandemic. We have not known if we would be returning to campus, playing sports, or performing for Boar's Head, concerts, or musicals. Nationally, how are we to find security living through political controversy, mask mandates, state shutdowns, social unrest, and all the other things that affect us from day to day? Especially as college students already unsure of what the future will hold.

Well, continuing in Isaiah Chapter 43, verse 2 says: "When you pass through the waters, I will be with you; and through the rivers, they shall not overwhelm you. When you walk through fire, you shall not be burned, and the flame shall not consume you."

We will pass through waters and rivers and flames and fires. But what are they? I mean, as far as I know, none of us have walked through a parted Huron River, like Moses through the Red Sea, and we made it to our college graduation, but I don't think that any of us got thrown into one of our campus bonfire pits along the way, similar to Shadrach, Meshach, and Abednego in the furnace. I'm sure you realize that our seas and furnaces are figurative. They are the challenges that we face and the obstacles that the devil throws in the way of our faith and life with God.

At the end of this summer, I'll be leaving behind most everything and everyone I know, and be moving to Oklahoma to teach. The last thing that the world says that I should be feeling is security. But whether God takes us to Oklahoma, Idaho, Maine, or Michigan, we can face these challenges. Because the security that we long for doesn't come with a location, job, or amount of money, but in the fact that God is with us. "When you pass through the water, I will be with you." No matter what comes, Class of 2021, we can face it – because we are in God's hands. And that is where our security comes from.
What's my purpose? What's my meaning?
And our meaning? Well, what's the meaning of life? I haven't actually heard anyone ask this somewhat annoying question in a while, so maybe somebody else has already answered it. But God answers it for us, too. Our worldly success, it's not our meaning. Our ultimate purpose, or meaning, is God's purpose for all his people: to believe in Him and share that belief and love with others.

Isaiah 43 Verse 1 tells us that God calls us by name. When someone calls you, it's your duty to answer that call. God is calling us to leave our place as students at CUAA to a multitude of unique and awesome opportunities! This calling won't always be easy. There will be flames and rivers, remember? But we need not fear, because no matter where we go, God has given us what we need to accomplish his purpose. This ISM acronym reminds us that we live in God's hands, as his children who love and serve. Living in God's hands is our security. Living as God's children is our identity. And living to serve God and others is our meaning.
Watch the speech
You can view Charity's speech in its entirety here.
---
See more photos from CUAA's spring 2021 commencement exercises on our Facebook page!
—
If this story has inspired you, why not explore how you can help further Concordia's mission through giving.