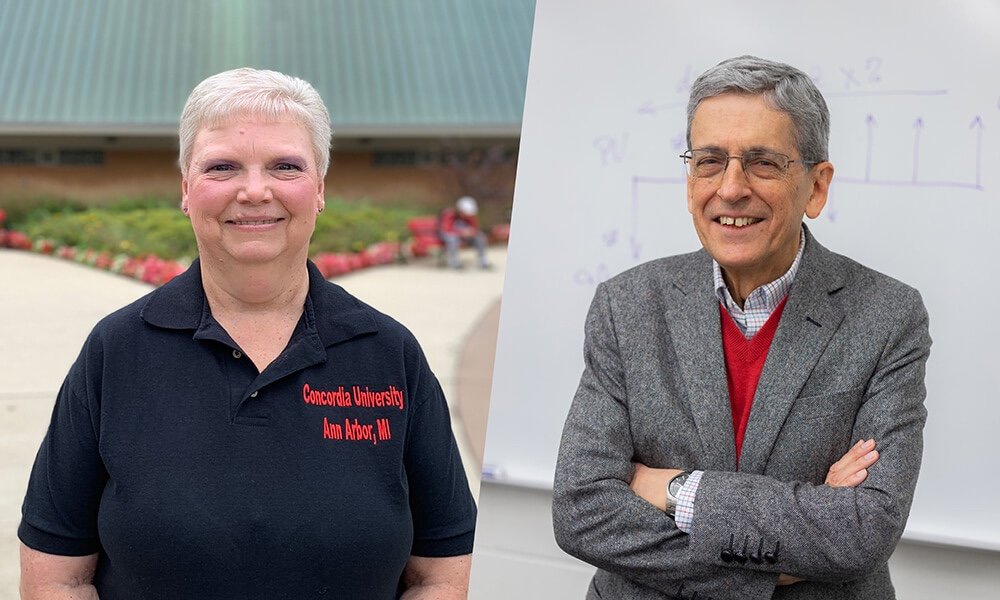 God's blessings to Barb Walther and Jorge Gonzalez who will be retiring from Concordia University Ann Arbor on June 30, 2021.
---
Both Walther and Gonzalez have served at Concordia for 20 years.
Walther, most recently a human resources generalist, held staff roles in various departments. Gonzalez joined Concordia as an adjunct instructor in 2001 and became a full-time professor in the Haab School of Business in 2008.
See below to read the remarks shared about each of these beloved Concordians at the employee appreciation Zoom event, celebrated at the end of the spring semester.
Related: Outstanding faculty and staff recognized with annual awards
---
Barb Walther
20 years
Shared by Vice President Ryan Peterson:
Please join me in congratulating and celebrating Barb Walther!
Barb is retiring after 20 years of faithful service at Concordia University Ann Arbor. She has served in many roles throughout the years – including the Office of the President and most recently, Human Resources. But if you know Barb – and we all do – you know that she has done a little bit of it all. From summer conferences and conventions – to overseeing the mail room – to our Concordia Cares new employee orientation – to mentoring and encouraging countless student workers over the years – to organizing employee gatherings, picnics, and dinners – Barb has embraced and modeled our Concordia mission.
Barb and her husband Galan met in college and were married before going to Concordia Seminary in St. Louis. In fact, they lived in Sheboygan, WI (about an hour north of Mequon) where Gaylund served as a pastor before moving to Ann Arbor. Galan has served at the Michigan District and Barb has been at Concordia. For these past two decades, both worked on Geddes Road. After retirement, they will re-locate to Wisconsin.
Barb: Thank you so much for your Christ-centered, mission-driven, student-focused demeanor.  Your gift of hospitality, your spirit of love, and your willingness to do whatever it takes has been a true gift to many Concordians.  Thank you for serving others here and in every other area of your life.  Enjoy this next chapter – including and especially time with your family…and your grandchildren! Congratulations!
---
Jorge Gonzalez
20 years
Please join me in celebrating and congratulating Jorge Gonzalez!
Jorge has been a part of our Concordia University Ann Arbor faculty for many years. He started at CUAA on January 4, 2001, as an adjunct professor and then was hired on full-time in the Haab School of Business on July 1, 2008.
Jorge has taught many courses at CUAA, including the infamous semester when he taught 9 courses (that's a serious overload!). That particular semester probably tells all of us much about this incredibly gifted colleague. His determination, dedication, and positive spirit has enabled many Concordians "to develop in mind, body, and spirit for service to Christ in the Church and the world."  He teaches management, finance, economics, and international business, among others, in the Haab School of Business.
Related: Worldly Wisdom: Beloved Concordia professor infuses finances and economics with life lessons
His own educational background is quite impressive: he has a Bachelor of Science in Industrial Engineering, a Master in Economics, and a MBA from the Harvard Business School.
"Professor Gonzalez," as he is affectionately known, has purposefully and willingly prepared hundreds of graduates for uncommon careers in business. He has enabled them to live with a Concordia confidence.
Jorge: thank YOU for teaching with passion, poise, and a deep commitment to our students. We are so grateful for you, your heart, and your commitment to all that being a Concordia Cardinal entails.  God bless you, and congratulations!
---
Interested in working at Concordia University? Check out our employment opportunities.
— Rachel Thoms served on Concordia University's Strategic Communications team from 2015-2022. Any inquiries about this story can be sent to news@cuaa.edu.
If this story has inspired you, why not explore how you can help further Concordia's mission through giving.