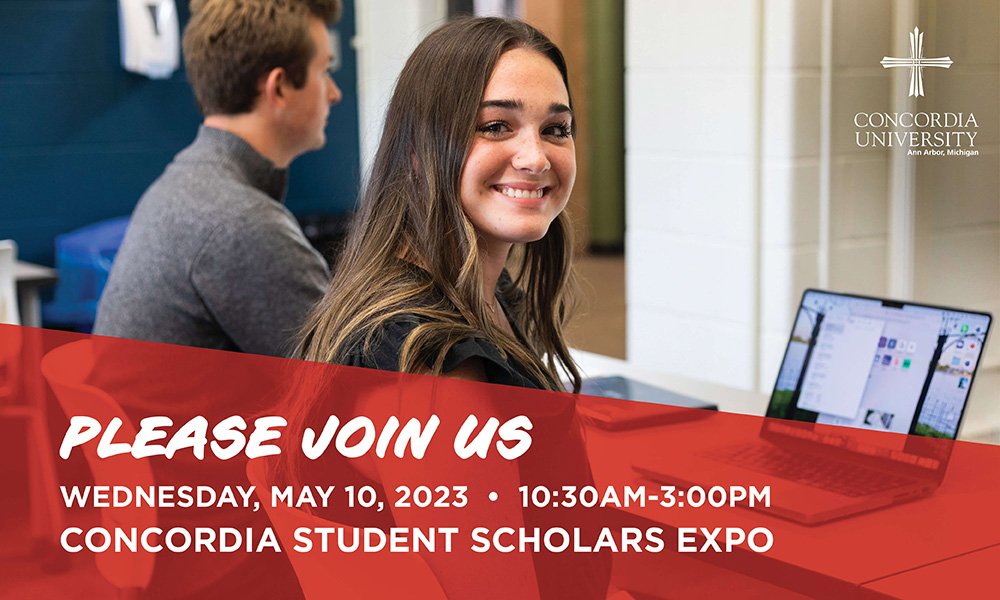 ---
Come and see what some of our most accomplished students have been working on this year—and throughout their time at CUAA!
---
The Concordia Student Scholars Expo (CSSE) is an opportunity for students to present culminating academic work to a wide audience in an authentic and diverse setting. Whether you are a donor, alum, or anyone interested in encouraging these talented students, you are invited to share these experiences and meet some of the students you have been supporting through your prayers and gifts.
"The Expo returns this year as a venue for scholarly work presentations for our students," says Lance M. Shultz, assistant professor of biology at CUAA. "These CUAA students have spent the past four years developing skills and knowledge that will be on display for the wider CUAA community."
For the first time this year, all five schools at CUAA will be involved, making this the most comprehensive Student Scholars Expo to-date.
Haab School of Business
School of Arts and Sciences
School of Education
School of Health Professions
Ronald and Marvel Jones School of Nursing
---
Schedule of Events | Wednesday, May 10
Kick-off and Chapel Service | 10:30-10:55 a.m. | Chapel of the Holy Trinity
Poster Sessions | 11:00 a.m. – 1:00 p.m. | Black Box Theatre
35 students presenting 25 posters from Biology, Chemistry, Psychology, Nursing, and Social Work departments
Refreshments served
Education Positive Impact Presentations | 8:30 a.m. – 2:30 p.m. | Krieger 107
Pre-Seminary Student Presentations | Krieger 101 1pm-2pm
Marketing Presentations | 1:00 – 3:00 p.m. | Science 102
---
All sessions are free and open to the public, at various locations on the CUAA campus. Everyone is welcome to attend as many sessions as they'd like—and to help spread the word about our amazing students!
"So come visit us, have a bite to eat at our poster session, and see what our great students have been learning!" Shultz adds.
---
Want in?
Concordia University Ann Arbor is a Lutheran higher education community committed to helping students develop in mind, body, and spirit for service to Christ in the Church and the world.
At CUAA your faith and your knowledge will flourish because we are a community that cares about your whole self—your mind, body, and spirit—and are committed to helping you reach your fullest potential.
---