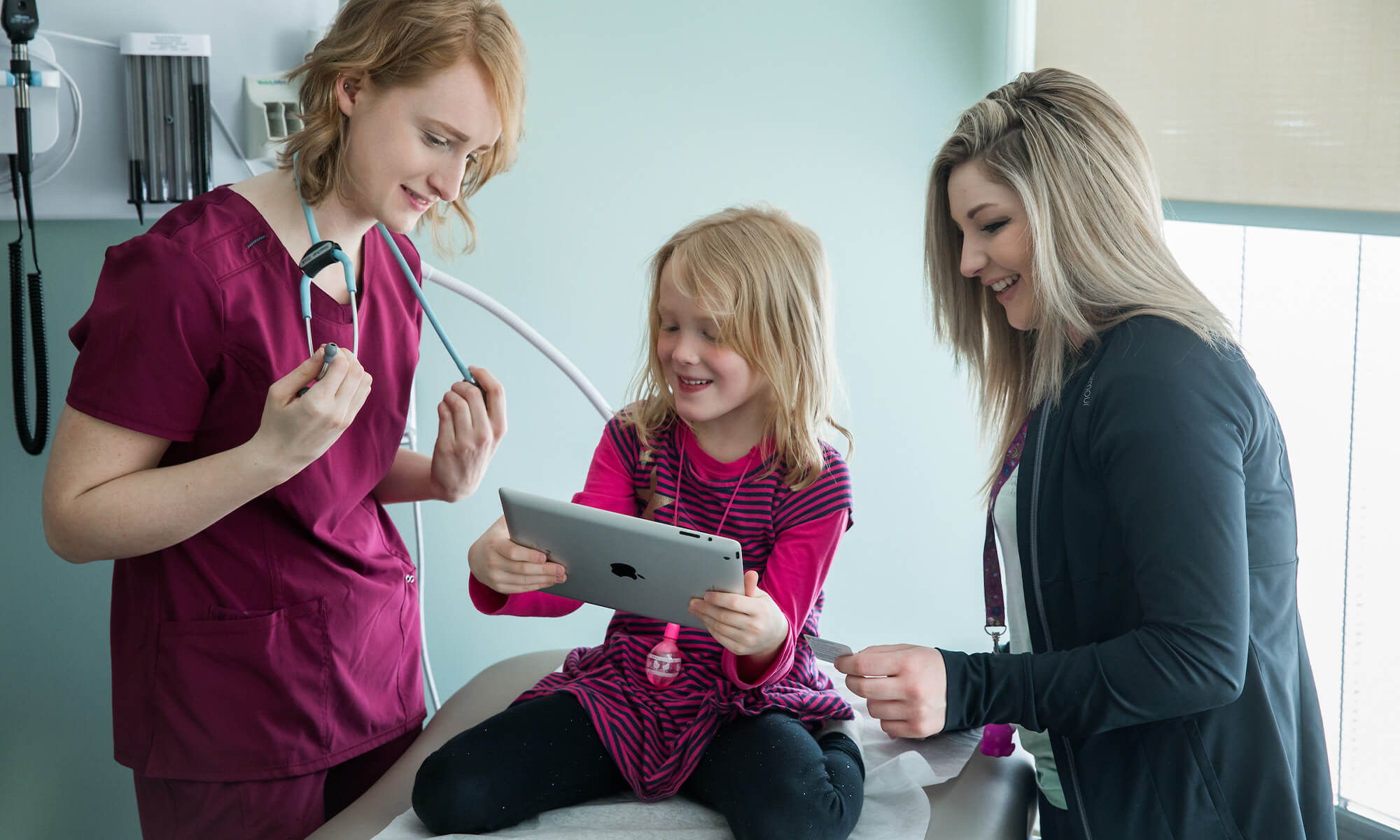 ---
CUAA Child Life Program Coordinator and Adjunct Professor Kara Kastamo, MS, CCLS, shares insight about Concordia's unique program and what it means to be a Child Life Specialist.
---
The following is a compilation of Professor Kastamo's knowledge and information that can be found on the Association for Child Life Professionals (ACLP) website.
What is a Child Life Specialist?
Certified Child Life Specialists are educated and clinically trained in the developmental impact of illness and injury. Their role helps improve patient and family care, satisfaction, and overall experience.
Infants, children, and youth confront a wide variety of stressful and potentially traumatic events that can impact their ability to cope. These experiences related to healthcare can lead to feelings of fear, confusion, loss of control, and isolation that can inhibit their development and have negative effects on their physical and emotional health and well-being.
In both healthcare and community settings, Certified Child Life Specialists help infants, children, youth and families cope with the stress and uncertainty of acute and chronic illness, injury, trauma, disability, loss, and bereavement. They provide evidence-based, developmentally, and psychologically appropriate interventions including therapeutic play, preparation for procedures, and education to reduce fear, anxiety, and pain.
Where can you find a Child Life Specialist?
Hospitals, Dentists Offices, Family Practice Offices, and Private Practice. They can work in the community at funeral homes or other mental health centers.
What educational background do you have to have to become a Child Life Specialist?
Currently, CCLS's need a bachelors or masters degree in a related field or in Child Life. They also need to complete the following coursework and a 4000 non-paid clinical internship under a CCLS and sit for the CCLS exam.
Child Life Course taught by a CCLS (all of our CL classes are taught by a CCLS, which makes our program unique)
2 Child Development Courses
Family Systems Course
Play Course
Loss/ Bereavement or Death/ Dying Course
Research Course
3 additional courses in related fields
Related: Child Life Eligibility Requirements (2019)
What does a master's in Child Life look like at CUAA?
It is an online, accelerated, evidence-based, advanced degree program with opportunities to participate in simulation events and activities on campus with our Child Life Student Association (if students are local). Due to our available technology we can also often have students who are not local join these additional events.
Generally, students take one class, every 8 weeks, year-round. Concordia University Ann Arbor is committed to preparing child life specialists who employ evidence-based methods in integrative health care settings and settings where children and families impacted by illness, injury, and health care are served. The intent of the Child Life Master's Program is to prepare men and women for a life of service in the church, and in the world, within the specialized area of Child Life.
This program is designed to deepen the understanding of child development and of processes supporting children and families during medical interventions, crises, or hospitalization, in developmentally appropriate and trauma-informed ways.
Who would be the ideal candidate for this profession?
Anyone who has a passion to reduce health-related trauma for children and their families should consider this profession.
These experiences can lead to complex feelings that can greatly influence the child's development and the child, and family's, ability to cope. This program will help you to address them from a Christian perspective and within an interdisciplinary healthcare team, to provide exceptional child life services with a servant's heart.
Students will examine how to provide evidence-based, developmentally and psychologically appropriate interventions for children and families, as well as analyze the steps that child life professionals can take to advocate on behalf of the child and family impacted by illness, injury, and health care.
---
Want in?
CUAA's Child Life and Interprofessional Practice Master's Program is a distinctive choice in that it provides, an evidence-based curriculum, integration, and application of curriculum in interdisciplinary experiential (simulation) learning opportunities, and a Christian mission- including an emphasis on a mission trip and service opportunities. Click the link below to learn more.
---
— Kara K. Kastamo, MS, CCLS, is the Child Life Program Coordinator and an adjunct professor at Concordia University Ann Arbor. Kastamo has been a faculty member at CUAA since 2020 after working as a Certified Child Life Specialist (CCLS) at C.S. Mott Children's Hospital, part of Michigan Medicine, where she provided services in Children's Emergency Services, surgery unit, and the General Pediatric inpatient unit.