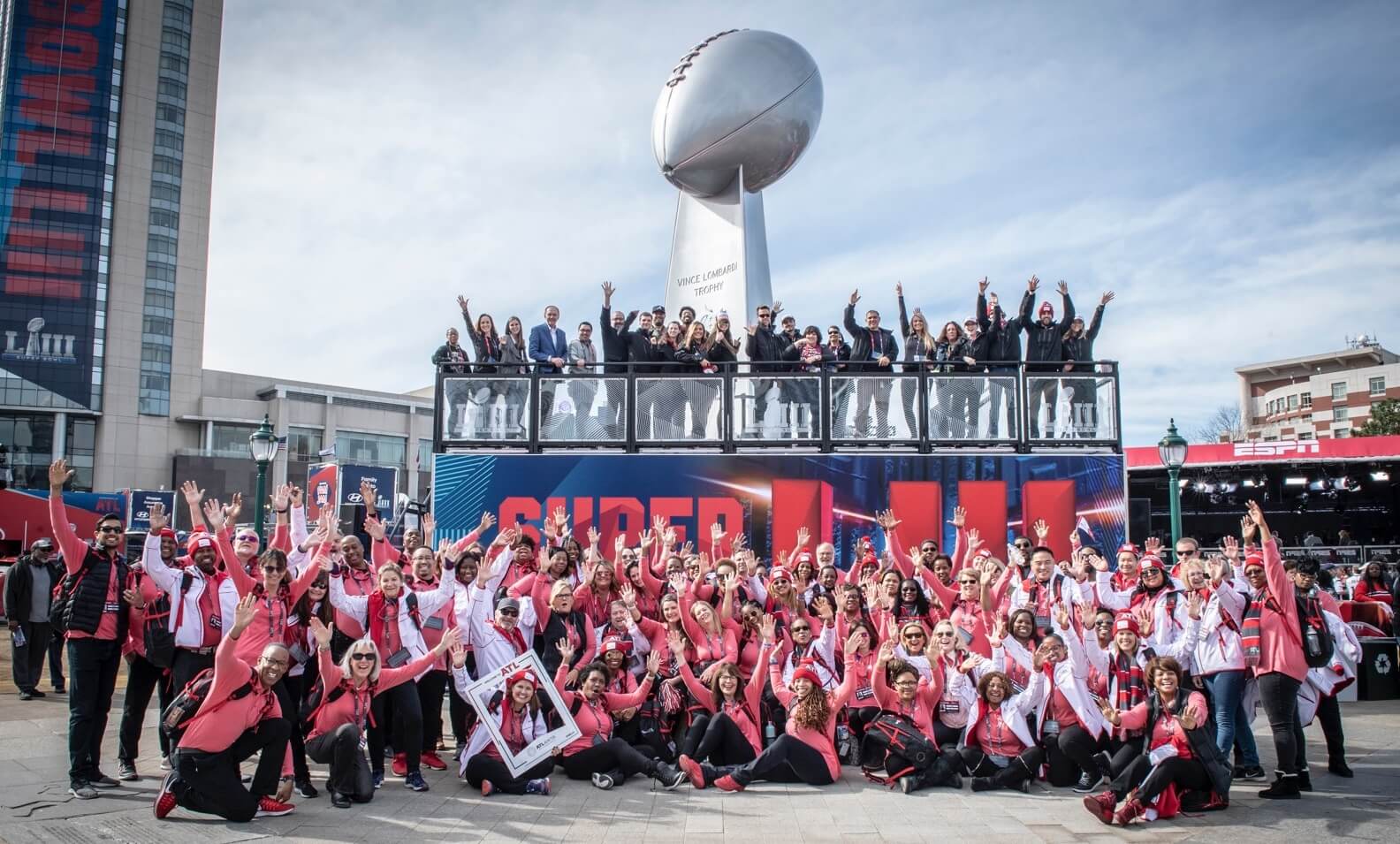 To say Concordia University students played a role in Super Bowl LIII last weekend in Atlanta would be an understatement.
---
While the game between the New England Patriots and Los Angeles Rams was low-scoring, 23 Concordia University Ann Arbor and Wisconsin students were scoring big off the field.
The large team of students, along with three faculty and staff members, traveled to Atlanta, Georgia two weeks ago to help with preparations for the top annual event sports: The Super Bowl.
"We had more students working over two weeks at Super Bowl LIII than any other college or university program in the country," said CUAA's Executive Director of Career Engagement and Industry Relations, Dr. Joey-Lynn Bialkowski. "This is a direct testament to our business program's reputation in the industry and the events where we have had Concordia student representation in the past."
Concordia has given students immersive industry experiences at dozens of major sporting events in the past, including the Super Bowl, but this time Concordia students were given more responsibility than ever before. They managed large teams of volunteers known on the ground as 'teammates', assisted with live events and activations, and even were held responsible for the Vince Lombardi Trophy within one of the fan experience zones.
Best of all, their two-week stint in Atlanta was a paid internship.
"The Super Bowl experience for me was one that I will remember for a long time," said CUAA business major Luke Konkel ('22), who was team captain in the official Rams Team House within Super Bowl Live. "As a freshman, this was my first experiential learning opportunity that I have been able to be a part of."
Konkel particularly enjoyed connecting and networking with members of the Los Angeles Rams organization, getting to know them personally over the course of the two weeks and learning more about their experience in the world of sport business.
"In addition to the networking that takes place, what is most valuable to our students is the first-hand experience they get with an event that has such a massive undertaking like the Super Bowl," said CUAA's Sport and Entertainment Business Program Coordinator Meagan Klein. "Our students get to peek behind the curtain to these events planned and executed from the ground up—they get to see real time aspects of sport business and leadership."
Klein says there are many intricate details that play a part in an event like this. The Concordia group alone spent the weeks leading up to the Super Bowl Sunday in training, load-ins, set up and assisting with events across the city at all hours of the day—all for one sporting event.
Industry partners to Concordia's sport and entertainment business (SEB) and hospitality and event business (HEB) programs include On Location Experiences (OLE), formerly known as NFL On Location now including PrimeSport and Kreate Inc. The OLE partners connect Concordia's business students to immersive industry experiences, like this one, that will prepare them for future careers in the sport, hospitality, and entertainment professions.
For Super Bowl LIII specifically, half of the students were placed to work Super Bowl Live at Centennial Olympic Park, a series of fan events that takes place over 10 days prior to and during the Super Bowl including the NFL House, free concerts, food, and national television broadcasts. The other half of Concordia's group was placed at the official fan experience, Super Bowl Experience (SBX), inside the Georgia World Congress Center. SBX included exclusive tailgates within the stadium or VIP hospitality areas.
Students were also assigned to plenty of off-site, private events throughout the week including the Dr. J (Julius Erving) Bowling Classic, The Jim Brown Legends Dinner, Ray Lewis' Gold Jack party for a Purpose and the Los Angeles Rams post-game party, a private event hosted by the owners.
Both the SEB and HEB programs are booming within CUAA's Haab School of Business, making up nearly 35% of students within the academic school. The success of these programs is attributed to advisory board guidance and strategy, dedicated faculty on both Concordia University's Ann Arbor and Wisconsin campuses, and strong relationships with industry professionals, like OLE.
Led by its Christ-centered values, the Haab School of Business believes that the best business leaders demonstrate both uncompromising compassion and unmatched competitive skill. Because of this, the curriculum and internships are preparing students to lead beyond the norm, igniting transformative change in themselves, their organizations, and society.
— Rachel Thoms served on Concordia University's Strategic Communications team from 2015-2022. Any inquiries about this story can be sent to news@cuaa.edu.
If this story has inspired you, why not explore how you can help further Concordia's mission through giving.