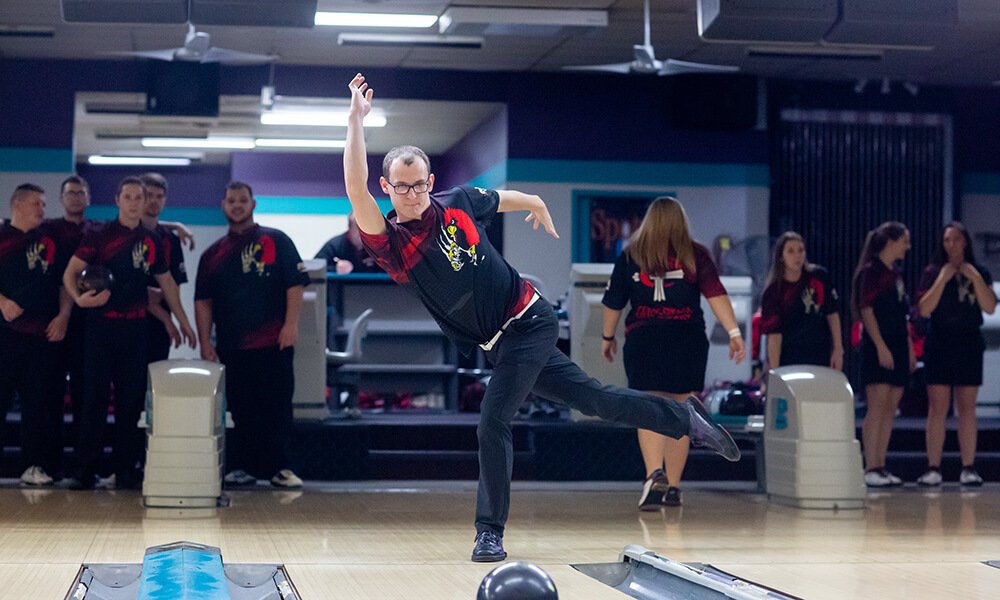 Editor's note: This story first appeared in the spring 2019 issue of the Arbor Light, the official magazine of Concordia University Ann Arbor.
---
This isn't your grandpa's Friday night bowling league. Concordia University Ann Arbor's championship-level team is in a league of its own. Since its modest start in 2011 as a club sport, the Concordia program has grown tremendously under the leadership of Head Coach Doug Spicer, who came on board in 2013. Since his arrival, men's bowling has earned three Wolverine–Hoosier Athletic Conference championship titles, and Spicer has helped bring the team up to the caliber of national events such as the Hoosier Classic and the 2019 NAIA National Invitational Runner-up.
It's no surprise then that one of Spicer's recruits is among the best in the conference. Alex Ouellette ('19) from Linwood, Michigan, has notched more than 20 perfect games during his time on CUAA's roster. His current collegiate average is a 198 per game, and in league bowling he averages 231. For the past two seasons, Ouellette has done his part to bowl over the competition and help bring out the best in his team, both on and off the lanes.
1. When did you start bowling?
I have a little sister who has Down syndrome, and she also had some medical complications where she had to have heart surgery when she was 3. My dad, who has always been a bowler himself, introduced me to bowling when I was 18 months old as a way for me to have one-on-one time with my parents. Every week they tried to give me at least a couple of hours with them at the bowling alley, and it was kind of my guaranteed, uninterruptable time with them.
2. When was it apparent that you were a cut above the rest?
I stopped bumper bowling when I was 3, and I joined my first league when I was 5. I think it was when I was 5 that my community newspaper did a highlight on me because I was so good for such a young age. Night league players would stop and watch when I played because they'd be amazed to see someone as young as me be able to bowl.
3. For someone who's so talented, it's hard to believe you didn't start your collegiate experience on a bowling team.
There are not a lot of scholarships offered for bowlers because the sport doesn't have NCAA sanctioning. So even though I had looked at several college bowling teams when I was in high school, I needed a scholarship to make it work, and it just wasn't there. I started going to a community college instead, and when two years came and went I just assumed the opportunity had passed me by. Coach Spicer stayed with me, though, and continued to follow me through my bowling leagues. He introduced me to the CUAA team, and I was so excited for an opportunity that I thought had passed me by that I decided to transfer to Concordia.
4. What has been the benefit of joining Concordia's team?
It's opened the door to a lot more recognition and a lot of opportunities that I might not otherwise have had. I've been fortunate to have a lot of people reaching out to me as a result of my success on the team. By next summer, I'll have my degree and the ability to get a job, and then I'll be able to go out and chase the dream of joining the Professional Bowlers Association Tour with the assurance of a safety net in place.
5. Outside of bowling, how has Concordia been a good fit for you?
I've really liked the faculty at Concordia. At the school I went to before, it was a little bit bigger school, and you could tell the professors were more about just getting their paycheck. At Concordia, you see your teachers around campus, and they always talk to you. They're all very accommodating, and they want you to learn.
The spring 2019 Arbor Light hit mailboxes the beginning of May. View a PDF version of the magazine here. If you are not on our mailing list, but are interested in receiving a free copy, call 734-995-7317 or send us an email.
— This story is written by Kali Thiel, director of university communications for Concordia University Ann Arbor and Wisconsin. She may be reached at kali.thiel@cuw.edu or 262-243-2149.
If this story has inspired you, why not explore how you can help further Concordia's mission through giving.