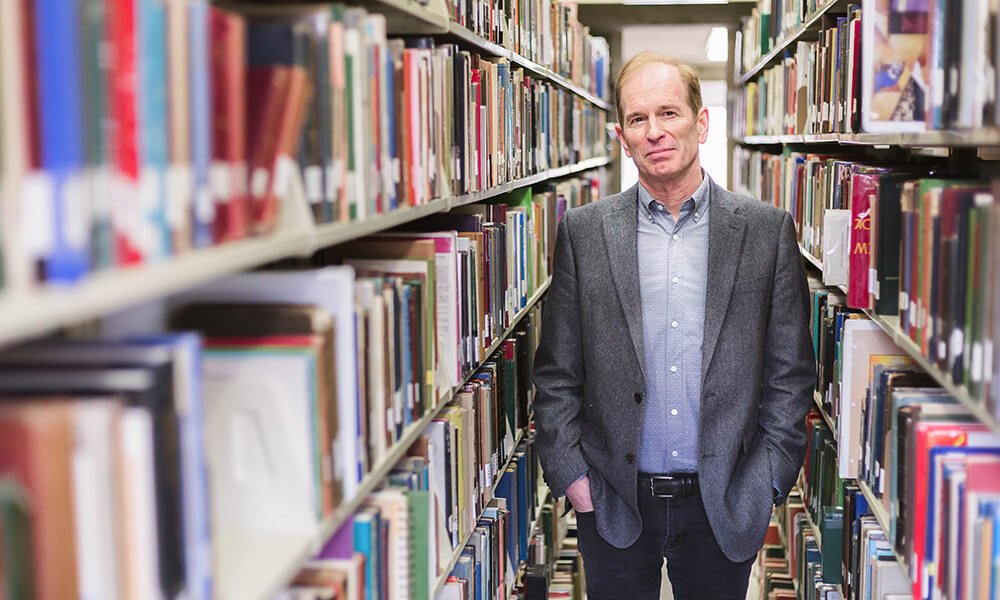 Editor's note: This story first appeared in the spring 2019 issue of the Arbor Light, the official magazine of Concordia University Ann Arbor.
---
Samantha Smith ('15) didn't know what to expect when she enrolled in Dr. Mark Looker's English Lit II course in 2014. It was a required course for the English major; one that Smith admits she was hesitant to take. Smith remembers wondering how the content would be relevant to her current life as a student at Concordia University Ann Arbor. Her opinion would drastically change, however, as Looker introduced himself to the class, and opened up about his passion for literature and the arts. His enthusiasm was so palpable that Smith, herself, was excited to dig into her first taste of British literature. Years later, Smith still smiles as she recounts that first day.
Her transformational experience is a shared one at CUAA; one that generations of Concordians have in common, due in part to Looker's engaging teaching and prolific presence throughout campus.
Professor Mark Looker is best known for his expertise in art and literature, and his generous enthusiasm to share it with others. For 44 years, the professor of English, director of the Kreft Arts Program, study abroad leader, and author has inspired generations of students, faculty, and staff to find larger meaning, greater understanding, and inner joy by studying literature and appreciating the arts.
From as early as he can remember, Looker, a 1971 CUAA alumnus, has loved to read. The pastor's son describes his childhood home in Detroit as "lined with books and filled with readers." A lifelong Lutheran school kid, Looker had the idea that if he became a teacher he could make a living by reading and discussing books all day.
With that as his goal, he applied to CUAA (then Concordia Lutheran Junior College) and later to Concordia University Chicago (then Concordia Teachers College, River Forest) to make his plan a reality. He continued his education by earning an M.A. at Washington University, St. Louis, and then his PhD from the University of Michigan in Ann Arbor. In 1975, Looker returned to CUAA, his first alma mater, as an English faculty member and has been here ever since.
"My entire adult life is bound up with CUAA," he jokes. "As a student at Concordia, I had a sense that I could have both an intellectual life and a life of faith. They were compatible—not mutually exclusive," says Looker. "Now as a professor I try to help my students understand that their faith, relationships, intellectual life, and appreciation for the arts are all part of the same fabric."
While Looker has witnessed many changes during his long tenure at Concordia, one thing that has remained relatively constant is his ability to connect with the students. "Everyone talks about how different this generation of tech-savvy students is," he notes, "but at heart they are looking for the same things Concordia students have always wanted: a relationship with God and with the people around them, and a place in the world where they can make a difference."
Despite the nationwide trend that college students read far fewer books than in decades past, Looker is optimistic about the students in his classrooms. One thing he does to help his students discover the joy of reading is to carefully select the assigned reading material each semester. He also tries to get to know the students personally so that he can recommend the right books to get them hooked.
Smith recalls feeling a particular connection to the novel Jane Eyre. "Dr. Looker used that book and the experiences that the characters were going through as a way to get us talking about our own lives and our own struggles," says Smith. "It was life changing for me when I learned that the classics asked the same questions about life, love, and God that we do today."
Smith's freshly sparked passion for literature led her into a career in publishing. She is an associate editor at a research foundation in nearby Ypsilanti, Michigan. She and Looker continue to keep in touch and discuss literature. She still covets his book recommendations and shares a handwritten list of postmodern suggestions that Looker gave to her recently. The list had some stretch pieces, including a puzzling suggestion about the war in Chechnya. Smith read them and "was blown away" that each one offered a message that was exactly what she needed at the time.
If Looker had his druthers, everyone would read Don Quixote. The famous line in the book, "I know who I am and who I may be if I choose" is a message that he thinks everyone at Concordia needs. It reminds him of the freedom he has at Concordia to teach and enjoy the arts in all of their forms, and to be a Christian who knows God and lives by the Word. As Looker evaluates his mission at Concordia, he wants to be known as a professor who uses literature and the arts to help others know who they are, and to have the freedom to be awake and self-aware—to know God.
—Photography by Allie Milot ('21)
The spring 2019 Concordian hit mailboxes the beginning of May. View a PDF version of the magazine here. If you are not on our mailing list, but are interested in receiving a free copy, call 262-243-4333.
—
If this story has inspired you, why not explore how you can help further Concordia's mission through giving.