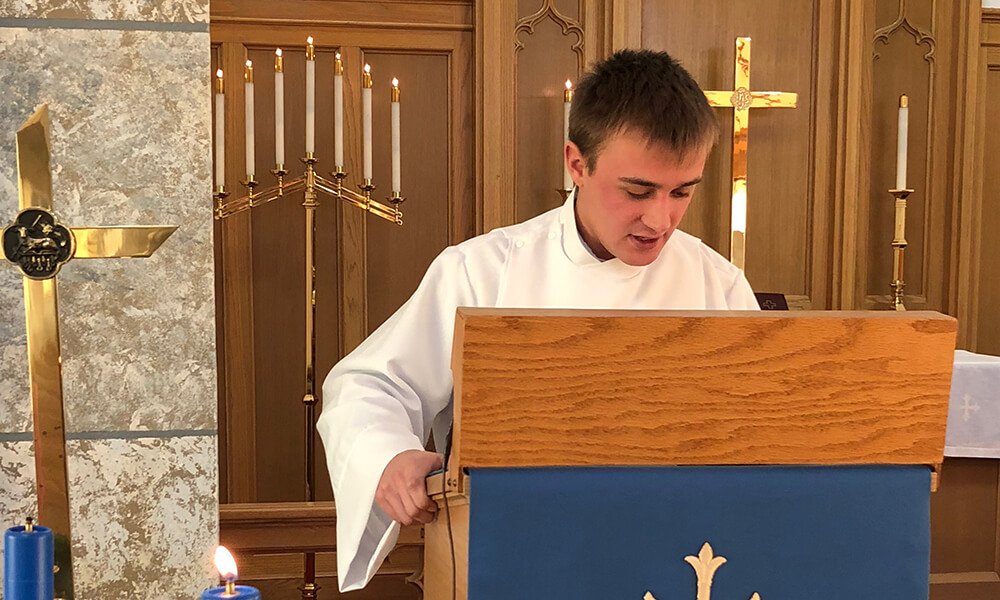 Editor's note: This story first appeared in the spring 2019 issue of the Arbor Light, the official magazine of Concordia University Ann Arbor.
---
Pastoral formation is more than simply academic. A unique pre-seminary program offering at Concordia University Ann Arbor blends practical experience in ministry, connects students to pastoral mentors, and provides financial support for their education.
STEPS—serving and training experience for pre-seminary students—is a paid part-time internship for CUAA's undergraduate students pursuing a pastoral ministry calling.
Since 2004, STEPS is made possible by grants through the Michigan District of The Lutheran Church—Missouri Synod, as well as contributions from individuals and congregations. Upper-level pre-seminary students work up to 10 paid hours a week in local partner parishes and other ministry settings assisting with worship, leading Bible studies, or practicing responsibilities within the youth group. Students may also join mentor pastors for home visits, hospital visits, or other congregational meetings.
"STEPS gives our students more opportunity to test their calling, providing confidence and certainty that this is where the Lord is leading them," said Rev. Charles Schulz, assistant professor of religion and pre-seminary director." After all, pastoral ministry is different than student life. You won't have weekly Greek quizzes or 15-page research papers. You work with people, sharing the Word of Christ's salvation with God's people and to the world. Interpersonal skills serve that end."
Upon completion of initial theology and Biblical language courses, Schulz connects with students to consider beginning the STEPS program as early into their academic career as possible, usually within their sophomore year. While all pre-seminary students are required to participate for at least one semester, a longer tenure in the program allows growth in skills, lends more responsibilities within the parish, and provides expanded opportunities to lead and serve the congregations. STEPS is also available to students in a pre-deaconess program.
"For example, if you think about the fact that a new pastor has only seen his vicarage supervisor and maybe his field education supervisor lead an elders meeting, he doesn't have many models for how that could go," said Schulz. "Through STEPS, our CUAA students have more examples of what everyday pastoral operations could look like, and they gain experience doing them."
Together with each student, Schulz looks over the variety of STEPS partnerships available, currently a list of about 20 local ministries including a diverse mix of urban, suburban, rural, school settings, and mission settings. Unlike the seminary experience where the students are assigned to their field education, vicarages, and first calls, students themselves have a choice to select where they think they will grow and benefit the most.
"I have seen beautiful relationships form between the students and the churches that they serve," said Schulz. "When it's time for the students to shift to a different STEPS location or head off to seminary, there can be tearful goodbyes mixed with send-off s full of gifts and support."
Sean McNeil ('19) has experienced firsthand the nurture and support of a congregation through his STEPS host parish, St. Paul's Lutheran Church in Milan, Michigan.
"On top of getting used to reading and praying in front of people, I've learned how great a blessing a congregation can be," said McNeil, who has plans to attend the seminary following commencement in May. "As I focus on how I can serve the church, it has been a humbling experience to have them serve me in return."
While McNeil says he enjoys receiving gifts around the holidays or being sent home with extra food after a church potluck, what he cherishes most from his STEPS congregation is the fellowship, support, and encouragement they have shared with him as he pursues his pastoral calling.
Schulz says that more than anything the true joy of serving in ministry is sharing Christ's salvation with people. STEPS is a key instrument in providing clarity to students discerning their call to serve as pastors and deaconesses, and allows them to grow in enthusiasm for it as they prepare for lives of service to Christ in the Church and the world.
Is there a member of your congregation whom God has gifted for ministry? Refer them to us at Charles.Schulz@cuaa.edu. Learn more at cuaa.edu/programs/preseminary.
CLERGY ALUMNI
STEPS is the latest in Concordia's earnest approach to preparing ready pastors for the Church and world, but a spirit of excellence and a commitment to the Kingdom has existed since the institution's inception. Thanks to dedicated faculty and dynamic programming over the years, Concordia has produced many prominent leaders in the LCMS. Here are just a few of them.
REV. DR. DAVID P.E. MAIER ('78)
District President, LCMS Michigan District
REV. DR. GREGORY SELTZ ('82)
Executive Director, Lutheran Center for Religious Liberty
REV. MICHAEL W. NEWMAN ('83)
District President, LCMS Texas District
REV. DR. JOHN NUNES ('85)
President, Concordia College New York
Are you a pastor? Stay connected to CUAA through our monthly e-newsletter, Clergy Connection, curated specifically for our pastoral supporters and friends. Subscribe at cuaa.edu/clergy-connection.
The spring 2019 Arbor Light hit mailboxes the beginning of May. View a PDF version of the magazine here. If you are not on our mailing list, but are interested in receiving a free copy, call 734-995-7317 or send us an email.
— Rachel Thoms served on Concordia University's Strategic Communications team from 2015-2022. Any inquiries about this story can be sent to news@cuaa.edu.
If this story has inspired you, why not explore how you can help further Concordia's mission through giving.