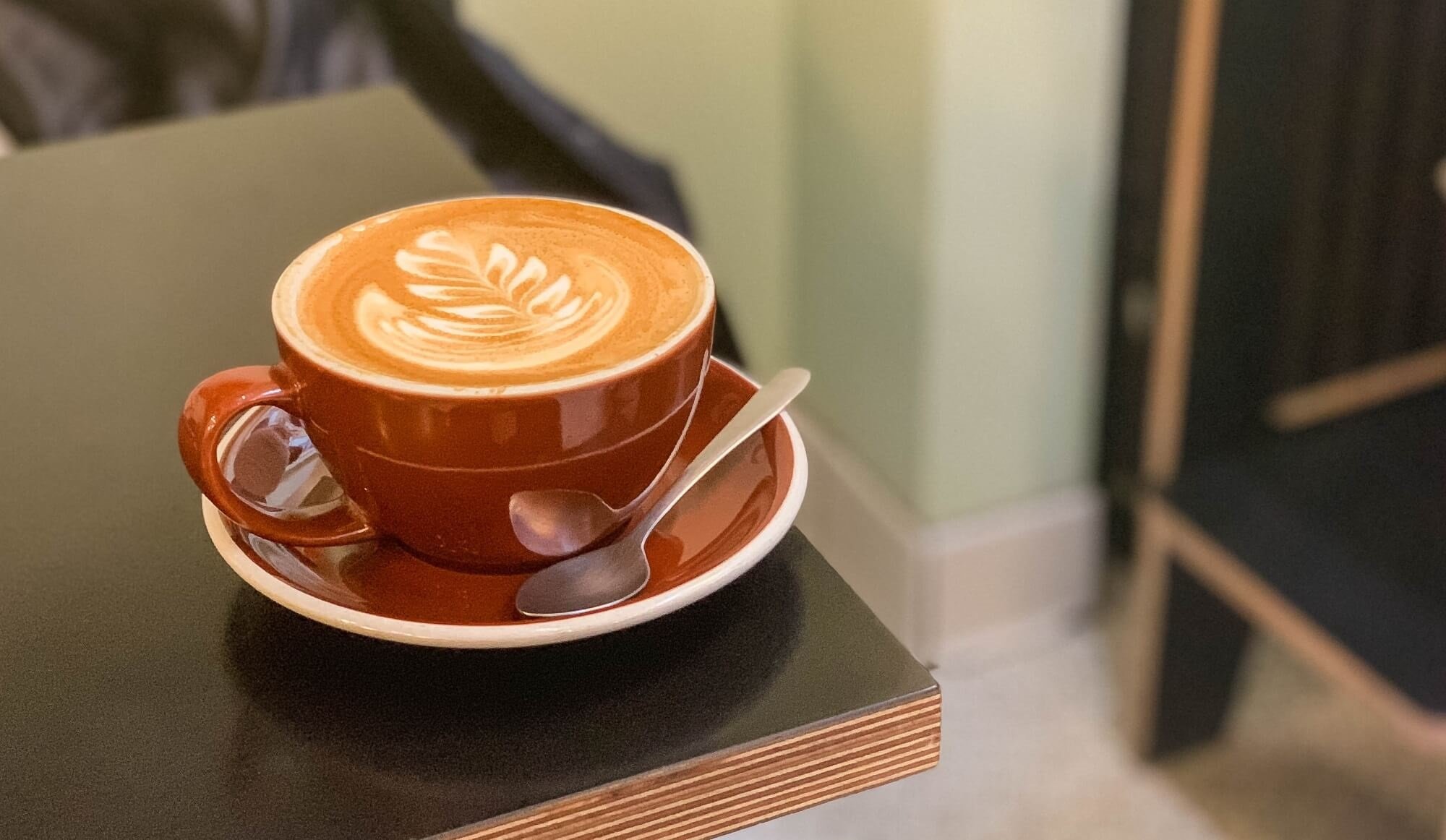 Although I was told coffee would stunt my growth, standing at a lofty height of six feet, I don't think that I have suffered any major consequences. I have loved coffee since I was fourteen years old. Fast forward five years and drinking a cup of coffee has become part of my daily routine. Like most college students, not only is it a tasty treat, but sometimes it is a necessity in order to conquer the day ahead.
---
In mid-January, Ann Arbor was ranked the #1 city for coffee lovers in the U.S. In the hopes of supporting this ranking, I decided to grab my friend and fellow coffee connoisseur, Ang, and hunt down the best latte in Ann Arbor.
There are many great coffee shops in Ann Arbor—37 to be exact. We were not able to visit them all, but Ang and I made it to ten coffee shops in one day. At each of the ten locations, we ordered the café latte. You could say 10 coffees in a day is 'a latte', but it was so worth it.
For all who are not coffee enthusiasts (like me), a cafe latte is a "coffee-based drink made primarily from espresso and steamed milk. It consists of one-third espresso, two-thirds heated milk and about 1cm of foam" (The Coffee Wiki). I personally love lattes because they are a delicious source of caffeine, they can be customized by adding many different flavors, and at most coffee shops, they are the less expensive items on the menu.
Here is a list all the Ann Arbor lattes we tried, in order of our least favorite to favorite (opinions are my own!)
10: Starbucks (Liberty St.)
Tall Latte: $3.25
Internationally popular, Starbucks knows how to make coffee well. However, the latte we tried did not compare to the locally made lattes. Starbucks lattes are known to contain a darker roast, providing a far more bitter taste accompanied by a quarter of the cup filled with foam. This shop is a good "go-to", however, I would encourage others to venture out to the individually owned shops to get a taste of what Ann Arbor's coffee-makers have to offer.

9: Literati Coffee (4th Ave.)
Small Latte: $4.00
Hidden up the stairs from the Literati Bookstore, this coffee shop serves a medium roast latte. The coffee itself is fairly sweet and there seemed to be a higher content of milk, which made the espresso much more subtle in taste and aroma.
8: Black Diesel Coffee (Packard Rd.)
Small Latte: $3.60
Below a dense layer of foam lies a dark roasted latte with a strong taste and bitter aftertaste. The latte is made with two-percent milk, which we found was the standard for most places. Although, one can inquire about many other dairy and non-dairy options, no matter the coffee shop.
7: Espresso Royale (S. State St.)
Small Latte: $2.70
If you're looking for the most cost-efficient latte, Espresso Royale has you covered. This latte is made with two-percent milk and has a higher level of espresso compared to other lattes we sampled. There is also not a lot of foam. The roast used to make this latte has a smoky aroma and is quite bitter, leaving a sour after taste.
6: Sweetwaters Coffee & Tea (Plymouth Rd.)
Single Latte: $3.25
Made with a medium dark roast house blend and two-percent milk, this latte is light and sweet. There's no need to add any sort of sweetner. The coffee beans release a rich flavor, however the drink doesn't leave a strong after taste. Served extremely hot, a first sip should be waited to take.  If you're in the mood for a latte on the lighter side, a Sweetwaters latte is what you need.
5: The Common Cup (Washtenaw Ave.)
Small Latte: $3.25
Fairly similar to the latte from Lab, this latte is made from medium roasted beans, creating a bitter taste with a high amount of caffeine. Although similar in taste, the atmosphere where the coffee is served is completely different as The Common Cup is attached to University Lutheran Chapel just on the outskirts of downtown Ann Arbor.
4: Lab (Liberty St.)
Small Latte: $3.00
If you are locating for the best latte "pick-me-up" then Lab is where you need to go. Using a light to medium roast for their latte, this cup is filled with the highest concentration of caffeine in comparison to its competitors. A unique blend made with two-percent milk, the coffee is smooth with a bitter aftertaste. The espresso is strong, so this latte is not for the faint of heart.
3: Mighty Good Coffee (Washtenaw Ave.)
Small Latte: $3.25
As the closest coffee shop to Concordia on our list, we saved this latte for last. The  beans used are a medium to dark roast with a strong espresso flavor, smoky aroma, and bitter after taste. The ratio of espresso to milk was just right which generated a smooth and satisfying cup of coffee.
2: Comet Coffee (Nickels Arcade, S. State St.)
Small Latte: $4.50
This dark roasted latte, made with whole milk has a slightly smoky aroma and a strong flavor that is balanced with a lot of milk and a thick layer of delightfully designed foam on top. Ready to drink as soon as it is served, this latte is my personal favorite from the list.
1: RoosRoast (Liberty St.)
Small Latte: $3.60
As Ang's favorite, this latte is strong and sweet. It has a satisfying ratio of espresso to milk. The beans used are a dark roast, which some may think would lead to a sour or bitter taste, however it is just the opposite.
Going into this "experiment" of sorts, we were expecting all the lattes to be about the same. However, every shop had their own unique blend and set of flavors. No wonder there are so many different coffee shops in Ann Arbor!
Thanks again to my wonderful friend, Angela, for helping me accomplish my mission of discovering what coffee shop in Ann Arbor's sea of caffeine serves the best latte.
— This story is written by Allie Milot, social media manager for Concordia University Wisconsin and Ann Arbor. She may be reached at alexandria.milot@cuaa.edu or 734-995-7403.
If this story has inspired you, why not explore how you can help further Concordia's mission through giving.