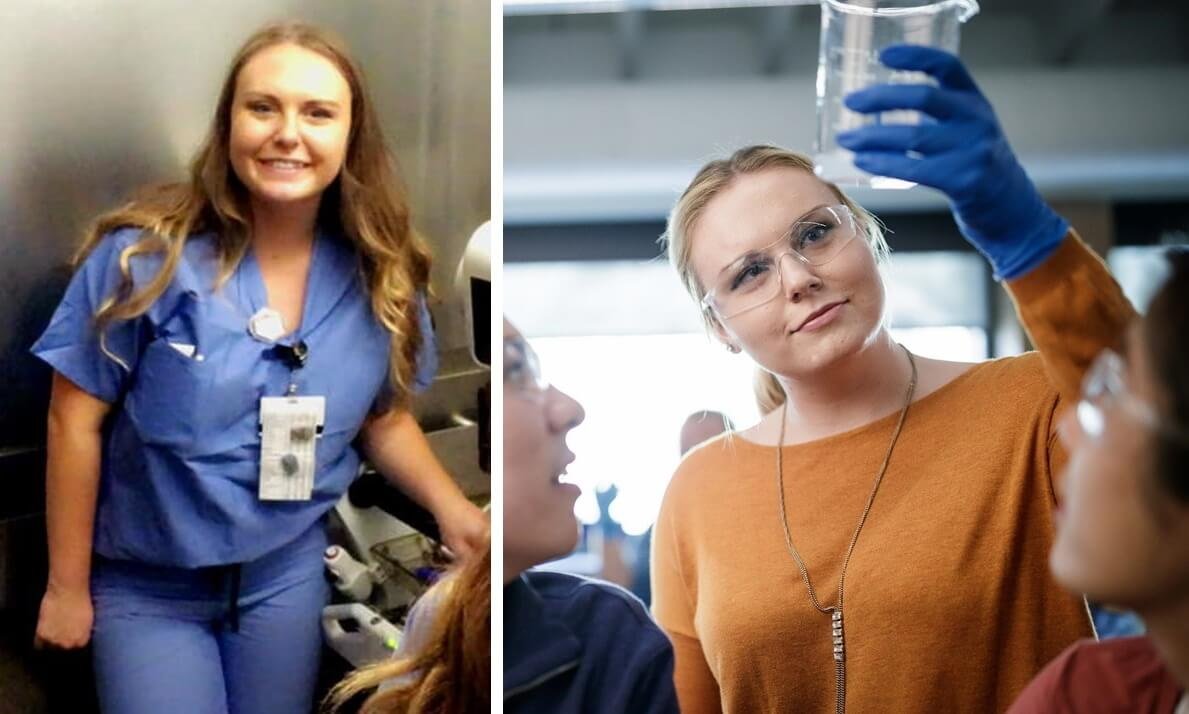 CUAA's May 2020 graduation candidates are students who have spent their years at CUAA developing in mind, body, and spirit for uncommon lives of service and impact.
---
Editor's Note: This is one in a series of stories highlighting Concordia's May 2020 graduates.

Alexus (Lexi) Weber combined a longtime dream of working in the medical field with her passion for cross country and track and field when she decided to attend Concordia University Ann Arbor.
The Hudsonville, Michigan native, along with Abigail Turner, make up the second cohort of graduates from Concordia's Radiologic Technology bachelor's program. When Weber made the decision to enroll, the CUAA program was just in its infancy stages. Still, Weber liked the fact that she could complete her degree and still compete in athletics at the collegiate level—an opportunity many other Rad Tech programs don't afford due to the intensive nature of the program.
Even through the unexpected and unprecedented coronavirus pandemic, Weber has managed to achieve her goals without sacrificing her timetable.
"Lexi has put herself in the best position to graduate without delay, even with the coronavirus keeping her out of the clinical environment," said Radiologic Technology Program Director Mary Kleven, MAOM, R.T. (R)(M), B.S. "Both Lexi and Abbey have become highly regarded as dependable, thoughtful, and well-rounded during their time in the program, which is why they were hired as student technicians at our Novi facility."
Related: The uncommon go-getter embodying courage and determination
Turner, who attended Grand Ledge High School, also looked to combine her passion for a sport with earning her degree. Captain of the Cardinals' lacrosse team all four years, Turner earned All-Academic honors her last two seasons. "I didn't know about Concordia until my father and I drove down for a visitation day. I fell in love with the campus and how it felt like home," said Turner. "I've made so many connections in the program and met people I know will be lifelong friends."
The Novi facility is one of multiple strong clinical site partnerships Concordia has established within the community. Weber will technically finish her clinicals in late August due to the disruption of COVID-19, but is well on her way to becoming a valuable member of the Novi team.
Related: The uncommon champion inspiring others along the way
The position is the fruition of a longtime goal to work in the medical field.
"I've wanted to work in the medical field since I was a little girl, but didn't know exactly which area I'd choose," said Weber. "I also like photography and taking care of people, so becoming an x-ray technician puts that all together."
Concordia gave Weber and Turner the opportunity to combine their passions on many fronts.
"Concordia is a tight-knit community and it has always felt like a home away from home to me," said Weber. "I've had a blast with things like cheering on our basketball teams at three CITs, Tuesday Night Worships, and the end-of-year bonfires down by the docks. I am blessed to have spent my four years at Concordia Ann Arbor."
For further information on the radiologic technology program, click here.
Weber and her 2020 classmates will be honored in a virtual degree conferral ceremony on Sunday, May 17. They will be celebrated in person at the December commencement celebration. These changes are in response to the Coronavirus. To learn more about Concordia's response visit here.
—
If this story has inspired you, why not explore how you can help further Concordia's mission through giving.