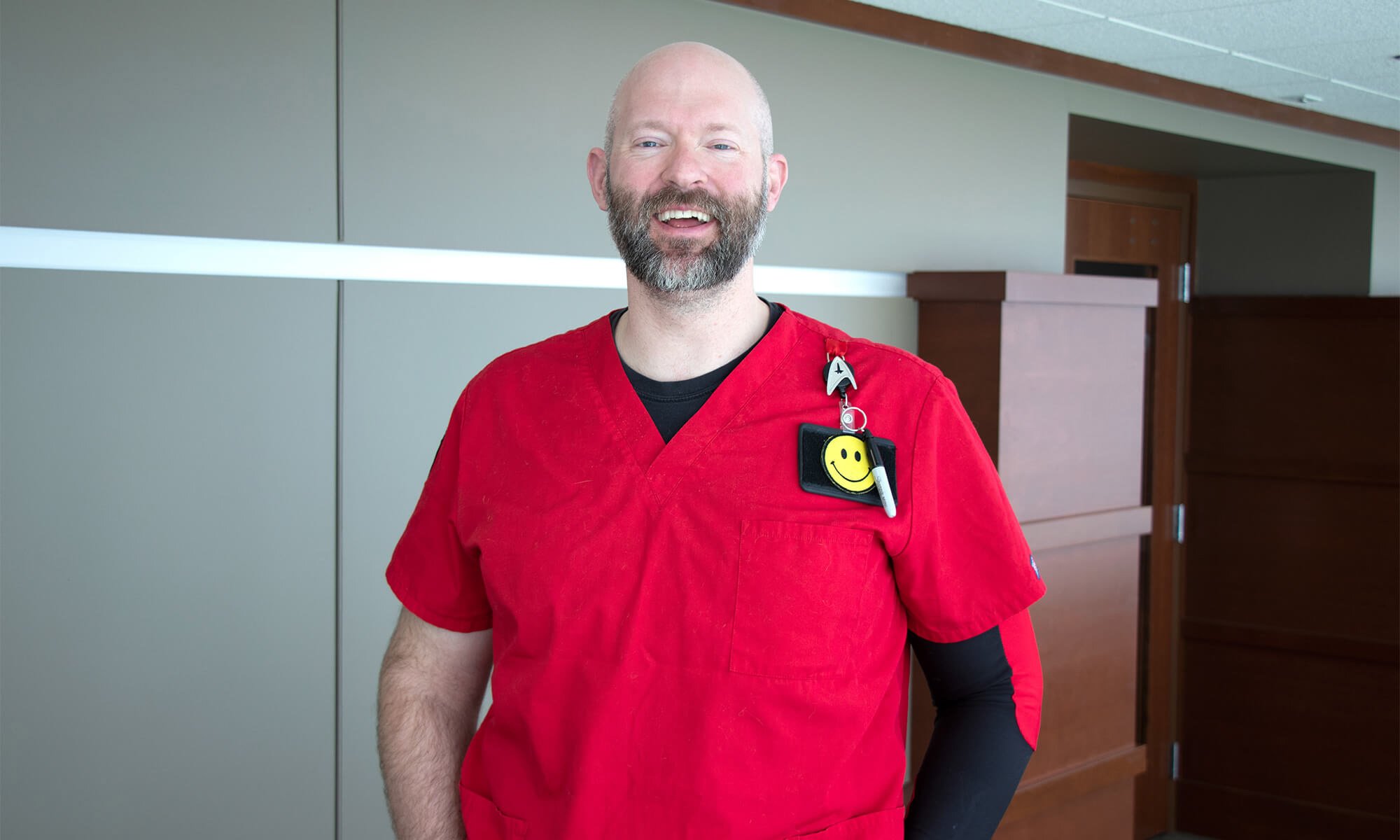 Concordia University Ann Arbor will celebrate 148 graduates on May 19. The graduation candidates are students who have spent their years at CUAA developing in mind, body, and spirit for uncommon lives of service and impact.
---
Editor's note: This is one in a series of stories featuring Concordia's unique or exemplary May graduates.
At first glance it would seem that nothing could touch Tim Felska.
The soon-to-be Concordia University Ann Arbor graduate stands tall at 6-foot-6-inches, and, at age 41, he still often maintains the workout regimen of a former military man. This summer for example, he's training for two 100-mile-plus cycling events.
Related: All comes together for radiologic technology graduate
Without batting an eye, he'll detail his experiences as a mechanic on a nuclear submarine for the U.S. Navy or share the intensity he's experienced firsthand working more than a decade as an ambulance paramedic.
However, the Redford, Michigan native will also attest that life has impacted him more deeply than it might first appear. That's why it's taken him until now to earn his bachelor's degree. Concordia's May 19 commencement ceremonies will signify not just a momentous academic achievement for Felska; he's hoping it will mark a new chapter in his life.
"It's been a long journey to get to the commencement stage, to say the least," said Felska, who will graduate with his Bachelor of Science in nursing. "Getting my diploma gives me a feeling of starting fresh."
Related: Vital to the Operation—Concordia's School of Nursing sets a new standard of excellence in Christian care.
Felska says setbacks have been "a constant theme" in his life. He's started down the path of higher education multiple times and pursued a variety of careers throughout his adult life. Not for a lack of effort or aptitude, Felska has ended up having to abandon one pursuit after another.
First there was the attempt to become a pastor. Felska led Bible studies for his naval crew (he enlisted right out of high school) and was encouraged by a commanding officer to consider a career in ministry. But when the theology school he attended got caught up in a whirl of financial scrutiny and allegations of misappropriating federal funds, Felska was forced to jump ship.
He turned then to firefighting, a career he had entertained even before he considered becoming a clergyman. Following his term in the Navy, he had even pursued his paramedic's license in anticipation of this future pursuit. Unfortunately, due to an economic climate gone south around the time of his graduation from the academy, Felska says he wasn't able to get hired immediately as a career firefighter.
So he began instead his pursuit of physician's assistant schools. Felska was regrettably woefully unaware of the extreme competitiveness of PA programs nationwide. In 2015-16, 25,593 applicants from 25 countries applied for PA programs in the U.S. Only 32 percent of those individuals actually matriculated into programs, according to data from CASPA, an online application system that allows students to apply to multiple participating PA programs with a single application.
Six years later, Felska finally gave up on the PA pursuit. Around that time, a friend told him about Concordia, and Felska decided to give it a try.
The decision has paid off in spades, said Felska.
"I haven't met anybody at Concordia who doesn't make the learning experience better in some way," Felska said. "There's a real tight community there. Staff are involved in our lives. They really put themselves into making Concordia a very conducive place for learning and developing as a whole person."
I've had to march past continual failures in my life. I think it helps me to be able to empathize with people who are unable to move forward in life. —Tim Felska ('19)
Unarguably, setbacks have been a consistent theme for Felska, but another theme has also held true throughout his adult life: his desire to help others. Each of Felska's career pursuits demonstrate his passion for serving. In addition, Felska has participated in several church-sponsored mission trips starting in 2006, and had the opportunity while at Concordia to travel to Uganda on clinical rotation. More recently, he's heavily involved himself with an inner-city Detroit ministry, called Friday Night Outreach, through his home congregation, Military Avenue Church. The ministry focuses on helping human trafficking victims by providing food, clothing, and medical care when needed.
"I've always tried to really live out the Gospel and live my life according to the Bible verse that talks about, 'whatever you have done for each one of these, you have also done for me,'" said Felska.
His degree in nursing will allow him to continue to serve—this time veterans in southern Michigan and northern Ohio. Felska already has a job lined up at VA Ann Arbor Healthcare System following graduation.
The roadblocks he's faced in his life, when coupled with an unshakable desire to live according to God's Word, will no doubt help him impact countless more individuals in his vocation as a nurse.
"I've had to march past continual failures in my life," said Felska. "I think it helps me to be able to empathize with people who are unable to move forward in life. My experiences do help me to understand other people, and hopefully, I'll be able to make a difference for them not just physically, but emotionally and spiritually."
Learn more about Concordia's School of Nursing by clicking here.
— This story is written by Kali Thiel, director of university communications for Concordia University Ann Arbor and Wisconsin. She may be reached at kali.thiel@cuw.edu or 262-243-2149.
If this story has inspired you, why not explore how you can help further Concordia's mission through giving.