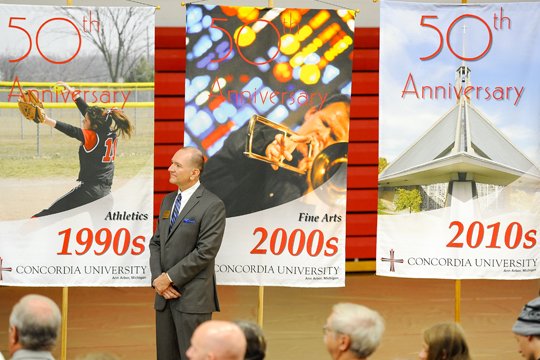 CUAA hits a milestone this year. The 50th academic year at CUAA was officially proclaimed by Randall W. Luecke, acting president, at a chapel service in the The Chapel of the Holy Trinity on Aug. 27th.
---
The spiritual life theme for the 2012-13 academic year is "Unashamed", which comes from Romans 1:16 in The Bible – "For I am not ashamed of the gospel, because it is the power of God that brings salvation to everyone who believes: first to the Jew, then to the Gentile." Last year saw the largest incoming class since the 1970's and this year's student body is even larger.
"This is an exciting time for CUAA," said Luecke. "Our ministry in Ann Arbor has provided students with a faith-based education for decades and we strive everyday to make sure we continue to provide that education through quality programs for decades to come."
As part of the 50th academic year celebration, many exciting changes are taking place on the CUAA campus. Renovation of some of the residence halls began over the summer. Remodeling of the cafeteria and the Cardinal's Nest is also underway, along with a new location of the student fitness center  and beautiful landscaping throughout the campus.
— Rachel Thoms served on Concordia University's Strategic Communications team from 2015-2022. Any inquiries about this story can be sent to news@cuaa.edu.
If this story has inspired you, why not explore how you can help further Concordia's mission through giving.