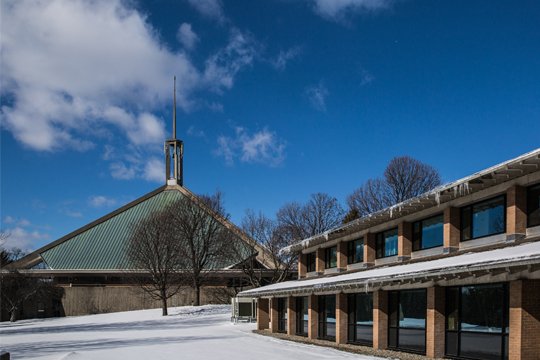 From trailblazing accomplishments and inspiring leaders to large-scale community events and promising new hires, the year 2017 saw its fair share of compelling headlines for CUAA.
---
As the campus community wraps up the semester and embarks on Christmas break, the news team took a moment to gather up the seven most-read headlines of 2017.
Over the course of the year, our team wrote 96 stories, covering the achievements and most significant moments of our current students, alumni, and faculty and staff. Of those, the following seven became the most widely read CUAA stories.
#7. CUAA Hosts Reformation 500 Oktoberfest
Concordia made sure to mark the momentous anniversary of the Protestant Reformation in a big way. The campus hosted a Reformation 500 Oktoberfest, complete with polka music, replicas of the 95 Theses on display, and a performance from a Martin Luther reenactor. [Read More]
#6. Concordia Announces 2017 Cardinal Hall of Fame Inductees
This year's honorees included former men's head basketball coach Chuck Boerger ('67), indoor/outdoor track record holder Rachel (Wesche) Bomberger ('02) and three-year all conference member Rocko Holmes ('02), as well as the Cardinal team to receive the highest national ranking in university history, the 2011-12 women's basketball team. [Read More]
#5. Concordia to Host Inaugural Christmas Event in Ann Arbor
Clearly people were excited about CUAA's inaugural Christmas event A Manor Christmas. Not only did more than 4,500 people attend the Dec. 1-3 event, the story our team posted announcing it earned a spot among our most-read news stories for the year. [Read More]
#4. New Enrollment Director: A Mission Fit
From associate head football coach to director of enrollment. Chance Childers brought his passion for connecting students with Concordia and gifts for recruitment to a new department earlier this year. [Read More]
#3. Worship Arts Director Looks to Make a Major Impact
He trained at Juilliard, people! He's kind of a big deal. Now he's preparing CUAA students to make an impact on the Church as the new director of worship arts. [Read More]
#2. Concordia Sets Record-Breaking Enrollment Rate
Can we call it a trend? Concordia notched another record enrollment this year. Over the past five years, the campus has grown more than 60 percent, making it among the fastest-growing private universities in the Midwest. [Read More]
#1. National Playoffs: The Story Behind the Road to School History
In just four years, the CUAA football team went from completing their season with one solitary victory to earning a bid to the NAIA Football Championship Series First Round. Now that's what we call a Cinderella story. [Read More]
— This story is written by Kali Thiel, director of university communications for Concordia University Ann Arbor and Wisconsin. She may be reached at kali.thiel@cuw.edu or 262-243-2149.
If this story has inspired you, why not explore how you can help further Concordia's mission through giving.