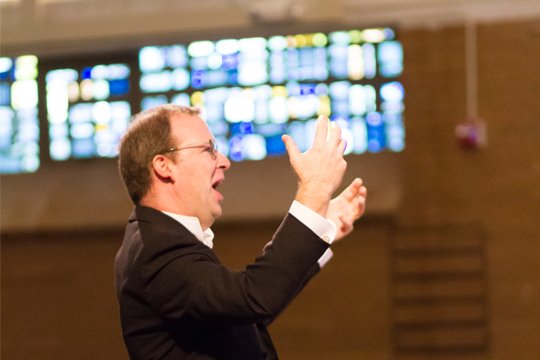 The annual Musical Theater Day, which provides an opportunity for junior high and high school students of all levels of experience to showcase their acting, vocal music and dance talents, is scheduled Saturday, January 27.
---
The daylong workshop will be held on the university's main campus, 4090 Geddes Road, from 9:30-8 p.m., culminating at 7 p.m. with an hour-long, informal showcase for parents and friends.
Theatre Department Director Gerard Dzuiblinski, who just finished directing the 40thannual Boar's Head Festival on campus earlier this month, oversees Theater Day. Working with a professional accompanist, students will be taken through a variety of exercises before being taught a musical theatre number (dance and vocal music), and an ensemble acting scene. Advanced students may provide a musical theatre solo, (sheet music in the correct key must be provided) or an acting monologue (copy of the text must be provided), which will be polished and then eligible for performance in the evening showcase.
To register for the free workshop or for further details, please contact Dzuiblinski at Gerard.dzuiblinski@cuaa.edu.
For more details on all upcoming fine arts events, visit www.cuaa.edu/life/kreft/music or call the Concordia Box Office at 734-995-7537.
—
If this story has inspired you, why not explore how you can help further Concordia's mission through giving.