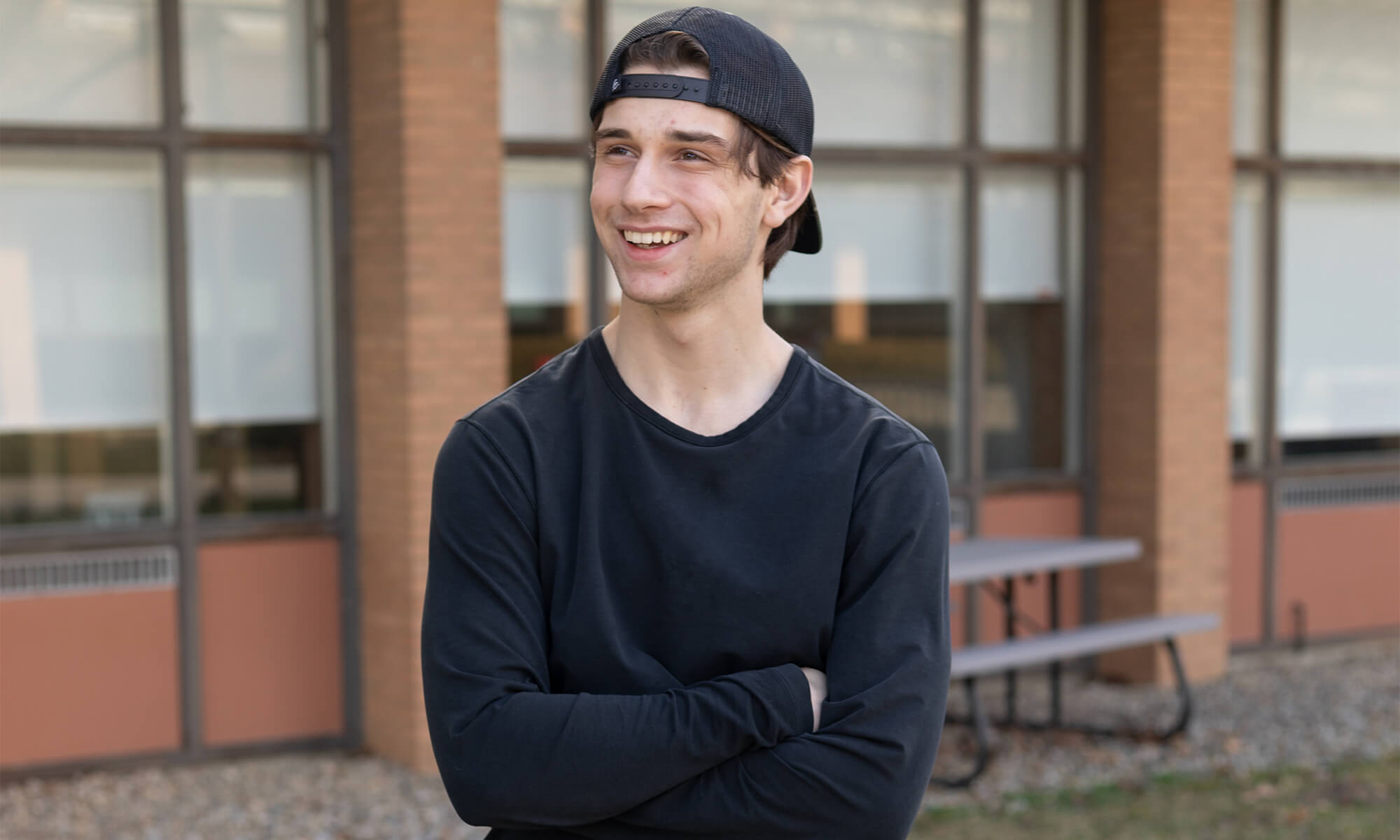 ---
Get to know one of our uncommon Concordians, Travis Wright ('25), a finance major, entrepreneur, and lacrosse player.
---
For most people, the phrase "waiting for the shoe to drop" is a folksy expression for anticipating something dreadful to happen. For Travis Wright, owner of Kicksandcash, shoes dropping is a highly profitable business opportunity. The sophomore finance major is learning on his Nikes how to navigate his million-dollar enterprise and have a rewarding college experience.
What's your business?
The term for what I do is "middle manning the pairs," which is a cool way to say that I buy and sell shoes online. I buy large quantities of shoes as they are released, or "dropped," by the manufacturer, and then I sell them to businesses for a profit. In finance terms, I am a wholesaler. My company is named Kicksandcash LLC, and we specialize in moving Nike Dunks, Jordan 1s, and Jordan 4s. I don't sell to consumers, so I don't have a website, but I promote my business on Instagram.
How did you get started?
I have always been entrepreneurial. In elementary school, I had lemonade stands and sold Pokémon trading cards. I sold candy and fidget spinners in middle school when they were popular. I also earned money by mowing lawns and shoveling snow. In high school, I started selling shoes and clothes and kept my shoveling and landscaping gigs to buy more shoes and clothes to sell. That inventory has grown to 40–50 shelves storing more than 2,500 pairs of shoes!
I'm using shoes to set me up for life. I'm looking to open multiple resell stores inside shopping malls in the near future. Beyond shoes, I'm interested in real estate and intend to invest in rental properties before I graduate.
What advice do you have for budding entrepreneurs?
My biggest advice to young entrepreneurs is to learn that success takes time. So often, people in the online wholesale business are looking for one-offs and quick sales. Instead, I focus on building relationships with my buyers and sellers and reinvesting profits for steady, long-term growth.
My other piece of advice? Become an expert in something that has value and then help people find that something at the best price.
How has Concordia helped you?
Concordia has been a huge help to me! Last year I presented my business at CU Launch, the university's business pitch event. From there, I connected with an accountant and a lawyer to help me with my business practices. All my professors are supportive and understanding if my business occasionally interferes with my class schedule. They work with me through my crazy-busy times because they want me to succeed. I don't think I'd get that at another school.
What shoes are you currently wearing?
Here's the thing: I'm really frugal (my dad calls me cheap). I'm wearing destroyed Air Force 1s from over a year ago with holes in the bottom.
Want in?
At Concordia, we believe in investing in your ideas, aspirations, and goals. We are proud of our students and students who are positively engaging the culture and extending our mission and ministry throughout the world. Click the link below to learn more about this year's CU Launch competition.
---