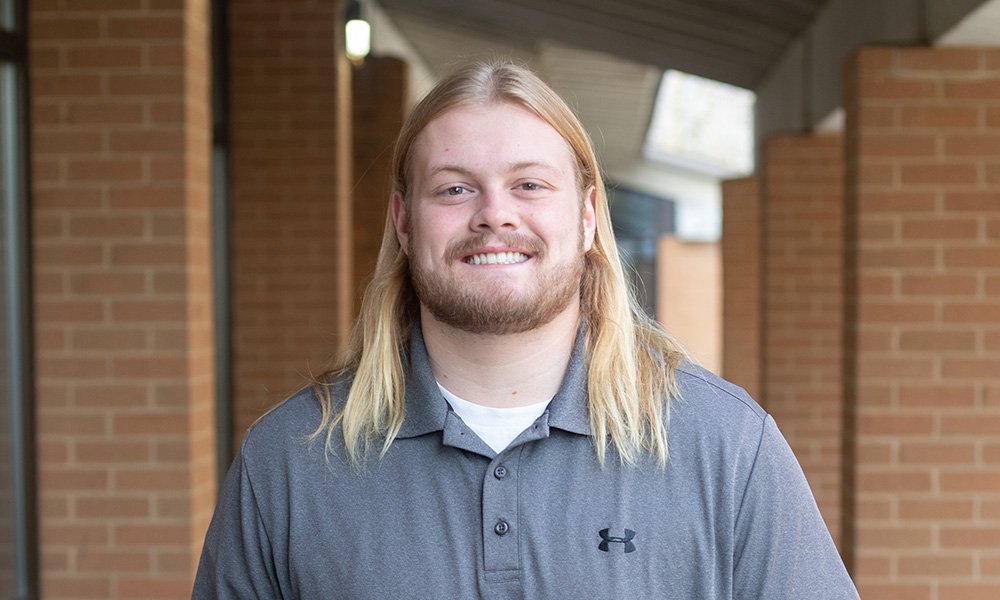 ---
Meet Chris Bostrom ('23), a human resource & strategic leadership major who came to CUAA seeking opportunities on the football field and is leaving with a passion for the field of HR.
Editor's note: This is one in a series of stories highlighting a few of Concordia's uncommon May 2023 graduates. Faculty and staff submit candidates for consideration. Stories are posted in the days leading up to commencement. View more uncommon graduates here.
---
To say Chris Bostrom, from Noblesville, Indiana, was excited about the possibility of attending Concordia University Ann Arbor is probably a bit of an understatement.
"I didn't know anything about Concordia, but I saw an ad on social media," Chris said. "And I looked into it. And I woke up my dad—he was taking a nap—and I was like, 'Dad, we should go on a visit here! They have a football team. It's a Christian school. It's in Ann Arbor. Let's go check it out!'
"So we went and checked it out, and I said to my dad, 'I think I'm going to be here for four years.' He just kind of chuckled, because he'd heard me talk like that before. But I was just kind of drawn to it. Like, I just felt like I was supposed to be here."
Four years later, Chris Bostrom's suspicions have been confirmed. He was supposed to be here. He knows it, his dad knows it, and his on-campus boss, Dr. Joey-Lynn Bialkowski, knows it, as well. Right from the start, in a freshman business class, she saw something special in Chris.
"He always sat in the first or second row, and always had the courage to speak up and participate in class," recalled Bialkowski, CUAA's executive director of career engagement and industry relations. "One thing that stood out to me was his professional curiosity, where he would ask questions in the classroom and really wanted to know more about the career competencies or business skill sets that were essential to growing a sharp business acumen." By the end of that first year, she was asking herself if Chris was someone she should take under her wing.
Big and talented
Chris was actually born in Southern California, but his family moved to central Indiana (where his mom is originally from) when he was just five. Because of his size (he's listed at 6' 2", 275 lbs.), athleticism, and natural leadership skills, football became an important part of his life at an early age. Faith is also a big part of his life, due to a traditional Roman Catholic upbringing. So a Christian school with a football program was his aim.
The interest in human resources came from his father, who is an HR manager for the Kroger corporation. Two things about his dad's career choice appealed to him: the opportunity to travel all over the country and having the ability to help people. If you think of Toby from "The Office" when you think of HR, you have the wrong idea, he Chris said.
"I love 'The Office!'" Chris said with a laugh. "But my girlfriend makes fun of me. She's like, 'That's going to be you,' like Toby. But that's not going to be me! I'm going to be the person crunching the numbers, meeting with employees, trying to help them, like to help get their 401(k) started, or make sure they understand all their benefits. That's like what my dad has done."
A freshman sensation
Bialkowski has no doubts Chris will be good at those things. She spotted special qualities in him early on, and recruited him to become a student career engagement ambassador at Career Engagement Studio (CES) in the Office of Career Engagement and Industry Relations (CEIR).
"He made that much of an impression in his freshman year," Bialkowski said. "When we made the job offer, he was so gracious, and humble, and honored to be selected."
The job is not an easy one, requiring a rigorous summer training program, as well as some additional training throughout the year. It's also an important and meaningful job, helping students navigate the job search process, offering help with resumes, cover letters, interviews, and the like.
"Basically anything that relates to that first entry-level job, or landing an internship, anything like that," Chris explained about his role. "I love it. My last day was last week, so it was kind of sad, but it's great to know I was able to make an impact on people."
Personality plus
It's also a job that requires some serious people skills—which Chris has in spades. If you've met him, you probably realize this. Chris is positive, self-confident, sincere, respectful, and engaging. Just what you're looking for to help uncertain students (or employees) looking for guidance.
"He's just been blessed with a natural charisma," Bialkowski said. "Yet he's calm and attentive and he's always actively listening. In the Studio, we always want to give whoever comes in a five-star guest experience. And when someone walks in, Chris is usually the first one up out of his seat to shake a hand and give a warm welcome, whether it's a student, faculty member, alum, or industry leader. And I think that's just wonderful."
A highlight of Chris's senior year was being selected to participate with Bialkowski in an experiential learning opportunity at the 2023 college football national championship game in Los Angeles. For Bialkowski, it represented something of a culmination of Chris's time with the CEIR.
"It was awesome to see him in a different element, and to see his leadership skills in that moment," she said. "Just to see him with that senior 'big brother' attitude, taking others under his wing, and encouraging them to step in and lean into opportunities. It was a very proud moment for me."
Bialkowski has obvious affection for Chris, a feeling that runs both ways. "I love her to death," Chris said of his mentor. "She's like my second mama."
His departure will leave a big void in the Career Engagement Studio, dearly felt by both Bialkowski and her colleague, Alisha Greaves, CUAA's director of career engagement.
"We have so enjoyed having him around these last three years, and to watch what he has done to help shape the Studio and even shape our best practices," Bialkowski said. "I have nothing but wonderful things to say of how Chris shows up every day as his best self and brings that positive energy to everyone around him."
Next steps
As for the future, the world of Human Resources may just have to wait a bit. Chris is exploring an opportunity to pursue an MBA in business analytics—along with a graduate assistant football coaching job—at Anderson University in Anderson, Indiana. Either way, there's little doubt those same leadership skills, personality traits, and faith in God's leading will help him be successful.
"I'm going to give it a shot," he says. "You know, football has brought me this far, to go to college and get my degree. I want to see where else it can take me. I'm just exploring it right now, just feeling it out, to see if it's for me. But if it feels like God is pushing in that direction, I'll go that way. If not, I have other options to explore."
Whatever field he ultimately chooses to work in, the impact he makes will no doubt be a big one. Just like the man himself, and his heart for helping other people succeed.
---
Want in?
The Haab School of Business emboldens a network of transformational and collaborative Christian leaders, dedicated faculty, entrepreneurial students, and active alumni who come together to create maximum social impact through ethical practice, innovation and service. Led by our Christ-centered values, we believe that the best business leaders demonstrate both uncompromising compassion and unmatched competitive skill. Because of this, our education uniquely develops and empowers uncommon leaders who lead beyond the norm, igniting transformative change in themselves, their organizations, and society.
.
---