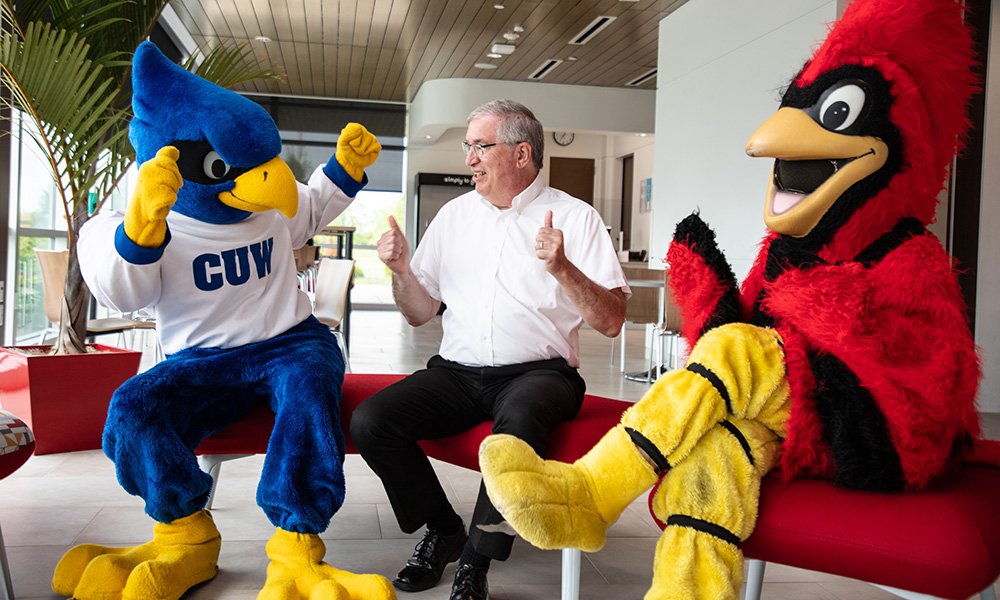 Concordia University Wisconsin & Ann Arbor is blessed with TWO beautiful campuses. Here's a look at some things that they each have in common--and others that make them uncommonly unique!
---
Concordia University Wisconsin & Ann Arbor has what you might call a very "uncommon" relationship. Officially, we're one university with two campuses—yet each campus maintains a distinct identity. We share a common faith, a common mission, and some common administrative officials, including interim president Bill Cario (pictured). Both schools have amazing, passionate professors. Yes, we have different school colors and different mascots—but look at how similar Freddy and Corky are! True "birds of a feather," as the saying goes.
It's both these differences and similarities that make our campuses truly Uncommon places to work, learn, and live. Here are just a few of the things both campuses have in common. And a few more that make them Uncommonly unique.
IN COMMON
Martin Luther Statue
The man who founded the Lutheran Church holds a place of honor at both CUW and CUAA. Which depiction do you prefer?

Peaceful Waterfront
The bluff and Lake Michigan shoreline at CUW arguably get more glory, but the pier and riverfront at CUAA should not be overlooked.

Beautiful Chapel
CUW's elegant, traditional Chapel of Christ Triumphant was "inherited" from the School Sisters of Notre Dame. CUAA's intimate Chapel of the Holy Trinity was purpose-built for the school, which opened in 1963. Though different in style and design, each is strategically situated in central locations and are perfectly suited to the campus's worship style.

Picturesque Gazebo
At CUAA, the Manor Gazebo is perfect for intimate outdoor gatherings. At CUW, the gazebo is more off-the-beaten-path, a great place to sit and reflect along the bluff.

Driftwood Cross
CUW has the cross on the beach. CUAA has the cross at Chapel Point. Both spots provide a wonderful opportunity to quietly reflect on one's faith and what the cross represents.
Magnificent Trees
Both campuses are blessed with an abundance of trees, especially appreciated in autumn when the grounds erupt in colorful splendor.
---
UNCOMMON
CUW: Fishers of Men Statue
Inspired by the first chapter of Mark, the statue depicts the calling of Jesus' first disciples—presumably Simon (Peter) and Andrew. "And Jesus said to them, 'Follow me, and I will make you become fishers of men.' And immediately they left their nets and followed him." (Mark 1:17-18, ESV)
CUAA: Christmas Tree Cross
Each year, the campus Christmas tree is refashioned into a cross, which is displayed outside the Chapel until after Easter. This practice beautifully symbolizes the essential connection between Christianity's two most important events.
CUAA: Residential Houses
Rather than larger, more traditional residence halls, CUAA students live in 16 different residential "houses." Each consists of eight suite-style units which accommodate a total of up to 32 students. The idea is to create a more homelike atmosphere and nurture extra-close bonds among students in each house.
CUW: Tunnels
One thing the Mequon campus is known for is the tunnel system that allows students to walk from their dorm rooms to almost anywhere on campus without ever having to go outside. The primary exception is the CCES building (Concordia Center for Environmental Stewardship), which forces students to get a healthy dose of fresh air whenever they have a class there. (According to legend, there may be a tunnel or two on the CUAA campus, as well, but no one official would go on the record.) 😉
CUAA: A Former Country Estate
Before it became a university campus, the land CUAA now occupies was once a posh country estate. Earhart Manor, which now houses various administrative offices, remains as a beautiful (and functional) piece of history.
CUW: A Former Convent
Before it was purchased by Concordia and "Concordia College" moved here from the  original Milwaukee site, the current campus was once a convent, run by the School Sisters of Notre Dame. One remnant of those days is the mosaic on the wall near the library stairs.
CUAA: North Building
In 2015, the university purchased a former law school building located just over two miles north of the main campus. The North Building now houses the campus's School of Nursing, along with other health-related programs.
---
To learn about life on the Ann Arbor campus, visit Life at CUAA at cuaa.edu. To learn more about life the CUW campus, visit Life at CUW at cuw.edu.
—
If this story has inspired you, why not explore how you can help further Concordia's mission through giving.