As Colton Ritsema ('22) recounts his time at Concordia, he reflects on the combination of faith, academics, sports, and growth that made for a life-changing college experience.
---
Editor's note: This is one in a series of stories highlighting a few of Concordia's uncommon May 2022 graduates. Faculty and staff submit candidates for consideration. Stories are posted in the days leading up to commencement.
---
The start of college presents is an exciting chance for new opportunities no matter where you go, but Colton Ritsema had his sights set on a particular university along the Huron River in Ann Arbor. With the support of his family and friends to attend a small, Christian university, Ritsema started his journey as a freshman at Concordia University Ann Arbor only four years ago.
In high school, Ritsema attended a basketball camp at Concordia and was friends with Luke Diekevers ('18), who instilled a desire in him to go to Concordia and continue his collegiate basketball career. He heard great things about the team atmosphere and felt a lot of comfort being on Concordia's campus, even as a high school student. Although Ritsema would come to find that even off the court, there would be a lot of activities, groups and people that would bring him the same feelings and comfort and community.
Pursuing his passion
Coming into college, Ritsema was undeclared and wasn't sure about what academic program he wanted to pursue. As a sport-lover himself, he was in the sport and entertainment business program at first, then realized he needed to pivot. Looking further into the academic offerings of CUAA, he discovered a major that no matter what he chose to pursue later in life, he would be able to apply his learned skill to his work: Mass Communications. Ritsema loved the broad subject matter that the communications major covered in addition to his established love of writing and speaking. He knew this major both incorporated his strengths and was going to be a great opportunity to expand his communication skills.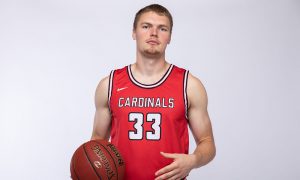 As Ritsema discovered a major that suited him best, he decided to get more involved in the close-knit campus community. At a school like CUAA, there is never a shortage of groups to get involved in and Ritsema took full advantage of this opportunity. Throughout his time at Concordia, he played both basketball and tennis, intramural basketball, was a small group leader in Athletes in Action, attended Tuesday Night Worship, was a Resident Assistant, and even found a love for theatre within the Concordia Theatre Department.
Leadership in more ways than one
When recounting his experiences on campus, he appreciates that "CUAA has been a safe place to grow and learn in a Christian environment." Becoming a leader in many groups, playing two sports and being pushed out of his comfort zone and onto the stage are all things that may have not been possible for him if he would have chosen a different university to attend and play basketball. Endlessly grateful, Ritsema looks to his post-grad future with great hope and excitement.
In the coming year, Ritsema plans to complete a one-year master's program for a Secondary Teaching Certification while serving as a graduate assistant for the Concordia Men's and Women's Golf teams/Athletic Office. He will also be able to play a final year of basketball for CUAA since he was given an extra year to play due to COVID.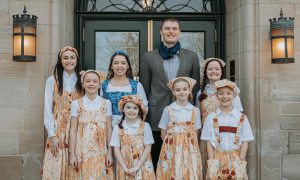 Taking what he learned both in and out of the classroom over the last four years, Ritsema is excited to get his teaching certificate and potentially begin teaching in a high school setting. Ritsema feels called to this line of work because he wants to show God's love by being a mentor to students in the same way he was personally mentored for so many years, especially during his time at Concordia.
Even if Ritsema doesn't begin teaching right away, he knows the skills and experiences from his undergraduate and master's program have prepared him for wherever life takes him after CUAA.
From athlete to actor, Ritsema has had a whirlwind of unique experiences on campus at Concordia University Ann Arbor. He will miss his campus community but will take what he has learned with him to inspire the next generation of uncommon leaders.
— This story is written by Allie Milot, social media manager for Concordia University Wisconsin and Ann Arbor. She may be reached at alexandria.milot@cuaa.edu or 734-995-7403.
If this story has inspired you, why not explore how you can help further Concordia's mission through giving.