Meet Madalyn Fields ('22), a biomedical sciences major who found CUAA's small class sizes and personal relationships with professors to be the best pre-cursor to big-time graduate-level opportunities.
---
Editor's note: This is one in a series of stories highlighting a few of Concordia's uncommon May 2022 graduates. Faculty and staff submit candidates for consideration. Stories are posted in the days leading up to commencement. View more uncommon graduates here.
---
There's a popular saying: Go big or go home.
But bigger isn't always better. In fact, sometimes it's best to start small.
That's certainly been the case for Madalyn Fields. As the first in her family to have the opportunity to attend college, Madalyn was particular with her post-secondary school selection, despite the fact that the Honor Roll student, talented athlete, and all-around high-achiever had her fair share of college options.
Her selection criteria were crystal clear, however. She knew she wanted to attend a Christian university. Her faith has played an important role in her life and she strongly desired the opportunity to be surrounded by like-minded individuals. Her college pick needed to be relatively close to home so that Madalyn, an only child, could maintain visits with her doting parents. It also wouldn't hurt if she had the opportunity to compete as a college athlete. Lacrosse is her sport of choice.
But perhaps most importantly, it needed to be a school where she wouldn't get lost in the crowd – a school with small class sizes and where professors knew her personally instead of simply as one in a sea of enrollees.
"I didn't want to be just a number," Madalyn said. "I've had other people, friends who went to larger schools and they're in class sizes of 300 students or more. I knew that wasn't for me."
Instead, she found the perfect fit in Concordia University Ann Arbor. This weekend, after four years of soaking up the perks of CUAA's tight-knit community, Madalyn will join the 140 other CUAA candidates for graduation to celebrate the completion of her Bachelor of Science in Biomedical Sciences and minor in chemistry.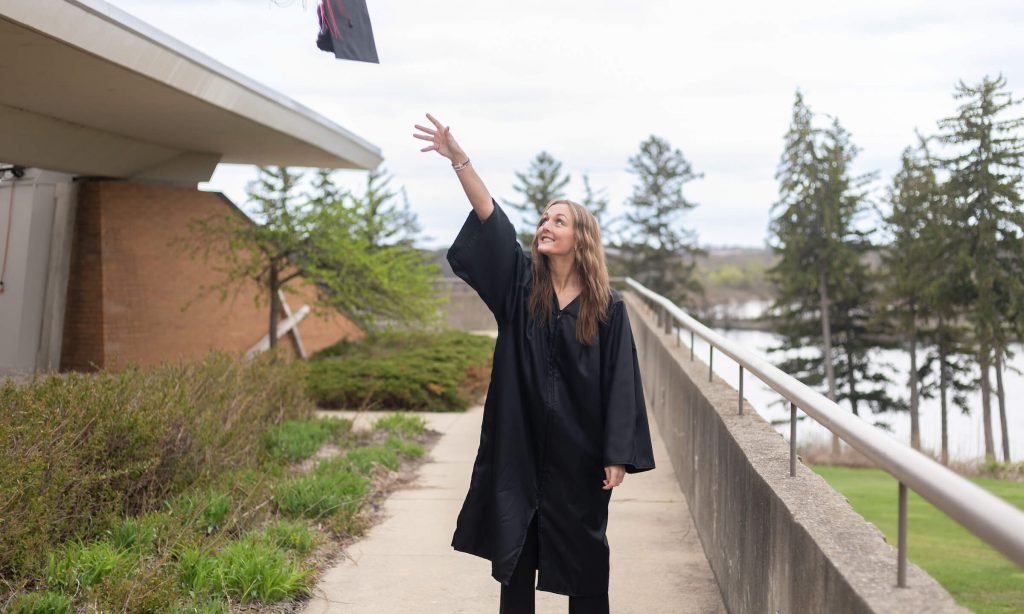 On to the next big thing
Her small-school experience has perfectly prepared her for the big leagues. Following graduation, she will begin a PhD program in biomedical sciences at The Ohio State University, one of the top research programs in the United States. Madalyn, who will graduate from CUAA with high honors, also landed a coveted fellowship to attend, so her tuition and health care costs will be entirely covered.
Madalyn credits many of her Concordia professors for making her CUAA experience a positive one, particularly Lance Shultz, assistant professor of life and earth sciences.
"The faculty and the science professors at CUAA were absolutely amazing," Madalyn said. "Professor Shultz invited me to work in the microbiology lab with him. After that, I fell in love with research. It just kind of all took off from there."
Shultz also played a significant role in helping Fields navigate her next steps after Concordia. He gave her advice on selecting PhD programs and helped her figure out how to apply. Because her parents never attended college, much of the admissions process was completely foreign to them.
"I'm sure they both really would have loved to go to college, but they were never provided that opportunity," Madalyn said. "I think that's why they were both very adamant about me having the funds and opportunities I needed to go to college."
Her parents' support gave her the confidence to set her sights high, and Concordia helped pave the way for a bigger future.
"I've loved my Concordia experience," Madalyn said. "The Christian atmosphere, small class sizes, only being an hour away from home, and having the opportunity to play lacrosse – it was the perfect school for me."
---
Want in?
Explore Concordia's science undergraduate programs by clicking here.
— This story is written by Kali Thiel, director of university communications for Concordia University Ann Arbor and Wisconsin. She may be reached at kali.thiel@cuw.edu or 262-243-2149.
If this story has inspired you, why not explore how you can help further Concordia's mission through giving.