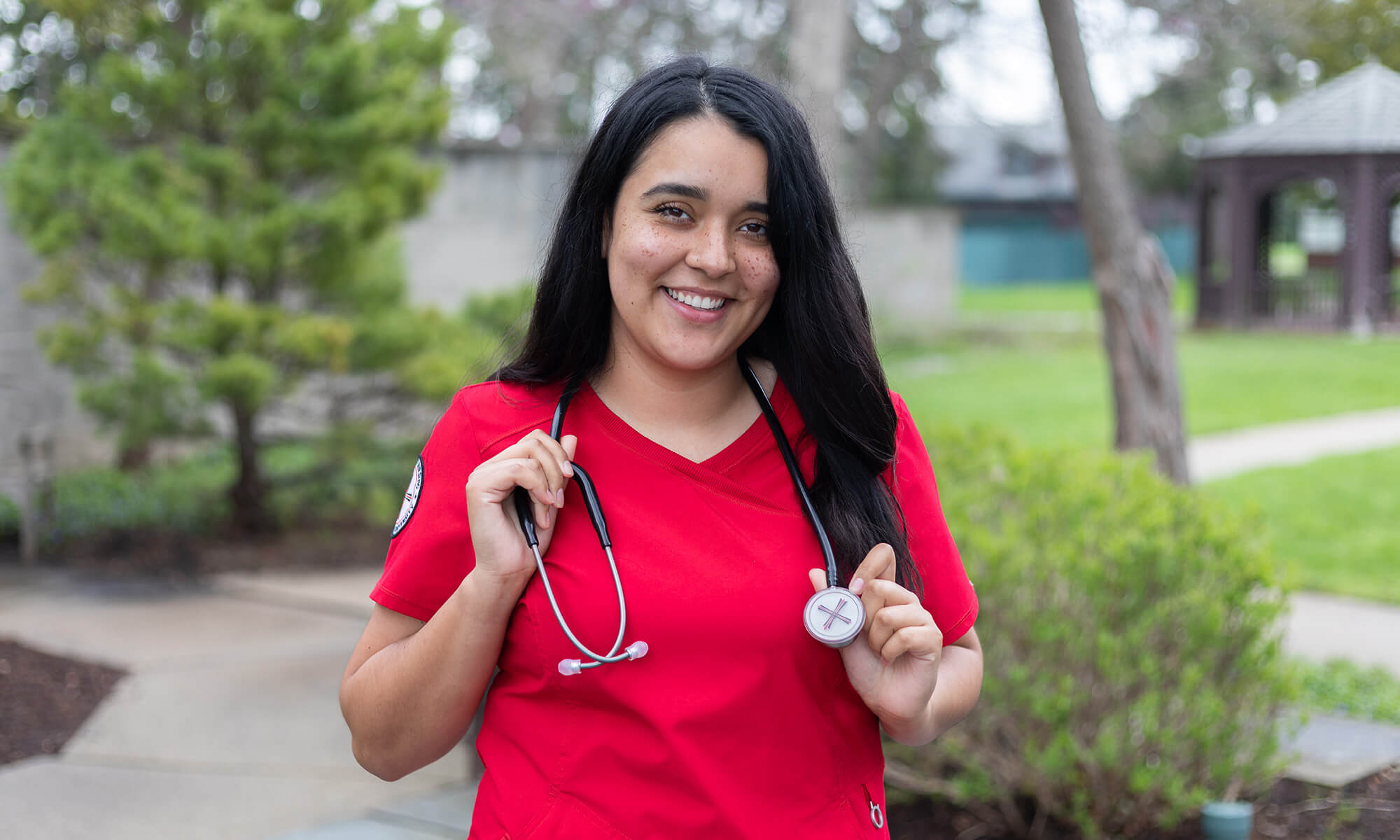 First-generation college graduate and nurse, Maria Esquivel ('22) plans to use her training and experience from Concordia University to help close the language gap in her community.
---
Editor's note: This is one in a series of stories highlighting a few of Concordia's uncommon May 2022 graduates. Faculty and staff submit candidates for consideration. Stories are posted in the days leading up to commencement.
---
Esquivel began her college journey a little differently than the traditional student. After graduating high school, she decided to work and attend a local community college. Later on, she decided to pursue nursing at a state university, and although Esquivel knew she wanted to be a nurse, the large school setting wasn't a good fit for her.
Becoming a cardinal
In the fall of 2019, Esquivel decided to begin attending the School of Nursing at Concordia University Ann Arbor. Encouraged by a coworker and friend, who just so happened to be in the Epsilon Class (Fall 2021) and recommended the program to her, she was confident it would be a good fit. Immediately, she noticed a change in class culture and the relationship-building that was possible with her fellow students and professors that was far different from any other university she had attended.
The importance of being known
Knowing how difficult nursing school was going to be, having a close-knit community gave her the opportunity to thrive during her time at Concordia. Even though she only had one regular semester before the pandemic began in March 2020, Esquivel found a way to remain in the program, commit to her studies and finish nursing school in a little over two years.
Esquivel is most thankful for her professors at CUAA. Coming from diverse backgrounds and extremely knowledgable in their craft, Esquivel found her professors easy to learn from and easy to talk to, whenever she needed help. There was never a moment when she felt she couldn't ask a question; the CUAA nursing faculty always made time to make sure she understood the material and knew what to do. Esquivel wasn't just another student to these professors, she felt known.
Closing the gap
Being a first-generation student and the first nurse in her family, Esquivel has had to navigate a lot on her own. However, throughout her time at Concordia, she has been given the tools to fulfill her calling outside of the classroom.
During her time in nursing school, Esquivel volunteered at a pop-up COVID clinic in a highly Spanish-speaking community. At this clinic, she was able to help local community members, who didn't speak English as a first language, receive proper care. As someone who speaks Spanish fluently, she was able to be a connection point between the local Spanish-speaking population and other nurses and doctors.
These interactions at the pop-up clinic gave her affirmation that she had chosen the right profession as a nurse. Additionally, through the eye-opening work she has done with the unhoused, sex trafficking victims, the Veteran population, along with those who don't have access to quality health care, Esquivel feels called to be an Emergency Room nurse. Esquivel has seen many needs in her community and knows that as a bilingual nurse she will be able to fill that need and ensure proper care for every patient who walks into the ER (or any other place that she works).
After graduation, not only with Esquivel be able to help others with her nursing skills, but through her language skills, she will be able to reach out to often misunderstood communities, break down the language barrier, and support people in necessary ways. Although she is only a single Concordia nurse, there is no limit to the service Esquivel will be able to provide her community for years to come.
— This story is written by Allie Milot, social media manager for Concordia University Wisconsin and Ann Arbor. She may be reached at alexandria.milot@cuaa.edu or 734-995-7403.
If this story has inspired you, why not explore how you can help further Concordia's mission through giving.