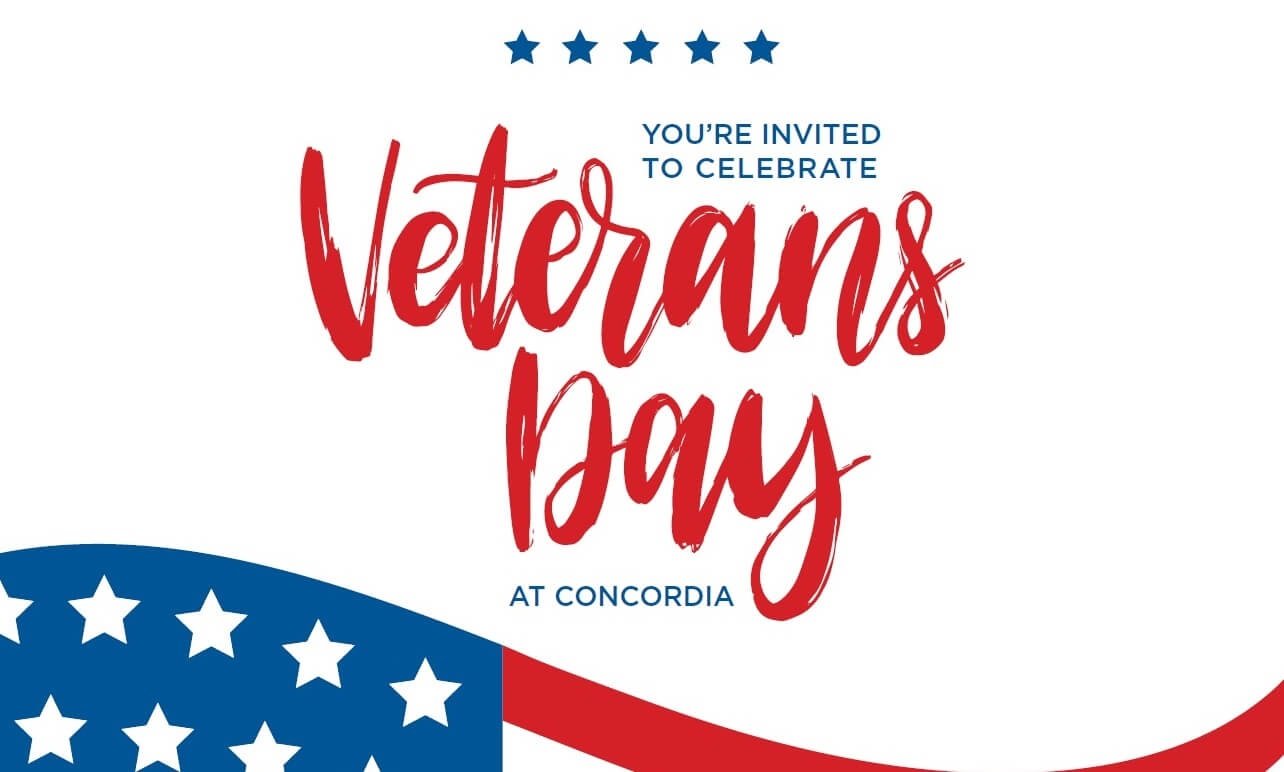 Since 2007, the Concordia University Ann Arbor community has paid close attention to Veterans Day, honoring those who have selflessly served our country.
---
Plans are in place for November 11, 2019, and all Veterans, their families, community members and friends of CUAA are invited to join us on campus for a special, open-house style commemoration.
Click here to RSVP to one or all of CUAA's Veterans Day activities.
"As a Veteran, I believe that it is very important that our students, faculty, staff, and community realize those that have served us and our country throughout the ages," said Associate Professor and Director of CUAA Veterans Resource Center Dr. Steve VanOostenbrugge. "The freedoms we have today would not be possible without the sacrifices of time, duty, and in some instances, people's lives."
VanOostenbrugge shares that CUAA's Veterans activities are coordinated for the purpose of that all who observe them are reminded of the freedoms have, and who has helped them hold fast to those freedoms.
Below is a detailed schedule of all Veterans Day activities at Concordia University Ann Arbor:
8—10 a.m. | Jet 4 a Vet 5k Run*
The first annual "Jet 4 a Vet" 5k run/walk on Concordia's river-front campus is being organized by Haab School of Business students in the HEM 420 Event Planning and Management class. Race participants will receive a race t-shirt, giveaway bag, and finisher medal. Race fee is $10 and registration is due Oct. 22. Registration is available after Oct. 22, including on race-day, but t-shirt size will not be guaranteed. Group rates are also available by contacting Jet4aVet@gmail.com.
Follow Jet 4 a Vet 5k run/walk on Twitter Facebook and Instagram.
10:30—11 a.m. | Military-themed Daily Chapel
Join us for Daily Chapel in the Chapel of the Holy Trinity on Concordia's campus for a military-themed worship service.
11 a.m.—1 p.m. | Complementary Luncheon*
Following chapel, campus guests are welcome gather in the Black Box Theater for a luncheon, featuring guest speaker General William A. Henderson (Ret.).
As a Marine Corp F-4 Phantom fighter pilot, Bill Henderson flew 125 combat missions. He then flew in support of the infantry as Forward Air Control (FAC). Upon his return to the United States he became a flight instructor and F-4 Check Pilot.
After 10 years as a Marine, Henderson left the Marine Corps and joined General Motors as a corporate pilot, eventually becoming Chief Pilot and Director of Flight Operations. After 28 years he retired from General Motors.
While employed at GM, he joined the Marine Corps Reserves at Selfridge Air National Guard Base, Mt. Clemens, Michigan. When the unit moved out of state, Henderson joined the Michigan Air National Guard where he flew the F-100 Saber and A-7 Corsair. After 34 years of combined active duty and reserve military service he retired, having achieved the rank of Major General and command of the Michigan Air National Guard.
He now serves on the board of directors of Operation Never Forgotten.
12—3 p.m. | 'Sitting Volleyball' Challenge*
Drop in to Concordia's Field House a participate in a game or two of Sitting Volleyball, a paralympic sport. Don't want to play? Come watch!
*Denotes events where RSVP required. Click here to RSVP to one or all of CUAA's Veterans Day activities.
Questions about CUAA's Veterans Day events? Contact Dr. Steve VanOostenbrugge at steven.vanoostenbrugge@cuaa.edu or 734-995-7274.
— Rachel Thoms served on Concordia University's Strategic Communications team from 2015-2022. Any inquiries about this story can be sent to news@cuaa.edu.
If this story has inspired you, why not explore how you can help further Concordia's mission through giving.