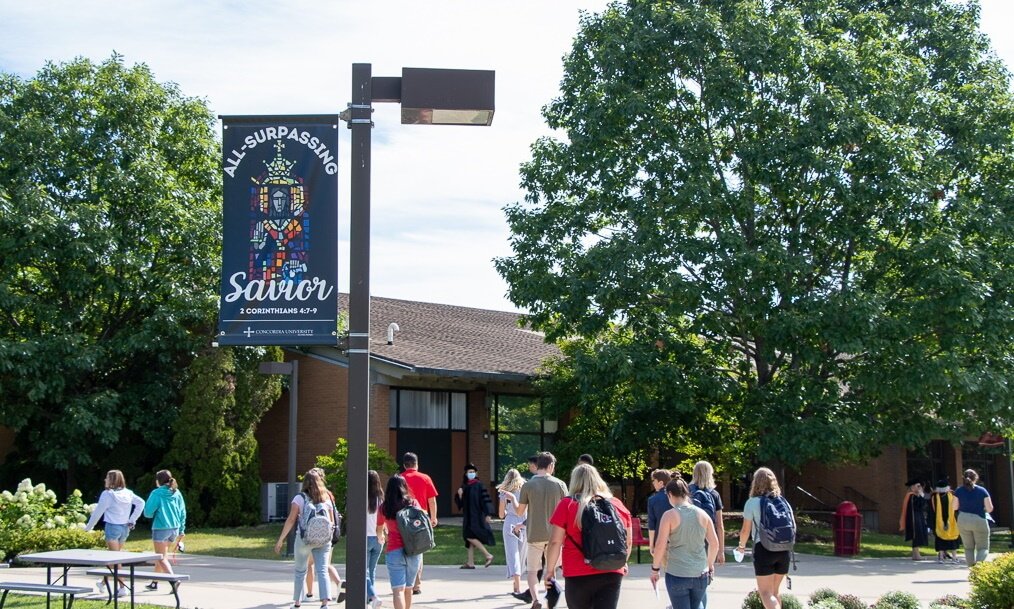 Here are a few lessons I learned first semester that I am going to put into practice for this semester.
---
As a freshman in college, I now have one full semester under my belt at Concordia University Ann Arbor. With the fresh start of a new semester, there are some habits and practices I plan to put in place from the start.
I'm already halfway through my freshman year! The time really does fly, so I want to do what I can make the most out of my time and energy.
No procrastination… just do it!
Speaking from experience, don't wait until the last minute to do things, and I'm not jus talking about homework. Something I learned from first semester is that assignments and tasks will keep coming, so the more you stay on top of them the easier your life will be in other areas, too. For example, on Sunday afternoons, I cleaned up my room, finished all of my laundry, and wrote down all of assignments I had for the upcoming week.
Do this!

Find a quiet place to work on assignments while they are fresh in your mind. Get started right after class. The ARC is a great place that has many helpful resources to take advantage of!
Need a jumpstart? Go for a quick walk to get some fresh air, get the blood flowing, and then get started on your tasks.

Don't do this!

Go back to your room and lay in bed… it's a trap.

 

Don't procrastinate and tell yourself you will do the assignment later, because you won't want to do it later.
Put yourself out there
Everyone is nervous. Don't feel like you are the only one who is feeling a little vulnerable. If you aren't nervous at all, that's great! I remember coming to college and thinking to myself, "Wow, this is uncomfy, I don't know any of these people," and now I am basically living in a little village with them. 
Do this!

Do sit in the first two rows of seats in class because forces you to stay engaged.
Do introduce yourself to your professors because it shows them you care.

Don't do this!

Don't sit in the back, it allows the temptation of being on your phone or online shopping instead of being engaged. That only makes things difficult later when you're trying to write a paper or work on an assignment.
Don't be shy! You will be with these professors and classmates for the next four years.
Study habits and preparing for exams
Waiting till the last minute is not a good idea. In high school, I could get away with last minute studying. But I promise, in college, you don't want to do that. Make good study habits right from the beginning of the semester! It's really hard to dig yourself out of bad habits.
Do this!

 

Do study the topic a little bit each night.
Make flashcards, it is best way to quiz yourself. Plus, the act of writing down the information helps you to remember it, too.

Don't do this!

 

Don't wait until the night (or morning) before an exam to start studying.
Don't stay up super late studying until the point that you don't get a good night's sleep. Being exhausted will make taking an exam or quiz way more difficult.
Take time to explore
There are so many different things to try out here at CUAA. I used to be someone who absolutely dreaded change. I loved being in my safe little bubble. If I didn't have to do anything outside of my bubble, I was happy. A lesson I learned a couple years ago is that change is great, and that has really helped me in college. Embrace change, because it helps you grow in ways you could not even imagine. 
Do this!

Go to the different events around campus. You never know if you like it until you try it.
Do try the different foods at the cafe, you might find something new you enjoy.

Don't do this!

Don't NOT go just because your friends aren't going. If you want to go, go!
Don't stay in your comfort zone and just stay comfortable. You will limit yourself!
Grow in your faith
Do this!

No, chapel isn't mandatory, but when else in your life will you have a built-in opportunity for daily worship?
I personally love chapel, it is a time allotted for all students to have a break from class and worship the Lord.

Don't do this!

Don't NOT go just because your friends aren't going. If you want to go, go!
Don't take for granted this wonderful opportunity to worship!
---
Want in?
Learn more about Concordia University Ann Arbor on our website at cuaa.edu.
—This post is written by Grace Hedtke ('25), studying nursing at CUAA.
—
If this story has inspired you, why not explore how you can help further Concordia's mission through giving.