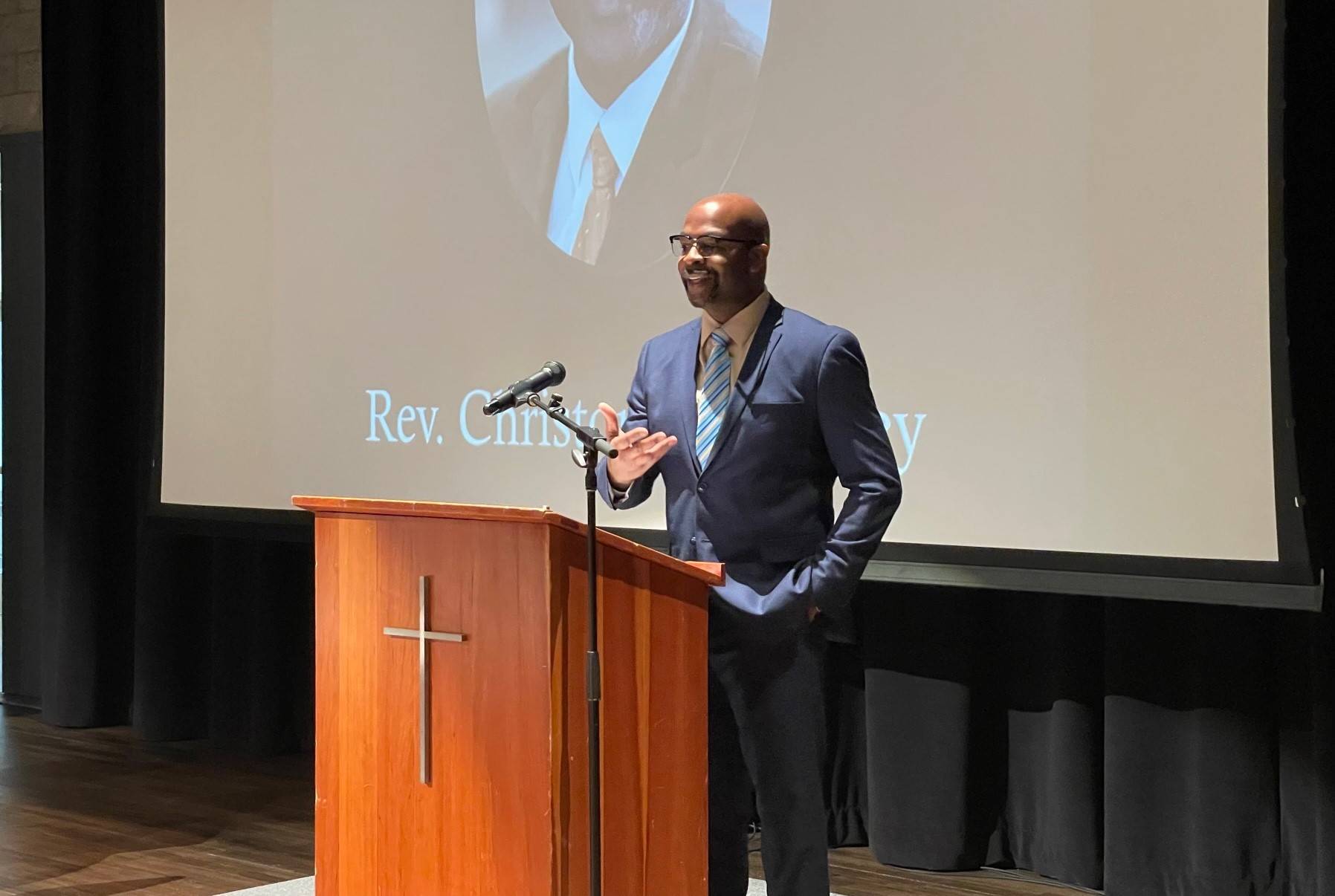 Faculty, staff, and students from Concordia University Ann Arbor gathered on campus to celebrate the life and legacy of Rev. Dr. Martin Luther King Jr.
---
The recognition celebrations were held on Friday, January 14, prior to the University closing on Monday, February 17 to observe Martin Luther King Jr. Day.
The day started with a Dedication Chapel service in The Chapel of the Holy Trinity. The service focused on unity and reconciliation with our brothers and sisters in Christ. The Scripture reading was from Colossians 3:9-17, followed by a message preached by CUAA's Campus Pastor Rev. Randy Duncan.
"Our God makes beautiful mosaics," shared Duncan. "These colors come together and form something beautiful and reflective of our God."
A message from Rev. Chris Bodley at inaugural brunch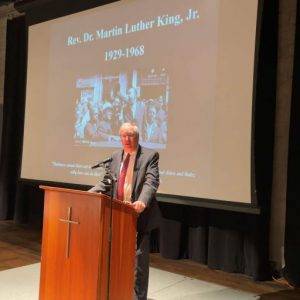 Following the services, faculty, staff, and students gathered in the Black Box Theater for a special, inaugural Martin Luther King Jr. brunch. Interim President Dr. Bill Cario shared a greeting and his encouragement to continue an open dialogue and discussion around the challenges we face in regards to obtaining reconciliation and unity.
"I pray God continues to use our Concordias as places where conversations can take place, and I'm excited to be here today for this conversation," said Cario.
Along with sharing a meal together, the brunch was anchored by an encouragement from Rev. Chris Bodley, missionary-at-large for the Michigan District in the Lutheran Church—Missouri Synod. His emphasis was on "changing the story" and living lives that exemplify how Jesus changed our stories.
"When we make a difference in people lives, we are changing stories. Living an uncommon life is changing the story," shared Bodley. "Stories change when steps are taken. Dr. King took steps, he had struggles, but systems were also put in place because of his struggles."
Bodley went on to share about the difference between careers and callings, and how Christ calls us to be uncomfortable and to care and love the least of these.
"Love must be intentional, it must be purposeful, it must be apologetic. If we are to be a beloved community we must be willing to be intentional, be bold, and live uncommon," said Bodley. "As Matthew 25 tell us that Jesus says, 'whatever we do for the least for these, you do for me.' You change peoples stories."
— Rachel Thoms served on Concordia University's Strategic Communications team from 2015-2022. Any inquiries about this story can be sent to news@cuaa.edu.
If this story has inspired you, why not explore how you can help further Concordia's mission through giving.