Editor's note: This story has been updated to reflect an adjusted timeline for Concordia University Ann Arbor's Physician Assistant Studies admissions timeline.
---
Physician assistant recently topped the U.S. News best health care jobs list as the hottest position in the industry. Learn more about what PAs do and the benefits that this career route provides.
By the year 2030, the United States is expected to face a huge shortage of physicians with a decline ranging between 42,600 and 121,300—a shortage that poses a serious threat for many communities' access to quality health care.  
But hope comes in the form of physician assistants.
According to United Health Group, physician assistants could be key in defusing the physician shortage threat, particularly for primary care within rural communities. In fact, U.S. News just reported physician assistant as the #1 hottest health care job with a projected growth of 37% over the next ten years.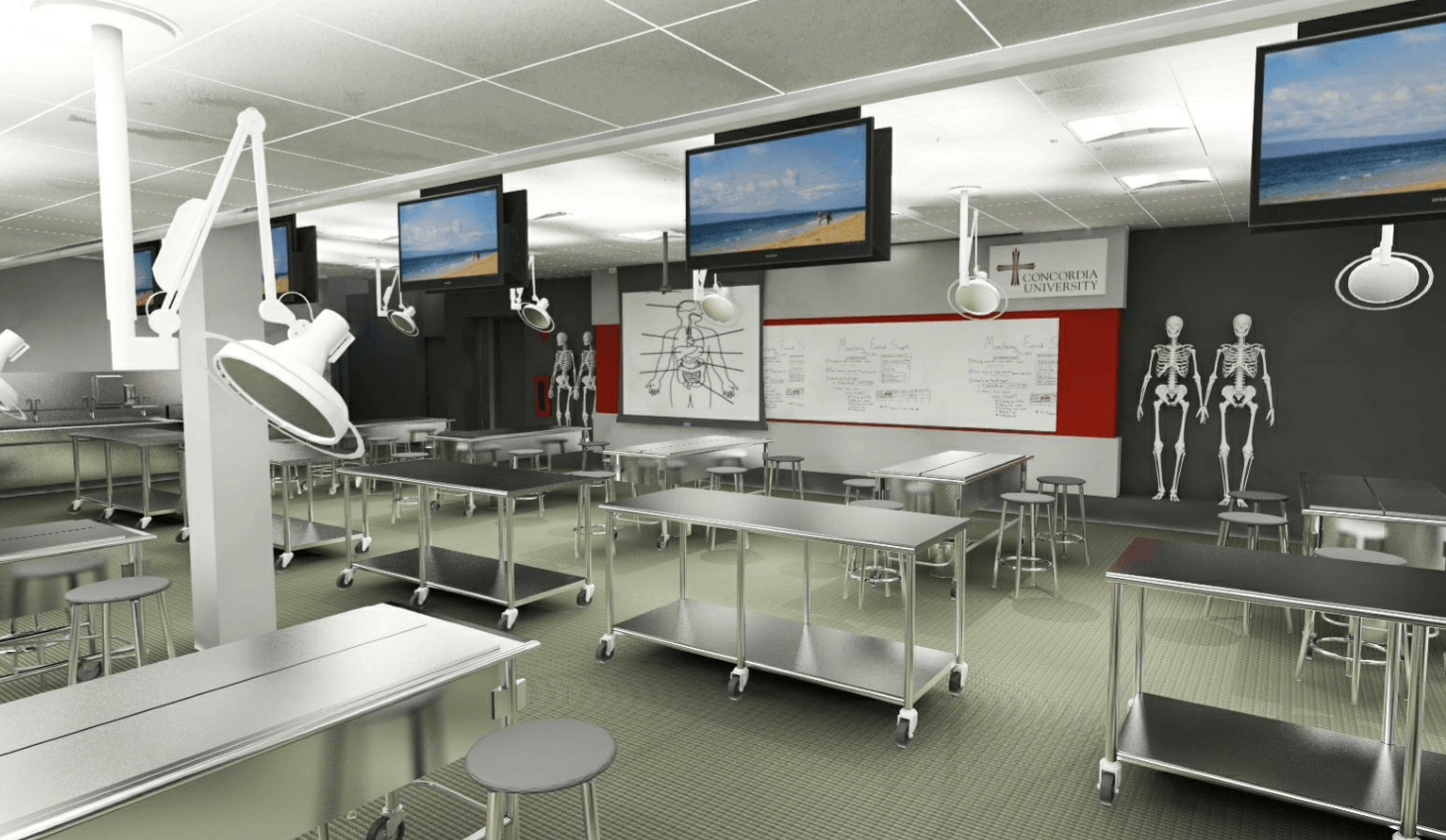 Simulation of the new facilities designed to support the PA program at CUAA.
If you've ever thought about advancing your health care career, we invite you to consider the physician assistant route.
Benefits of Becoming a Physician Assistant
Physician assistants are licensed health care professionals who practice medicine often in collaboration with an MD or DO. They work in a variety of settings including hospitals, clinics, universities, governmental services, and industries and perform a myriad of tasks.
So why become a physician assistant instead of going the doctor, physician, or nurse practitioner route?
We're so glad you asked.
Physician assistant programs follow the medical model of training and education, similar to that which medical school students undergo. However, PA programs are much shorter than traditional medical school with most students completing programs in just two to two and a half years. Typically medical school students undergo a four-year program, followed by two to six years of clinicals. Because a physician assistant education is shorter, it's also less expensive.  
Perhaps the best feature of becoming a physician assistant is the flexibility that it provides. Whereas physicians and nurse practitioners choose an area to specialize in, physician assistants get exposure to and training in a wide variety of disciplines. This wide exposure and range of training provide career flexibility to PAs that is unmatched in any other health care position. For example, PAs can move from geriatric care to general surgery to oncology to pediatrics and more at any point in their career while physicians and nurse practitioners are generally locked into their specialties for the entirety of their careers, pending further education.   
In a few states, physician assistants can even open their own private practice to provide much needed health care to more rural or underserved communities—a key aspect in how PAs can help offset the impact of the physician shortage. In Michigan, this requires a practice agreement with a participating physician.
Lastly, and sometimes most attractively, is the pay. The United States Bureau of Labor Statistics reports that in 2018 the median annual salary for PAs was $104,860 with the highest salary coming in at $146,260 and the lowest at $66,590.
CUAA's New PA Program
Here at CUAA, we're working hard to launch our inaugural cohort of students for our new Master of Science in physician assistant studies program. Because we're a new program, you'll get to take advantage of our brand new, state-of-the-art facilities while also reaping the benefits that our location and proximity to a variety of prominent hospital systems provides.
If you're interested in being a part of the inaugural PA class at Concordia Ann Arbor, you can learn more about our applicant requirements here before you begin your application.
You can also explore the physician assistant program at Concordia's other residential campus in Mequon, Wisconsin.
—
If this story has inspired you, why not explore how you can help further Concordia's mission through giving.