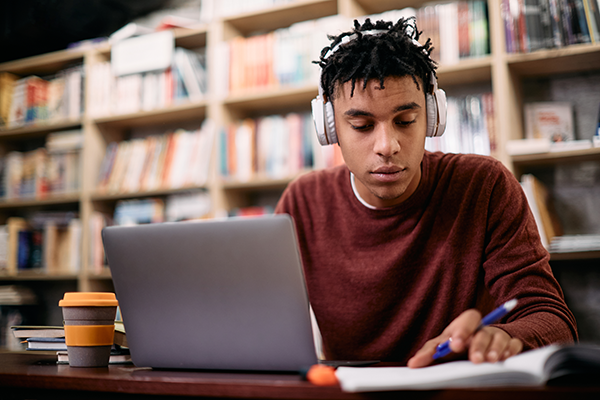 Interested in what it takes to be a student in the Digital Humanities master's program?
---
Refine your field of interest
You may want to pursue Concordia University's Digital Humanities master's program if you are interested in library studies, archival research, web design, programming, the arts, history, teaching, curating, exploring cultural and historical artifacts, and philosophy. With this master's program, students will learn how to take their field of study and combine it with the digital world – the sky is the limit. For students that are passionate about their undergraduate fields of study and want to continue to learn, this master's program is great for them.  
Learn at your own pace
Are you currently working a full-time job but want to take your digital skills to the next level? The Digital Humanities Master's program is 100% online and in asynchronous format – perfect for combining with a full-time work schedule. Courses in this program are fully self-paced in a convenient eight-week format. This means that each 3-credit class offers individualized instruction and attention for students.  
Not only will students have the freedom to research areas that interest them throughout their time in the program, they will also gain access to design tools to assist them in their research. When student inspiration leads the way in the research process, students will learn not only about the humanities, they will learn about themselves.  
Expand your digital skillset
The Digital Humanities master's program introduces students to a wide variety of topics. Students can expect to learn how to code, create, and communicate effectively with the help of this program. Some examples of what students will learn are:  
How to use Python to code and understand the fundamentals of programming languages

 

How to Use Adobe Creative Suite to create content appropriate for social media, print, and digital publications

 

Learn to understand the stories data tells with the ability to create, use, and analyze data visualizations

 

How to create, use, and analyze geographical information systems to make informed decisions

 

Learn to use digital rhetorical strategies for collaborating and communicating with specific audiences (colleagues, potential clients, customers, parishioners, etc.)

 

Learn how to create and use digital archives

 
In today's job market, coding knowledge, Adobe Creative Suite usage, and many other advanced communications strategies are in high demand. The Digital Humanities program at CUAA prepares you to enter this job market with an elaborate set of skills.  
No matter what you studied during your time as an undergrad, immersing yourself in the latest digital media and technology practices is something that will make your resume stand out to future employers and give you more confidence when entering an ever-changing work force.  
Do you think you have what it takes?
Ready to take the next step in your professional career? Are you excited to learn more about the digital landscape of today's world? Are you looking for a flexible and focused program that works with your full-time schedule? 
If you answered yes to one or more of the questions above, then you're ready to begin your journey in the Digital Humanities program at CUAA. Students who love to learn, are natural problem-solvers, and are determined and passionate will thrive in this program. The digital world will only continue to grow in the years to come. A master's in Digital Humanities will help you to refine your interests, expand your professional skillset and give you the chance to succeed in a competitive, tech-centered job market. 
Learn more and apply for the Digital Humanities program at CUAA here!
—
If this story has inspired you, why not explore how you can help further Concordia's mission through giving.