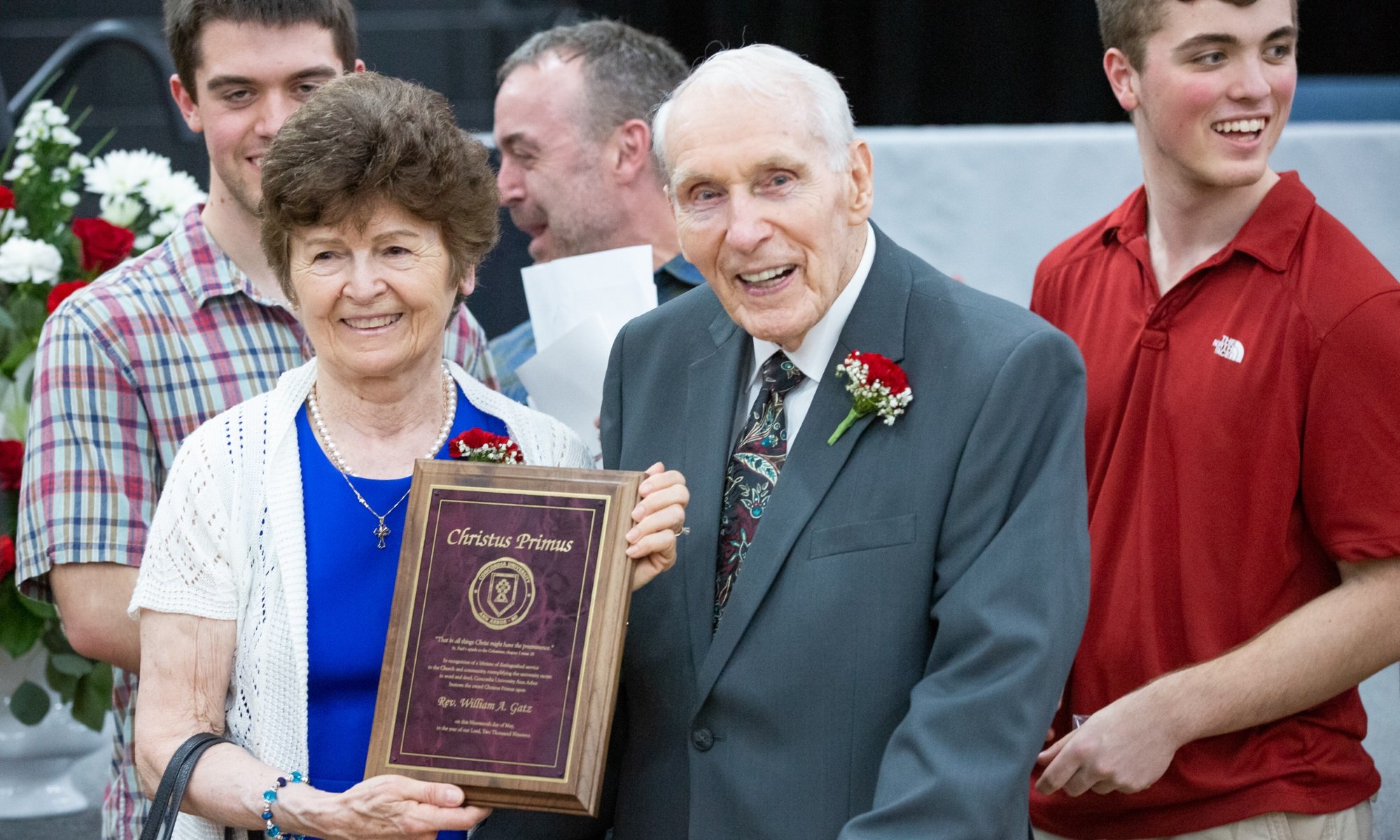 The Christus Primus Award is a service award presented to clergy, educators, or laypersons of The Lutheran Church—Missouri Synod. Recipients are recognized for their distinguished service to the Church and community.
---
Read more about the 2019 Spring Commencement award recipients and honorees here.
Rev. William Gatz is a 1961 graduate of Concordia Seminary in Springfield, Illinois. He has been a supporter of CUAA since he came to the Michigan District in the late 1970's, after serving in Ontario, Canada. He hosted Concordia Sundays at his church, was friends with several of the faculty and staff through the years, and sent a number of prospective students to visit and consider God's work in their life through CUAA. He has faithfully attended our annual Veterans Day celebrations as a Korean War veteran, and he has prayed for God's Gospel work at CUAA for decades, both publicly and privately.
Rev. Gatz explains, "I believe my prayer ministry began at the age of three when I had whooping cough.  My mother prayed over me when I died and came back to life immediately.  Since that time, my goal has been to spend time daily praying for pastors of Michigan District congregations and their wives and for our Concordia University system."
Rev. Gatz has demonstrated his distinguished work in service to Christ and His Church through more than fifty years of clergy service, especially through numerous speaking events, and teaching about   prayer.  He is a wonderful supporter of our mission and believes that God is changing our world by His Gospel message and love of Jesus through our students.  He truly wants every student to follow Jesus and be His ambassador in our world, so others will follow Jesus.  Rev. Gatz embodies our mission of "service to Christ in the Church and the world."
Rev. William Gatz has indeed provided "distinguished service to the church and community," and for this we are pleased to present him with Concordia University Ann Arbor's Christus Primus award.
—
If this story has inspired you, why not explore how you can help further Concordia's mission through giving.