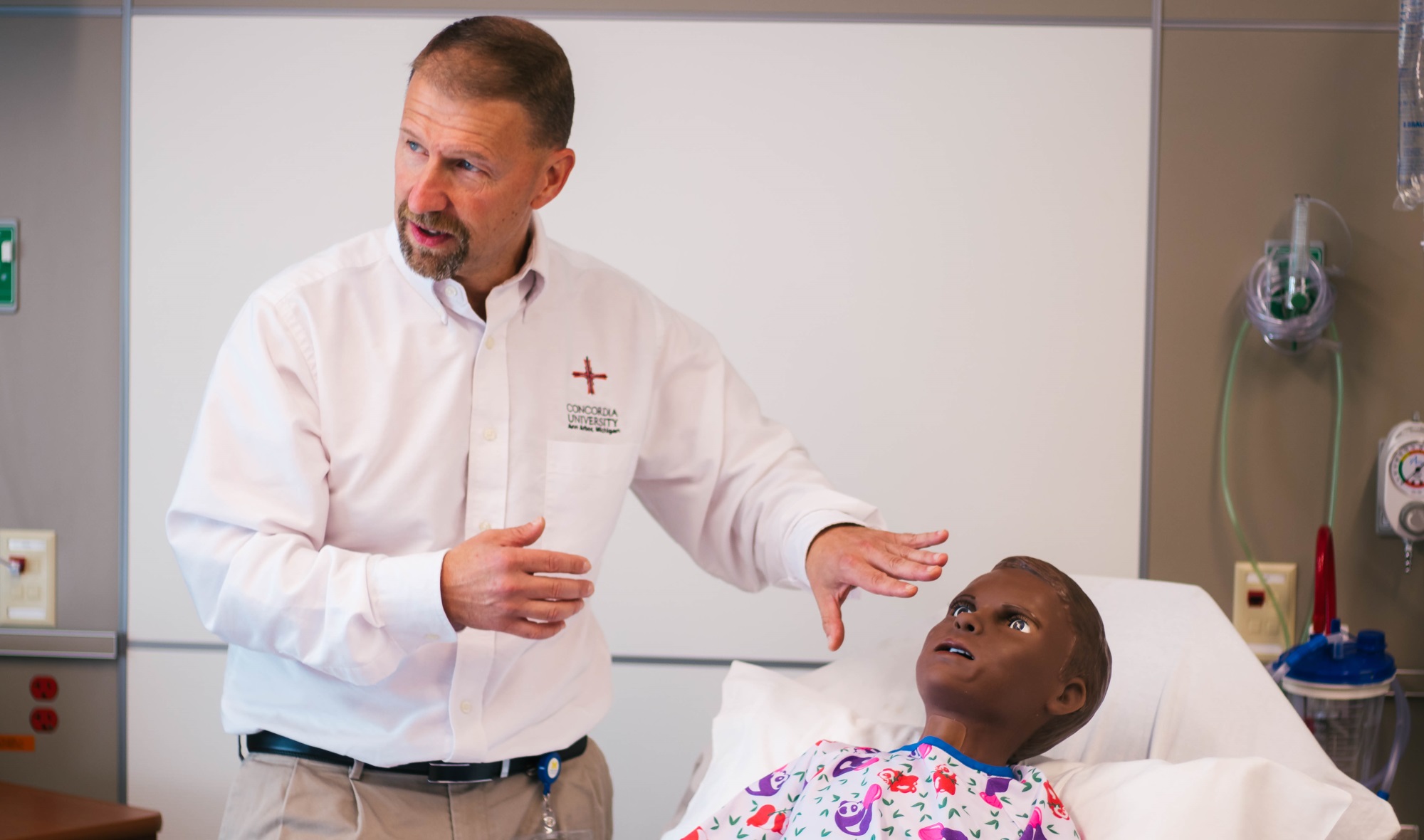 With skin that moves and lifeless eyes that still can follow a person's every move, it sounds like something straight out of a horror film. In actuality, Concordia University Ann Arbor's newest addition on campus is one of the most highly sophisticated pieces of medical training technologies that exists in today's market, and it's preparing Concordia students to positively impact countless lives.
---
This week, Concordia received a new high-fidelity mannequin that manufacturing company Gaumard Scientific bills as "the world's most advanced pediatric patient simulator." Pediatric HAL, as it is called, will be utilized by students in Concordia's nursing and child life programs to help them practice and prepare for real-life situations they'll face when they're in the field. Gaumard introduced the new piece of technology just this year, and, as of today, Concordia is one of only two universities in Michigan and only 30 nationwide to acquire one.
This is Concordia's ninth high-fidelity mannequin, an impressive number for a relatively new nursing school, considering each mannequin can range in price from $49,000 to $110,000. The mannequins are ultimately an investment in students' future, says Campus Dean of Nursing Cindy Fenske, DNP, RN, CNE.
"Concordia's simulation program sets us apart from other nursing programs in the state, and even the country," Fenske says. "Many schools use simulation but do it on a sporadic basis, taking time away from the students' clinical experiences. Instead, we re-appropriate time from classroom lectures to provide the students with weekly simulation experiences throughout the entire six semesters of nursing courses. This provides our students with a great deal of hands-on, experiential learning. Research shows that simulation is an effective tool to learn and enhance the development of clinical judgment skills."
Simulation experiences are a hallmark of Concordia's nursing program. The campus' state-of-the-art simulation center includes five hospital rooms, a three room apartment, and a courtroom. Every day the rooms are used as settings for a variety of inpatient and outpatient simulations. The simulations often involve students in other academic programs, including non-health care-related fields like CUAA's justice and public policy program. The cross-disciplinary approach helps bolster students' opportunities for inter-professional education, which research has shown to improve patient outcomes once students are in the field.
Pediatric HAL will be a useful tool for teaching students at a variety of skill levels because of the mannequin's sophisticated assessment capabilities, says Ben Oliver, chief simulation specialist at CUAA.
Oliver was the one to receive and assemble the mannequin on Monday. In his role as chief simulation specialist, he regularly ensures the maintenance of each of Concordia's high-fidelity mannequins and troubleshoots problems that occur. He's a rare combination of talents with expertise in the technology, education, and engineering fields. Prior to Concordia, Oliver worked at the University of Michigan and played an integral part in setting up the state university's $50 million simulation center.
There are countless articles that support the positives of simulation in education, notes Oliver. Simulation is not meant to replace hands-on training with actual patients, but it does offer a controlled environment where students can practice their skills with virtually no limitations.
"We can't control what happens in a clinical setting," Oliver says. "A student may go through their whole clinical experience and never see a birth, for example. With simulation, we can orchestrate it so that they're seeing a birth every 10 minutes if we want. It's there to help them build their muscle memory and allows our faculty to give immediate feedback."
Learn more about Concordia's School of Nursing and programs offered at cuaa.edu/nursing.
-Photography by CUAA student Allie Milot ('21)
— This story is written by Kali Thiel, director of university communications for Concordia University Ann Arbor and Wisconsin. She may be reached at kali.thiel@cuw.edu or 262-243-2149.
If this story has inspired you, why not explore how you can help further Concordia's mission through giving.