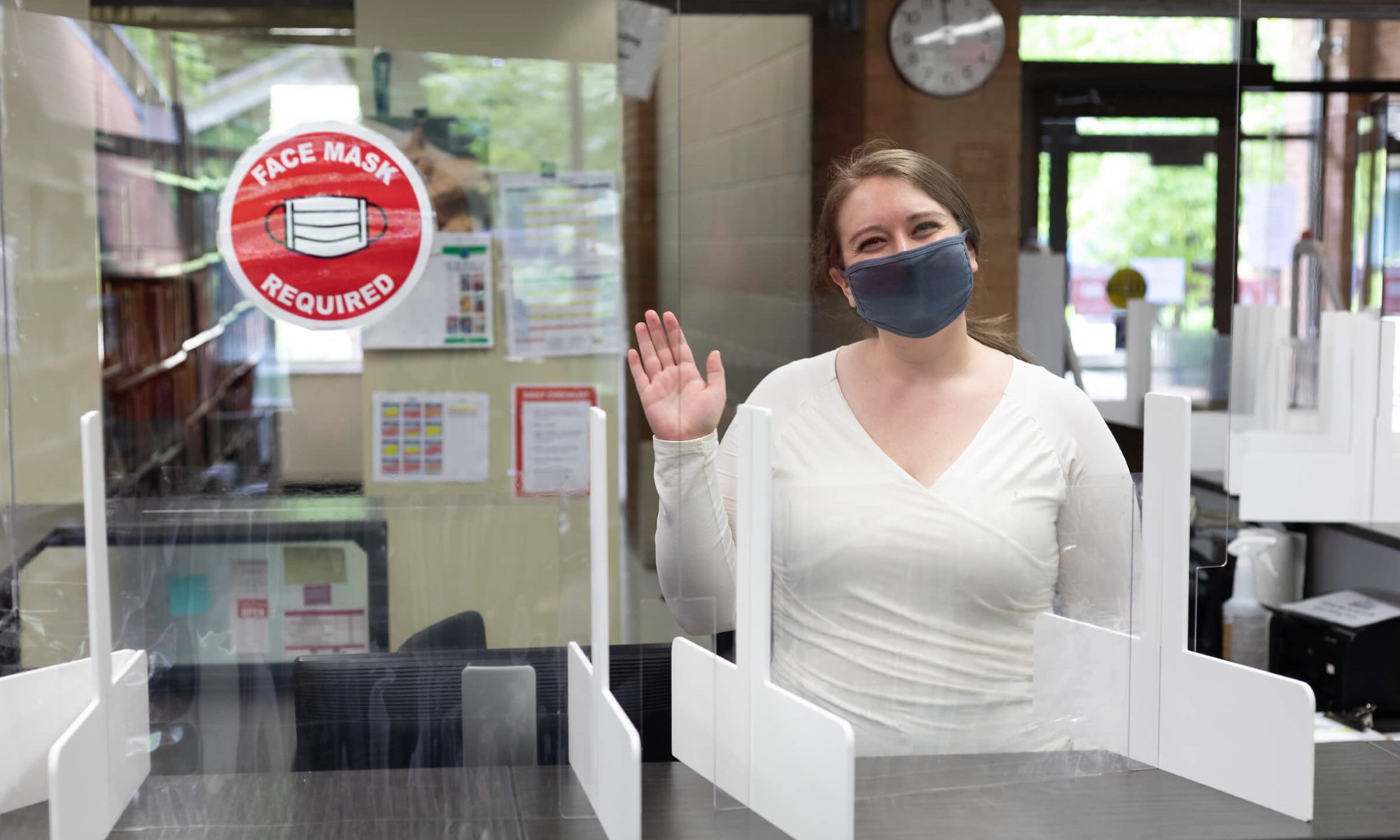 Processes may be operating a little differently in the Zimmerman Library this semester, but the library staff have safe systems in place to still serve student and employee research and reading needs and requests.
---
Check out these Zimmerman Library Frequently Asked Questions with answers provided by CUAA's Librarian Liz Hartig, and scroll down for our September reading round-up, 10 ebooks for time management.
WHAT ARE THE HOURS OF THE LIBRARY THIS SEMESTER?
Monday—Thursday: 8 a.m. – 10 p.m.
Friday: 8 a.m. – 5 p.m.
Saturday: 9 a.m. – 4 p.m.
Sunday: 2 p.m. – 10 p.m.
HOW DO I REQUEST A BOOK VIA CONTACTLESS PICK UP?
Email Librarian Elizabeth.Hartig@cuaa.edu to request contactless pick up. You will be notified via email when the book is ready. You can pick up books on the cart in the lobby of the library entrance (across from Science Building.) The book will be labeled with your name and the due date.
WHAT IS THE LIBRARY CAPACITY?
The first-floor open space in the library has a capacity of 23 people. The capacity does not include the ARC, IT, the basement, the upstairs, or classrooms. Once we reach capacity, students will be allowed in the library in a first come, first served manner. Printers are available in the Nest, Science, Krieger, Kreft, Student Services and North buildings.
WHERE ELSE CAN WE STUDY ON CAMPUS?
All classrooms are available to be used outside of class times for studying, as well as various Zoom Room locations (listed below!)
North Building
Outdoor patio
North Building Library
Classrooms (when available)
Central Campus (Inside)
The Nest
Game Room
Kreft Art Gallery
Zimmerman Library
Residence Life Office
Kreft Student Lounge
The ARC (by reservation)
CA's (residential students)
Classrooms (when available)
Central Campus (Outside)
Greenhouse
Picnic tables throughout campus
Manor Tent (when available)
Krieger Tent (when available)
WHAT ARE THE CHANGES TO POLICY FOR USING THE LIBRARY?
All library patrons must wear a face covering in the library. Patrons must maintain 6-foot distance with others. Chairs have been placed with social distance in mind. The library entrance is at the front door near the Science building and the exit is in the back near the chapel. The library is regularly cleaning and disinfecting commonly touched surfaces. Alcohol wipes are available at each computer station.
HOW WILL THE ZIMMERMAN LIBRARY INSURE SAFE BOOK CHECKOUT?
All of our books are handled with care. All books are quarantined for four days between use to ensure safe use following library standards. Please return books to the book drop outside of the library.
ALUMNI, DID YOU KNOW?
In addition to Concordia University Ann Arbor students, faculty, and staff having access to all library resources, Concordia alumni can also check out materials.
10 EBOOKS FOR TIME AND STRESS MANAGEMENT
The eBook titles are links that can be accessed by using a CUAA portal login information. Click here to browse all of the eBooks in CUAA's database.
Thriving under Stress: Harnessing Demands in the Workplace By Thomas W. Britt and Steve M. Jex
Time Management By Brian Tracy
Study Skills for Nurses By Claire Boyd
Study Skills for Sports Studies By Tara Magdalinski
10 Steps to Mastering Stress: A Lifestyle Approach, Updated Edition By David H. Barlow, Sarah Perini, and Ronald M. Rapee
The Secrets of College Success By Lynn F. Jacobs and Jeremy S. Hyman
Coping With Stress By Mary E. McNaughton-Cassill
The Guide to Learning and Study Skills: For Higher Education and at Work By Sue Drew and Rosie Bingham
Thriving in Transitions: A Research-Based Approach to College Student Success By Laurie A. Schreiner, Michelle C. Louis, and Denise D. Nelson
Studying At a Distance By Christine Talbot
Click here to browse all of the eBooks in CUAA's database.
LOOKING FOR SOMETHING?
If Concordia students, faculty, or staff want a resource that the Zimmerman Library doesn't currently own, physical items can be shipped from libraries across the United States for CUAA patrons to use. Electronic articles can also be emailed from libraries across the country. Inter-library loan requests can be made here.
New purchase requests for adding to the library collection can also be made on the Ask A Librarian form.
PREVIOUS ZIMMERMAN LIBRARY ROUND-UPS
July 2020: 10 eBooks on the topic of racial injustice
August 2020: 10 eBooks for summer reading
— Rachel Thoms served on Concordia University's Strategic Communications team from 2015-2022. Any inquiries about this story can be sent to news@cuaa.edu.
If this story has inspired you, why not explore how you can help further Concordia's mission through giving.