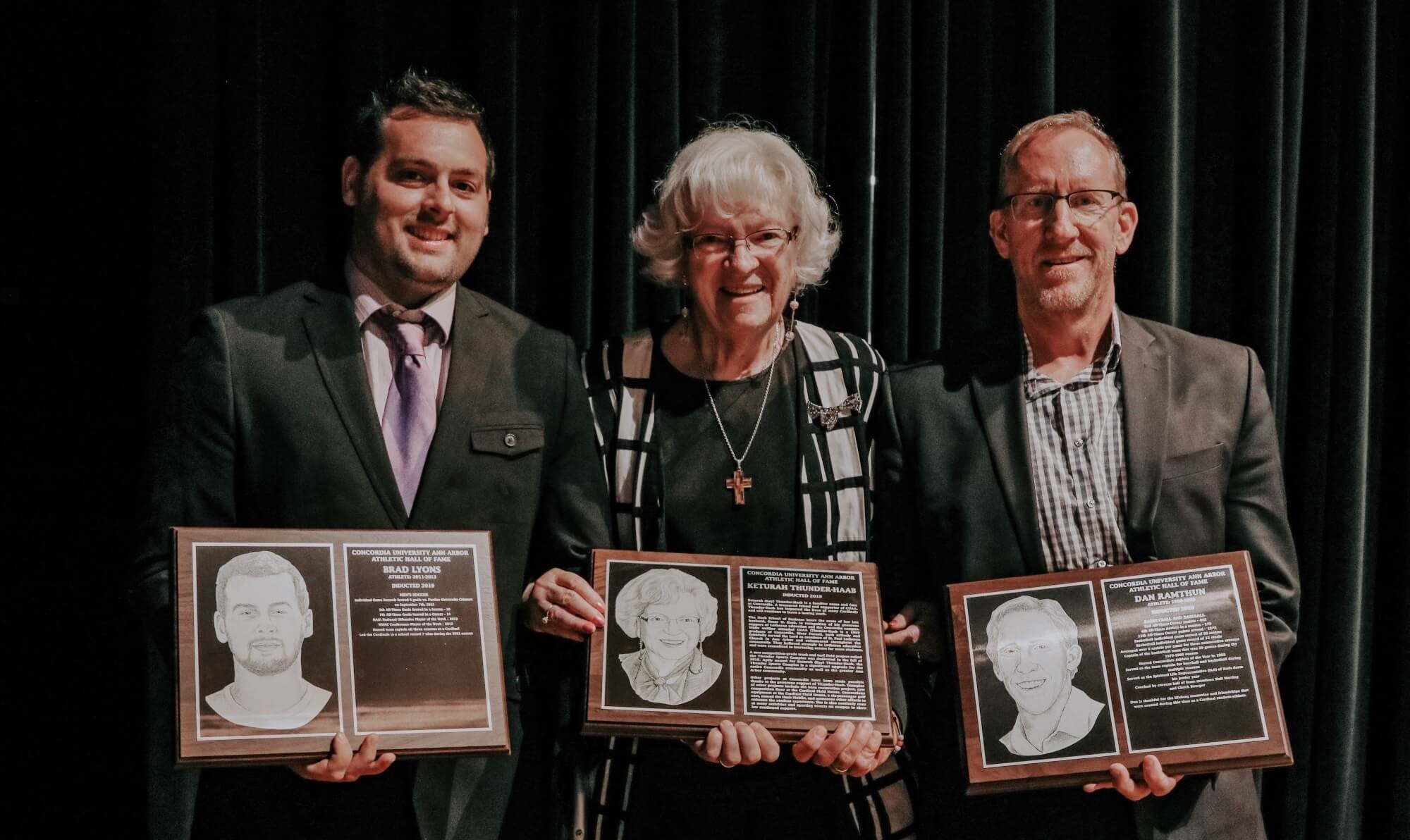 On Saturday, June 1, Concordia University Ann Arbor welcomed the newest inductees to the athletics hall of fame at the third annual Hall of Fame Gala.
---
Keturah (Kay) Thunder-Haab, Brad Lyons ('13), and Dan Ramthun ('83) make up to the 2019 Hall of Fame class, whose efforts and achievements have significantly impacted Concordia athletics both on and off the playing field.
The evening gala and celebration took place the day after the 2019 Cardinal Golf Classic. Both weekend events operate in tandem to raise funds to enhance the CUAA student athlete experience and support the mission of Cardinal athletics to develop servant leaders who strive for excellence.
"These two events continue to play an integral role into the continued growth and success of our athletic department," said Director of Athletics Lonnie Pries. "We are able to unite CUAA supporters to benefit our current students, but we also have the opportunity to honor past Cardinals whose legacies have made a lasting impact on our campus."
Keturah (Kay) Thunder-Haab
A treasured friend and supporter of CUAA, Thunder-Haab has impacted the lives of many Cardinals and will continue to leave a lasting mark. The newly constructed Thunder Sports Complex was recently dedicated in her name. Numerous other efforts over the years have been made on her behalf to support the student athlete experience on campus.
Brad Lyons ('13) – Men's Soccer
Brad Lyons currently holds the individual game record for most goals scored in a game (6) in a match against Purdue University Calumet on September 7, 2012. He earned both conference and national honors by being named WHAC Player of the Week and NAIA National Offensive Player of the Week. Lyons played three years at Concordia and was named team captain all three years while leading the Cardinals to a school record seven wins in 2012.
Dan Ramthun ('83) – Basketball and Baseball
Dan Ramthum was a two-sport athlete competing in basketball and baseball all four years at Concordia and played under direction of current hall of fame members Walt Harting and Chuck Boerger. He was named Concordia Athlete of the Year in 1983 and was named captain of both the basketball and baseball teams for multiple seasons. Ramthum was actively involved on campus as a Spiritual Life Representative (SLR).
Throughout the 2018-19 academic year, there was a lot to celebrate. A common theme throughout the gala was the banner year for the athletic department as a whole, including another appearance in the NAIA football national championships, a first place finish at the NAIA competitive cheer national championships, a runner-up finish at the NAIA men's bowling national invitational, and a NCCAA baseball world series championship, to name a few successes.
The keynote speaker, Curt Gielow, also brought attention to the incredible victories that have taken place off field—growth in mind, body, and spirit—the pinnacle of which the Concordia community witnessed through student athlete baptisms throughout the year.
Mark your calendars for next year's Cardinal Golf Classic and Hall of Fame Gala, taking place on May 29-30, 2020. A special thank you to this year's event sponsors for their support: Sodexo, Church Extension Fund, Holiday Inn (Plymouth Road), Bianco, and Gene Butman Ford.
Click here to learn more about Concordia University Ann Arbor athletics.
— Rachel Thoms served on Concordia University's Strategic Communications team from 2015-2022. Any inquiries about this story can be sent to news@cuaa.edu.
If this story has inspired you, why not explore how you can help further Concordia's mission through giving.