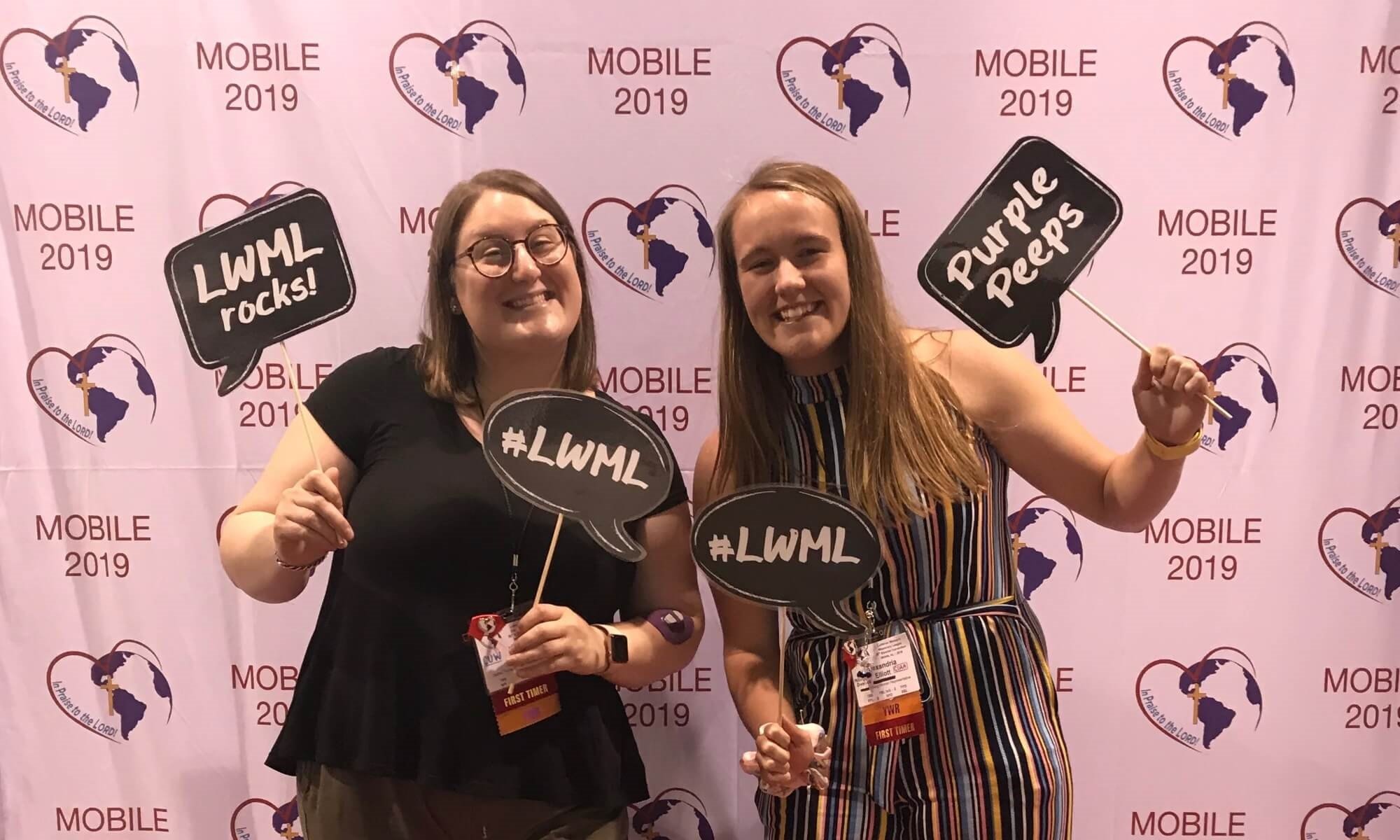 On June 20-23, approximately 3,000 women and men gathered in Mobile, Alabama for the Lutheran Women's Missionary League 38th Biennial National Convention, "In Praise to the LORD!" My name is Alex Elliott ('23), and I had the honor of attending and representing Concordia University Ann Arbor and the Michigan District as a Young Woman Representative (YWR).
---
"Sing to the Lord, all the earth! Tell of his salvation from day to day. Declare his glory among the nations." 1 Chronicles 16:23–24a 
They have a national convention for the LWML? I thought the ladies of that group just made quilts and collected pennies in those little boxes. These were the first thought that went through my head when I was asked to attend the 38th Biennial LWML National Convention.
Little did I know, the Lutheran Women's Missionary League, does so much more! Here's what it was like to be in my shoes those short three days.
When I first arrived in Mobile at around midnight on Thursday morning, I instantly got a taste of what the LWML was all about. Riding in a small van with eleven other women who were attending the convention, I soon observed that purple was the color to have and that everyone was going to give you a hug, whether you wanted one or not. This observation proved to be correct, as ten short hours later my roommate and I were surrounded by the "purple sea" of people and were instantly greeted with many hugs and smiles.
My roommate from Concordia University Wisconsin, Kimmy Berry ('19), was also a perfect example of an LWML lady.  Just like many others, Kimmy was kind, caring, and such an amazing light for Jesus. We clicked almost instantly, and people thought that we had known each other our whole lives. Now we will be friends for life!
Day one was filled with a lot of activities including helping at a gift of the heart servant event, attending a district meeting where I, as a Young Women Representative (YWR), was pinned, visiting over 70 different tables in the exhibit hall, and buying way too many things at the Concordia Publishing House booth. All of the excitement of the morning and afternoon led up to the highlight of day one – the opening worship service.
As 3,000+ people sang the closing hymn "Church of God, Elect and Glorious," I made sure to take in every second. What an experience it was being surrounded by so many generations of LWML women singing their hearts out to God; women who live out what the last two lines of verse four says, "Give your lives in joyful service, sing His praise, his love declare."
Friday was the busiest day filled with meetings and fellowship. As a YWR, our day started early with breakfast and a devotion at 6:45 a.m., which then led to the LWML banner processional at around 8 a.m. Each YWR processed in with their district president (YAY Michigan District!), and I had the honor of having the Michigan banner handed off to me and putting it away following the processional.  For the next three hours, Bible studies, proposed agendas, voting, speakers, and song filled the convention hall. As a YWR, I was not allowed to vote, so Kimmy and I brainstormed some of our own potential options. "#3. Nap to be added" was my favorite of our pretend voting options. (I'm a college kid… what can I say!) 
After lunch came another three hour meeting, but this time, I truly got to see the LWML in action. The majority of the meeting was all about mission grants. It was inspiring to see that the money that these women raised in those little boxes goes towards such amazing things. In all, 20 organizations and groups received multiple different amounts of money. Camp Restore in Detroit, not far from CUAA's campus, was one of the organizations that was awarded a grant, getting $100,000 to restore hope to children and families! 
Our day at the convention center ended with a catered dinner with the LWML president Patti Ross, CPH published author and Bible study leader Donna Pyle, and "humorous interrupter" Jan Struck. They each talked about their experience with the LWML and how they started attending the group at their church. It was great getting to know each of them and to hear their stories. They were all amazing, and it was the perfect end to a long and fun Friday.
Saturday was sadly the last day for Kimmy and I at the convention, but it was still filled with many exciting moments! Breakfast, another processional, meetings, lunch, and more singing finished out our trip. The final meeting on Saturday involved voting for the new officials for 2019-23. Many ladies whom I had gotten to know throughout the three short days were elected into office, so it was really cool to witness such phenomenal ladies receiving an amazing honor.
My favorite part about Saturday was sitting next to an amazing lady from the Michigan District who made me feel like I truly belonged at the convention. She gave me candy, did the devotion with me, and gave me her sweater when I was cold. These little acts of kindness meant the world to me, and she never failed to live out what the LWML was all about right there next to me.
All in all, the number of lives that the women of the LWML impact is the most inspiring thing that I took out of my time at the national convention.  Something as small as a little box of change and a group of women who love Jesus can do so many BIG things.
To everyone out there wanting to make a difference… Go. For. It. If these women can set a two year mission goal of 2.1 million and reach it by collecting CHANGE, you can do anything!
This is just a small look of what it was like to be in my shoes this year at the LWML National Convention. I am forever grateful for Concordia University Ann Arbor and Concordia University Wisconsin for sending me to this, and allowing me to represent Concordia.
Thank you for also sending Kimmy from CUW –  her friendship is one of the greatest gifts I have ever received. I had the time of my life, and I met so many amazing people. God is so good! In Praise to the Lord!
– Written by Alex Elliott ('23), is studying both Parish Music and Secondary English Education in addition to pursuing a Lutheran Teaching Diploma.
—
If this story has inspired you, why not explore how you can help further Concordia's mission through giving.