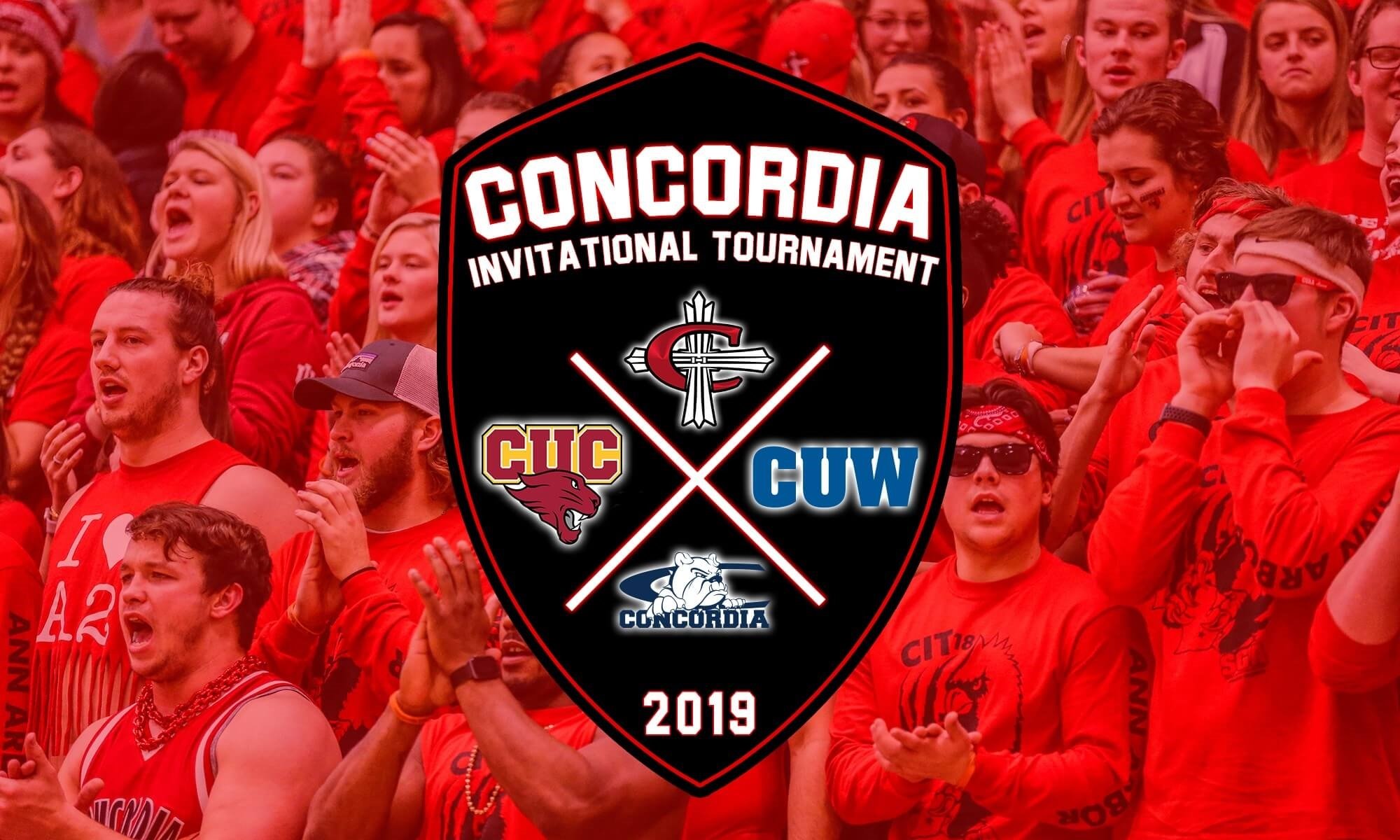 Since 1951, the Concordia Invitational Tournament has been a highly anticipated, widely-cherished annual event for students, alumni, and community members alike.
---
Each final weekend in January, field houses are packed to the brim with the chanting of frenzied fans and spirited pep bands from the four participating Concordia University System schools including Ann Arbor, Chicago, Nebraska, and Wisconsin. The host institution rotates among the four each year.
On January 25-26, 2019, Concordia University Ann Arbor will be host the 68th annual Concordia Invitational Tournament located at 4090 Geddes Road, Ann Arbor, Mich.
"We are very excited to have the privilege of hosting CIT this year in Ann Arbor," said Director of Athletics Lonnie Pries. "CIT, whether home or away, is one of the highlights for our students during their college career. The energy and public displays of school spirit from all the Concordias are second to none."
What began as just a men's basketball tournament has since become a competition also for women's basketball (1965) as well as cheer and dance (2017).
The 2019 schedule is as follows (all times in Eastern Standard Time):
Friday, January 25, 2019
All Team Breakfast Banquet and Chapel: 8:30 a.m. (North Building Library)
1 p.m.—Wisconsin vs. Nebraska (women)
3 p.m.—Wisconsin vs. Nebraska (men)
6 p.m.—Chicago vs. Ann Arbor (women)
8 p.m.—Chicago vs. Ann Arbor (men)
Student Life Event: Time & Location TBD
Saturday, January 26, 2019
Cheer and Dance Competition: 10:30 a.m. (Cardinal Field House)
CIT All-Concordia Alumni Reception: 4-5:30 p.m. (Earhart Manor)
12:30 p.m.—Women's Consolation
2:30 p.m.—Men's Consolation
5:30 p.m.—Women's Championship
7:30 p.m.—Men's Championship
CIT Closing Devotions: Immediately following the men's awards presentation
In the last 68 years, participating institutions have come and gone, but the historical tournament remains. Since joining CIT in 2002, the CUAA men's team has earned four tournament titles ('06, '07, '15, '18) and the women's team has earned two ('11,'13). The CUAA cheer team earned first place at the inaugural CIT cheer competition in 2018.
"We are truly looking forward to another year of building memories with our fellow Concordians and continuing the fierce competition and good-natured rivalries that we all know and love," said Pries.
Large crowds are expected for the 2019 Concordia Invitational Tournament and space in the Field House is limited. Spectators are advised to purchase tournament tickets in advance. Click here to download the tournament schedule and purchase tickets for the 2019 Concordia Invitational Tournament.
— Rachel Thoms served on Concordia University's Strategic Communications team from 2015-2022. Any inquiries about this story can be sent to news@cuaa.edu.
If this story has inspired you, why not explore how you can help further Concordia's mission through giving.