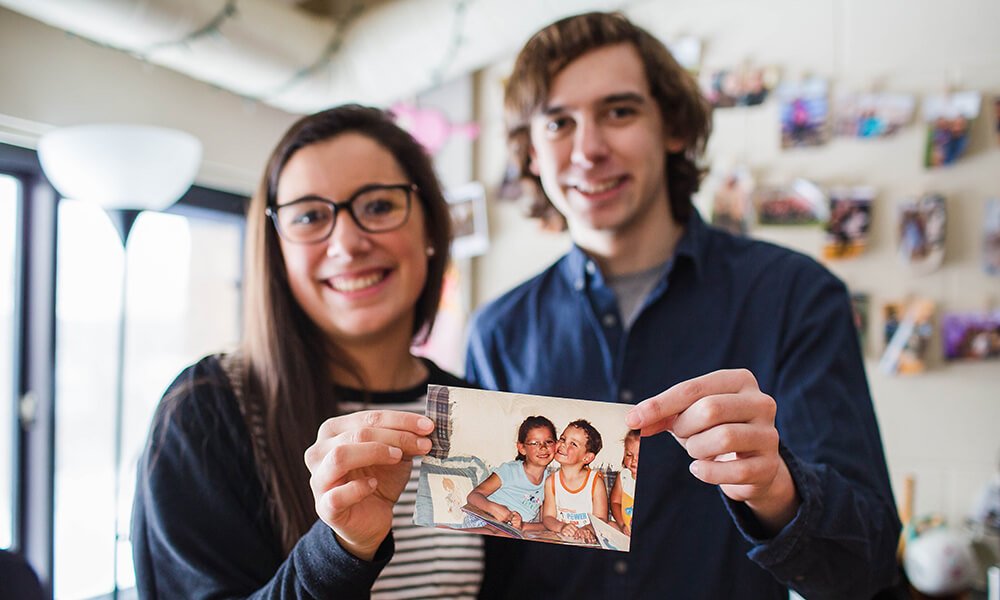 Editor's note: This story first appeared in the spring 2019 issue of the Arbor Light, the official magazine of Concordia University Ann Arbor.
---
Many are endeared to Concordia University Ann Arbor for its familial atmosphere.
It's not uncommon to have a professor follow up on a prayer request shared in class or to receive a personal greeting from an acquaintance met in passing. Professors come to campus at night to lead study sessions before a big exam or sometimes even invite classes into their home for a review.
Concordia is a place that cares; a place where students are known; a place that nurtures students in mind, body, and spirit. It's like a family.
For some, the familial familiarity is literal. This academic year, CUAA happens to have a number of siblings on campus, which adds to the close-knit community already present and carries on a tradition that many other families before them have enjoyed.
No matter how different, or similar, siblings may be, there's something for everyone at CUAA. Here are a few siblings' takes on what it's like to be a part of the Concordia family with an actual family member.

Angela Knicklebein ('20) + Jonathan Knicklebein ('21)
Ypsilanti, Michigan
Have seven other siblings, besides each other
Describe their relationship as "steady"
"The other day I was playing piano in Chapel and then Jon walked in. We don't always have to say anything, we can just make eye contact with each other and be like, 'Hey, good to see ya.'" —Angela, parish music
"Ang and I are basically opposite. She's involved in everything—like residence life, worship arts, and lacrosse—and I'm more introverted. It's cool, though, because we've each still been able to find our place at Concordia, and we always root each other on." —Jonathan, nursing
Preston Sherman ('20) + Jordan Sherman ('22)
Homer, Michigan
Cardinals Baseball teammates
Both have plans to take over the family business
"It's a challenge for me to know when I should get on Jordan's case or not. He takes it really well, but I don't want our teammates to think I'm being mean. It's always out of love because I know he has so much potential." –Preston, business
"At first I didn't really know if I wanted to follow in Preston's footsteps, but then I realized Concordia was the right fit for me, too. He is driven and always pushes me to be better. Preston's the go-getter," –Jordan, business management

Hannah Biermann ('21) + Micah Biermann ('22)
Grand Blanc, Michigan
Members of the Concordia Choir
Describe sibling dynamic as "authentic"
"Growing up, we were always together—all of the time. We were best friends and still are. Micah and I try to have quality time both at school and when we're at home. I'm thankful that since we are both here we get to grow closer in our sibling relationship while also growing as independent adults." – Hannah, family life education
"Our class schedules don't always align, so we eat dinner together and go to campus ministry events together, like Chapel, Tuesday Night Worship, or Evening Prayer. When we have free time we like to play board games and card games, too." – Micah, computer science
Esther Schulze ('20) + Emmi (Schulze) Forbes ('20)
Brooklyn, New York
Born one minute apart
Were roommates the first five semesters of college
"When we first got to campus, we were told to make sure we weren't being intimidating because we already knew each other. We were like, 'What?!' So we always try to be welcoming. Very chill. That's our vibe. Well, at least we try." –Esther, art and marketing
"We don't have all of the same interests, so there's not much competition, but it's really fun to go to each other's stuff, like when I go to Esther's art shows. Supporting each other is fun to me," –Emmi, secondary education
Jonathan Detwiler ('19) + Sierra Detwiler ('20)
Fort Wayne, Indiana
18 months and 4 days apart
Jonathan gave Sierra her first tour of campus
"Our parents always say that they didn't do everything they could to keep us together when they adopted us for us not to be good friends. We get along better now that we're older. I'm the traditional one, and Sierra's more free spirited," –Jonathan, sport and entertainment business
"It's nice to have a sibling so close by, only one call away. Like last year, I got really sick and he went to the hospital with me. Sometimes when we talk he thinks that because I'm studying psychology I'm always analyzing him, but that's not true!" –Sierra, psychology
The spring 2019 Arbor Light hit mailboxes the beginning of May. View a PDF version of the magazine here. If you are not on our mailing list, but are interested in receiving a free copy, call 734-995-7317 or send us an email.
— Photography by Allie Milot ('21)
— Rachel Thoms served on Concordia University's Strategic Communications team from 2015-2022. Any inquiries about this story can be sent to news@cuaa.edu.
If this story has inspired you, why not explore how you can help further Concordia's mission through giving.