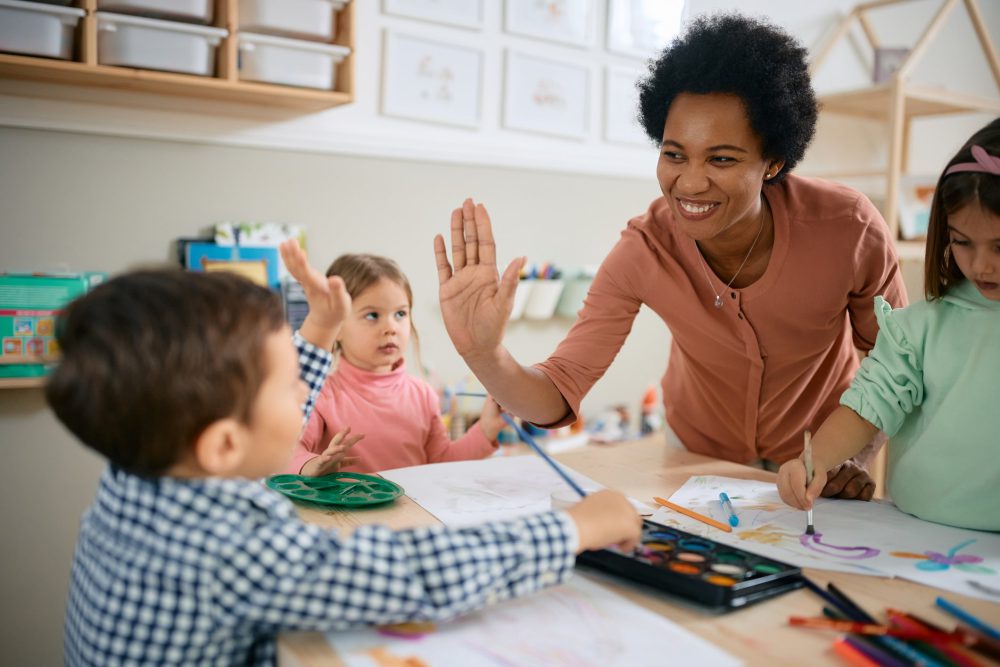 As Concordia's accelerated programs have expanded, the undergraduate degrees in Education continue to strengthen Concordia's historic reputation in preparing teachers of all levels. We offer bachelor's degrees in various WI state teaching licenses including Early Childhood Education, Elementary Education, Secondary Education in English/Language Arts, Mathematics, Broadfield Social Studies, and Cross Categorical Special Education. Today, our undergraduate teaching degrees are helping working adults earn degrees and help fill the ever-increasing need for teachers.
Q & A with Program Director, Dr. Adam Paape
Assistant Dean of the School of Education, Dr. Adam Paape, is the Program Director for these increasingly popular programs. He recently took the time to answer some common questions:
Why is now a good time to become a teacher?
We are in a national teacher shortage crisis. There is a great need for teachers however, due to the low number of candidates, there are so many opportunities within the teaching field. Many of our graduates have multiple options for jobs when they complete our programs. We are also in a time of educational innovation as schools and districts incorporate creative ways of teaching and learning.  
What makes a good teacher?
Great teachers care for their students in mind, body, and spirit. They think deeply about how they can engage their students in the content they teach. Great teachers connect the world outside the classroom to the learning inside the classroom. 
Above all, they incorporate their love for the Lord into their teaching and learning.  
What is the format and nature of the online courses and how many interactions do students have with their instructors? 
Candidates interact on a regular basis with their instructors regardless of the style of class. We offer all of our content courses in 8-week asynchronous formats. This means that students do not need to be present on any particular day/time for classes. Instead, they are able to engage in the learning process when it fits best in their daily schedule. 
Additionally, our 8-week classes can either be collaborative (this includes interactions with peers via discussion posts or video posts) or self-paced (students primarily interact with the content and their instructor).
Can you really learn enough online to be a qualified classroom teacher?
Absolutely! We've embedded all of the same performance-related assessments that we require of our in-person students into our online program. We've aligned our online program with high-quality, on-site fieldwork that ensures our candidates are fully qualified to teach in their own classrooms upon program completion.  
What are the classroom clinic hour requirements and how are those arranged?
Most semesters, our online bachelor's students will perform 45 clinical observation hours in K-12 schools nearby where they live. Those hours will vary in kind – discovery, special education, and multicultural.  These hours are designed to allow our students to learn in classroom settings and to reflect on the practices they've learned in our online classes.  
How can students who work as paraprofessionals or teacher aides gain credit for their work experience? 
During the first semester of clinical work in our programs, a student will have the opportunity to submit an application for credit, based on lived experience. If a candidate works as a paraprofessional or teacher aide, that work aligns very well with the university's Prior Learning Assessment (PLA). In this case, the candidate will submit a written narrative of the learning experiences. 
In addition, the candidate will collect written confirmation from supervisors of their previous learning to submit to the PLA. Many students also enter the program with transferrable credits from other accredited schools, including associate degrees. Students can potentially apply up to 84 credits toward these degrees. This can accelerate the completion of a degree!
Do students have to live in WI to complete the practicum and student-teaching requirements?
Students can live anywhere in the United States to participate in our undergraduate teaching degrees. The only requirement is that our candidates work with qualified host teachers. The host needs an active teacher license from the state in which they serve. Also, they need at least three years of teaching experience, and one year of service in that building or district. 
What tests are required to earn a state teaching license in Wisconsin and how can that license be used in other states?
This depends on the teaching license. For the K-9 Elementary Education license, the candidate will need to pass the Foundations of Reading Test (FORT). If a candidate has a GPA below 3.0 in their core content area, they would need to take the Praxis 2 test in that content. Additionally, if a student has below a B in their core math, reading, and writing classes, they would need to take the Praxis Core test.
Ready to get started?
To learn more about all of our accelerated undergraduate teaching degrees and programs offered for busy adults including those in Education, visit CUWAA Accelerated Admissions or call 262-243-5700.
Join us!
We are hosting a live webinar on October 26, 2022, at 4:00pm CDT, which will give you the opportunity to hear from faculty and admissions to get more program specifics. We will also have a live chat feature to answer your questions.