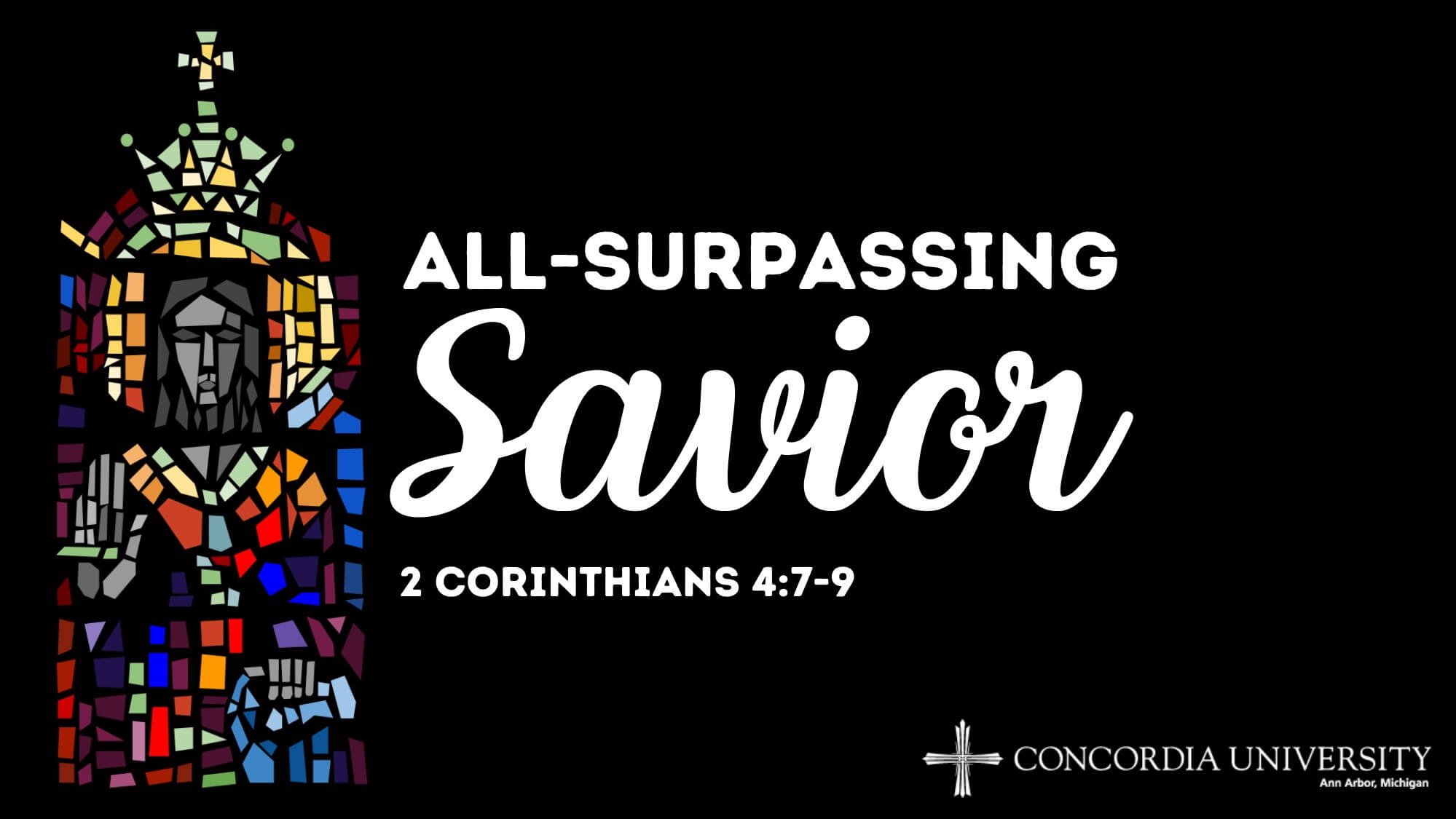 But we have this treasure in jars of clay, to show that the surpassing power belongs to God and not to us. We are afflicted in every way, but not crushed; perplexed, but not driven to despair; persecuted, but not forsaken; struck down, but not destroyed. 2 Corinthians 4:7-9
---
All-Surpassing Savior
Concordia University Ann Arbor is excited to announce the 2020-21 academic theme: All-Surpassing Savior.
The theme is inspired by 2 Corinthians 4:7-9, recognizing how Jesus' power is all-surpassing because He is an all-surpassing Savior.
"He is greater than our sin, problems, situations, and experiences, is with us in the midst of our struggles, and delivers and saves us," said Campus Pastor Rev. Randy Duncan. "My hope for our CUAA community is that although we have endured much this last year and a half, and in life in general, our theme would remind us that Jesus has remained faithful and His love and power are transforming our trials into triumph. Christ is better and greater than anything we could desire or encounter!"
The 'Theme Team' process
Before the end of the spring semester, Duncan gathered a 'Theme Team' of five CUAA students from various grade levels. Together, the six of them met in person for three sessions. The first was to pray and brainstorm with various themes. The second meeting was for prayer and we added and subtracted some themes. The third through prayer narrowed it down and the group came to a unanimous decision.
"Each of these students have a passion for ministry on campus that all had and a tremendous love for the Lord," said Duncan. "We all felt it was necessary to have the theme speak meaningfully and honestly about the struggles we have gone through in the past year and a half."
Duncan shared that Jesus does not waste our pain but turns our struggles and stumbling blocks into step stones to draw us nearer to Him and His peace, love, and strength.
Student designer brings visual to theme
Upon selection of the academic theme, a student creates a corresponding design to be displayed on a banner in the Chapel of the Holy Trinity, the Chapel at the North Building, on lightpole banners, as well as other areas as applicable.
Paxton Green ('22), was a member of this year's Theme Team and also created the design for All-Surpassing Savior.
"I have always been captivated by the stained glass in the chapel (who isn't?)," shared Green. The picture of Jesus that is front and center in the Chapel of the Holy Trinity always resonated with me."
Green said that one day after Chapel during her sophomore year, she decided to take a picture of the stained glass and was determined to make it into a digital image. It took her quite some time, but Green enjoys the process of creating.
"I wasn't sure what it would be used for, or if it would ever be used for anything. Fast forward to last semester when Pastor Duncan asked me to be on the Theme Team  and we decided on "All-Surpassing Savior," said Green. "This image felt right, and everyone on the team agreed, so I got to work shoring it up to get to where it is now!"
Green says "to surpass" means to "exceed; be greater than," which is a powerful word to describe our all-powerful Savior!
"Each of us have been through trials, especially this past year, but we can find peace in our all-surpassing Savior who exceeds—and is greater than—anything this world throws at us!"
---
— Rachel Thoms served on Concordia University's Strategic Communications team from 2015-2022. Any inquiries about this story can be sent to news@cuaa.edu.
If this story has inspired you, why not explore how you can help further Concordia's mission through giving.