In 1949, Robert C. Appold purchased a plot of former farmland in Bay City, Michigan, and, with his own two hands, he set to work to construct a house that he and his wife, Alice, would one day fill with a family.
---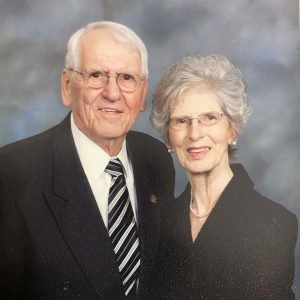 Together, the spouses turned that house into a home—a home that built up their four children into who they are today, leaders within The Lutheran Church-Missouri Synod as teachers and pastors.
The residence on Christy Way Court remained a home base for the Appold children for their entire lives, even when each one eventually packed their bags for Concordia's Ann Arbor campus and later moved into homes of their own. Only recently did they sell it. With their father's death in January and their mom having passed away years before, the siblings bid farewell to brick and mortar and closed on a sale to new homeowners in March of this year.
That foundation that Robert and Alice built decades ago still lives on, however, through their children's recent generosity to CUAA. The Appold children used a significant portion of the sale of their family home to start an endowment at Concordia. The Appold Family Scholarship Endowment will be awarded to an upperclassman student pursuing a degree in church work at CUAA.
"That house, and the home that our parents provided, was set up so that my siblings and I could grow in the faith," said Rev. Rob Appold, who is third in the sibling lineup. "Praise the Lord that we're all in a profession that passes that gift along to someone else, and now this is one step further. This is an endowment that can help pay that forward for another family."
Rob, who has served as senior pastor at St. Matthew Lutheran Church in Grand Rapids, Michigan for the past 16 years, says CUAA was a gift in many ways to each of the siblings, most notably in that it helped to further the faith formation begun at their baptisms. Rob also met his wife, Liz, at Concordia, and three of their four children have gone on to attend the university.
Beth (Appold) Krause, the second-eldest of the siblings, was the first to graduate from Concordia. In 1974, she earned her associate degree (CUAA was then just a two-year school), and is now retired after 39 years of serving at Lutheran grade schools in Michigan and Minnesota. Rob followed Beth, graduating in 1977 and then heading to the seminary where he graduated in 1983.
In the fall of 1980, the youngest of the clan, Paul, followed in Beth's path, and shortly afterward, Patrice, the eldest, followed as well. Patrice graduated from Concordia in 1983 and, soon after, accepted a call to St. John's Lutheran School in Bakersfield, California, where she now serves as principal. Rev. Paul Appold graduated in 1984, served as a 7th grade teacher and athletic director at St. Peter's Eastpointe until 1997, when he began studying at seminary, and now serves as pastor of Trinity Lutheran Church in Muskegon, Michigan.
Interested in creating your own legacy gift at Concordia? Consider taking advantage of our special matching gift opportunity. All single gifts of $2,500 or more toward a named endowment are eligible for a one-to-one match, which is a great way to double your efforts in establishing your family scholarship. Endowments reach full funding at $25,000. Contact Linda Sproul, director of donor and alumni relations, for more details: linda.sproul@cuaa.edu or 734-995-7491.
— This story is written by Kali Thiel, director of university communications for Concordia University Ann Arbor and Wisconsin. She may be reached at kali.thiel@cuw.edu or 262-243-2149.
If this story has inspired you, why not explore how you can help further Concordia's mission through giving.