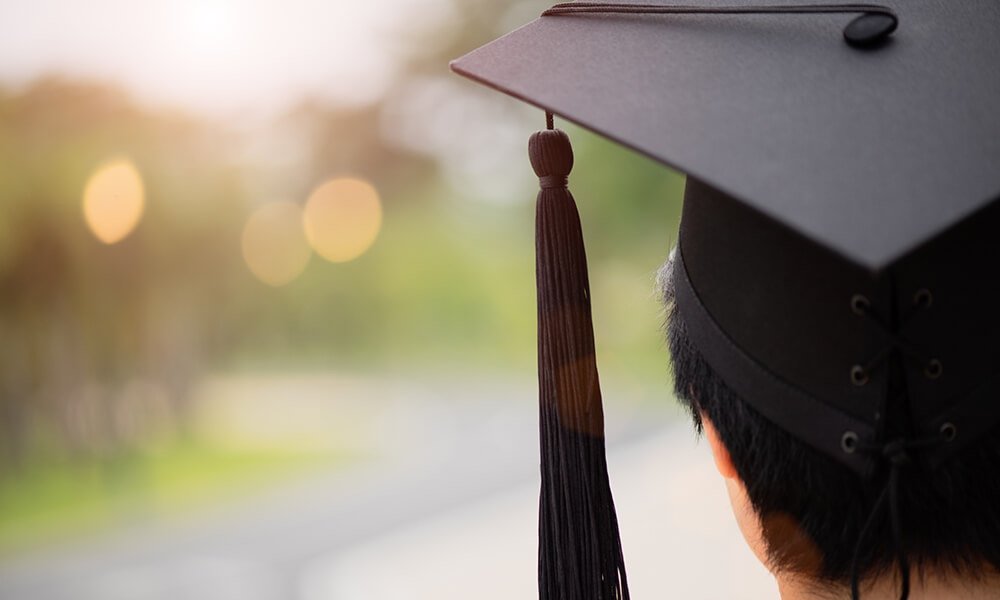 Concordia University Ann Arbor will celebrate 235 candidates for graduation during Virtual Commencement, which begins at 2 p.m. ET on Sunday, Dec. 13.
---
The 2020 Virtual Commencement ceremony will recognize both the undergraduate and graduate candidates who completed programs in May or December of this year. The December cohort contributes 68 candidates to the total.
As previously announced, two-time national champion, Heisman Trophy winner, and current ESPN analyst Tim Tebow will deliver the keynote commencement address. His pre-recorded address is expected to air around 2:30 p.m. ET, after an address from the CUAA student commencement speaker, Hannah (Biermann) Knehans.
Other special speakers/addresses will include:
CUW alumnus Tanner Olson, a published poet and spoken word artist, will open the ceremony with a commissioned piece for the Class of 2020 titled, "Before You Go".
Brief remarks will be given by academic school leaders, the director of church work placements, the assistant vice provost for academics, and CUAA's campus pastor.
Vice President of Administration Rev. Dr. Ryan Peterson will MC the event.
Provost William Cario, PhD, will present the candidates, and University President Rev. Patrick T. Ferry, PhD, will pronounce the formal conferral.
Names of individual graduates will not be announced during the virtual ceremony. Instead, a downloadable commemorative program is available online, and candidates' names are listed by their academic school at cuaa.edu/graduation.
Virtual Commencement will feature a combination of pre-recorded and live-streamed footage. The stream will be available for viewing beginning Sunday, Dec. 13 at 2 p.m. ET. Starting on Monday, Dec. 14, the Virtual Commencement stream will also be made available for on-demand viewing at cuaa.edu/graduation.
Student Commencement Speaker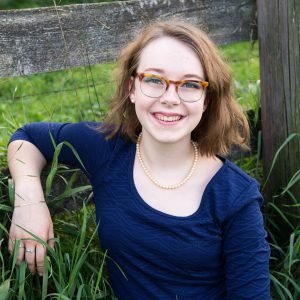 The student commencement speaker is Hannah (Biermann) Knehans, who will graduate with a Bachelor of Arts in Family Life Education, a minor in Church Work, and an emphasis in Children's Ministry. Having successfully completed her internship in Springfield, Missouri, Knehans will go on to serve as a Director of Family Life Ministry and as a Certified Family Life educator.
Knehans completed the on-campus requirements for her degrees in three years, but despite her fewer-than-average years at CUAA, she took full advantage of the opportunities Concordia afforded her. She was a faithful Daily Chapel attendee, invested much of her time in Campus Ministry and many of CUAA's music ensembles, and eagerly participated in mission trips and a study abroad opportunity to Israel. She also served in various roles as a Concordia Youth Ministries member, most notably as a student speaker for the Concordia Youth Gathering.
During her time at CUAA, Knehans exemplified the spirit of a true Concordia Cardinal through her perpetual encouragement of others and eagerness to be involved.
Knehans grew up in Grand Blanc, Michigan. Her parents are Todd and Heather Biermann. Her brother, Micah, also attends CUAA.
A comprehensive commencement experience
To pay tribute to its May and December 2020 graduates, Concordia created a digital commencement portal that will house the video for the Virtual Commencement ceremony, commemorative pieces including graduates' names, and a digital commencement celebration kit.
The commencement portal is available at cuaa.edu/graduation. Click below and take a moment to browse through the resources and opportunities that exist to celebrate you or your loved one's milestone achievement!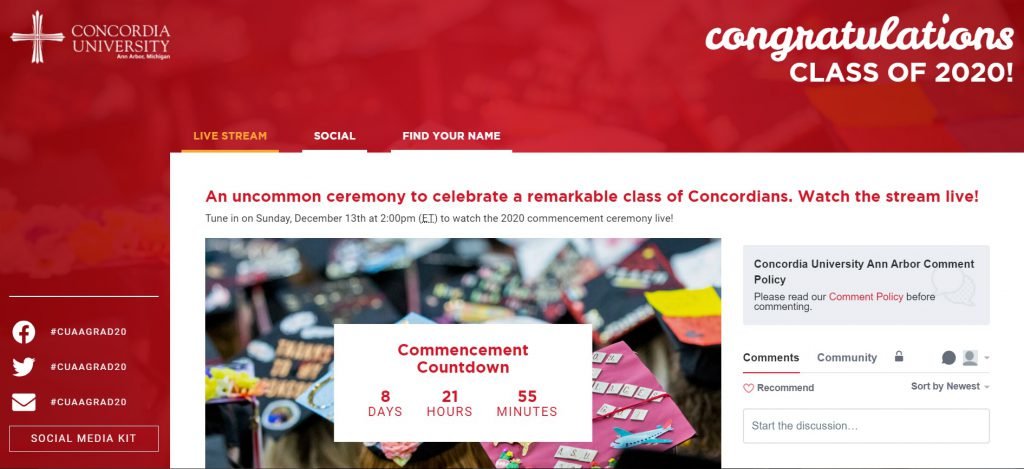 — This story is written by Kali Thiel, director of university communications for Concordia University Ann Arbor and Wisconsin. She may be reached at kali.thiel@cuw.edu or 262-243-2149.
If this story has inspired you, why not explore how you can help further Concordia's mission through giving.