---
Last week, business executives Marie Bullano and Taja Wilson stepped into the classroom to teach CUAA students essential career and communications skills.
---
Dr. Joey-Lynn Bialkowski-Peterson, Executive Director of Career Engagement and Industry Relations, invited two of her professional contacts to step into the classroom and present to students in both business and communication classes.
During Dr. Scott Chappuis's social media class, Bullano and Wilson spoke about how Bullano's company Walk from Home survived technology changes over the last 40 years.
About the Executives on Campus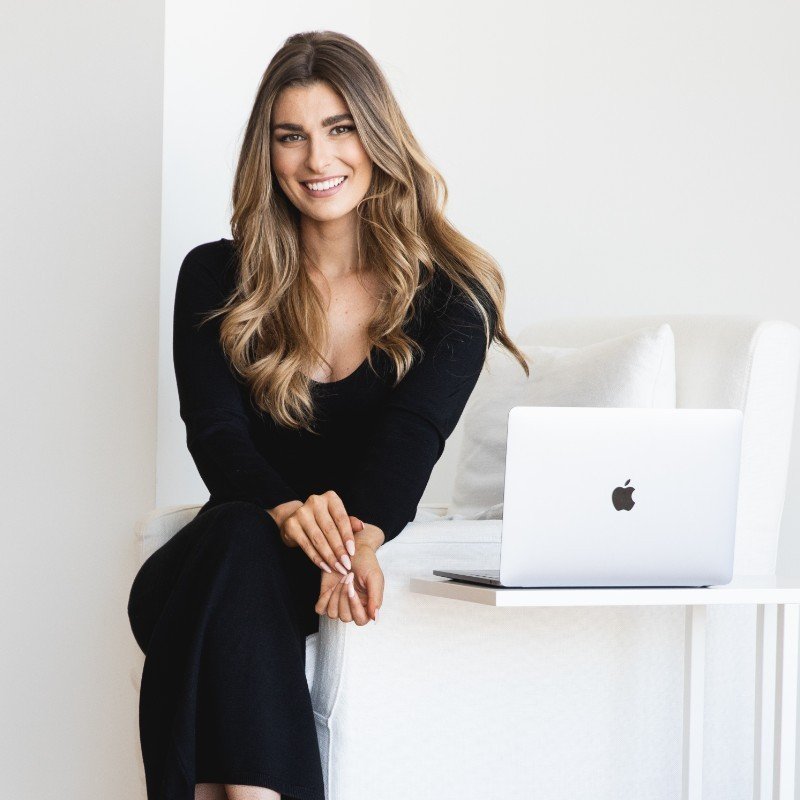 Marie Bullano
Marie graduated from New York University with a degree in Media and Communications. For the past several years, Marie gained expertise in video production, marketing, and digital strategy in the entertainment industry specifically the fitness sector. Marie oversaw the shift from a "DVD" brand to a "Digital-First" brand for Walk at Home. Marie has first-hand experience in a digital transformation of a legacy brand. Marie continues her education in the entertainment industry through executive education programs offered through UCLA and Harvard Business School.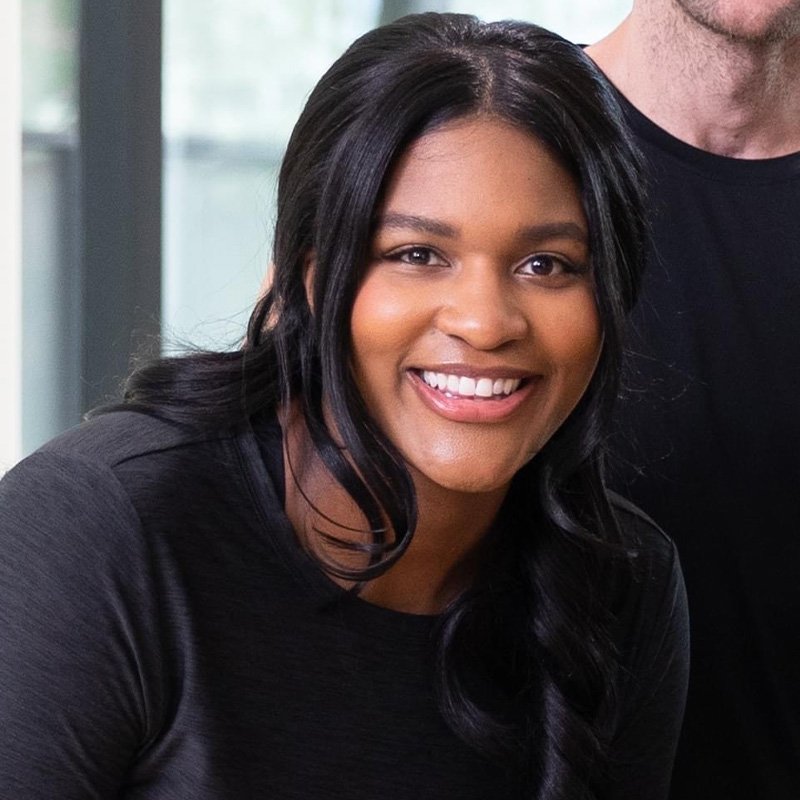 Taja Wilson
Taja Wilson is an Executive Director at the Walk Run Lift® Studio. She is also the Founder of SWEAT® Nothing. Taja entered the Sports Media world to explore her blended passion for Athletics, Entertainment & Fitness. In her position with the Walk at Home® Brand, Wilson takes pride in joining the mission of keeping Fitness exciting while making it accessible to Everyone. Taja is best known for her exceptional college basketball career at Michigan State University and Xavier University. She went on to earn a Master's degree in Business Administration (Sports), was a Producer for the Lifetime Television series "Dance Moms," and was an Editor/Reporter at ESPN where she remains a content contributor.
An active presentation
The presentation began with students out of their seats as Bullano and Wilson led a beginner walking workout. After students got their bodies moving, the dive into Walk from Home's history and technology adaptations began.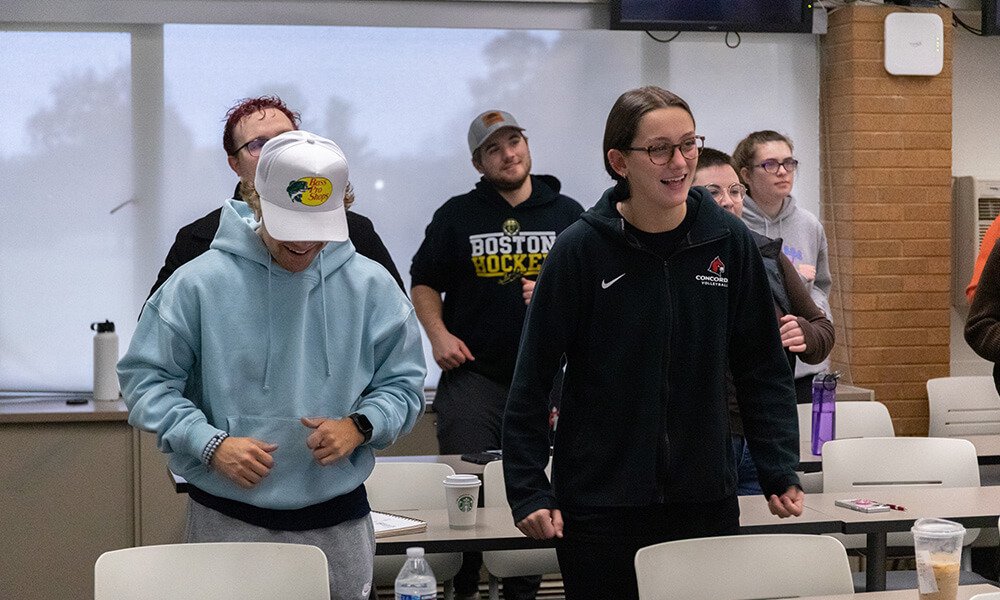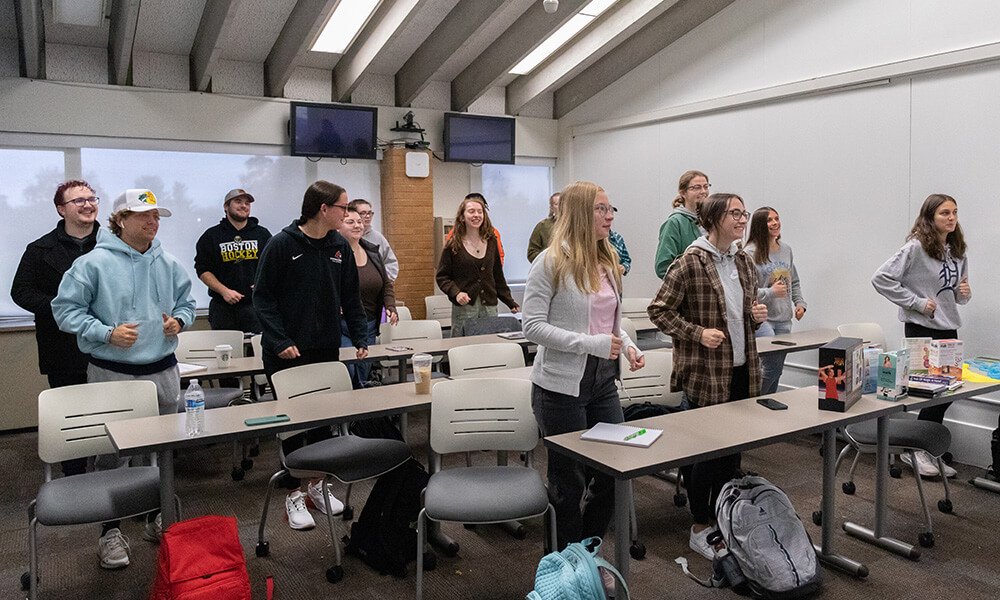 No matter the changes, customers come first
From a young age, we are told to take things one at a time, however, Bullano's approach to marketing for her business is quite the opposite. When asked by a student about how to analyze a company's audience, Bullano emphasized that "marketing by doing a few things (use Facebook, YouTube, Twitter, Instagram etc. to market) at once helps you learn what works and what doesn't. This ultimately helps you communicate with the audience you want to reach."
As a company that has survived the transition from VHS tapes to DVDs to the internet to mobile phones and apps, Bullano has identified three pillars of successful technology change.
Tech Partner (know your audience, who are you trying to reach?)
Marketing (assure the current customer that no product is instantly leaving the market and educate the customer about the changes ahead)
Customer Service (make sure the company's mission is always clearly communicated)
When a company utilizes these three pillars, it will be able to ensure success when adapting to current technology trends. The most important thing, however, is to put your audience first in consideration of technology changes.
If you want to maintain a loyal customer base, it is essential to know what content is needed depending on the media channel that is chosen to communicate. Every company using multiple social media platforms will have different segments of their audience on each of their platforms, that is why a company must take into account what each segment is looking for and provide for those specific needs rather than trying to push out the same content on all channels all the time.
---
When are more business leaders coming to campus?
For more information about our Executives on Campus series, contact the CUAA Career Engagement Studio at career.engagement@cuaa.edu or click the link below.
---