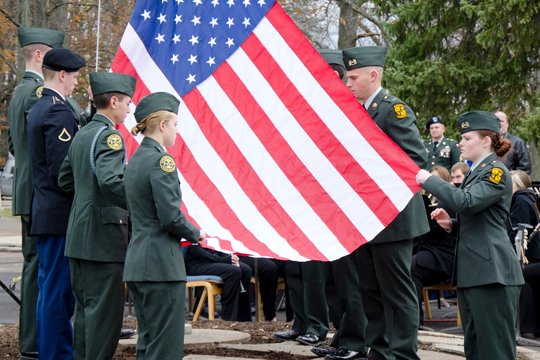 Concordia University Ann Arbor has been awarded a Silver-Level Veteran Friendly School designation from the Michigan Veterans Affairs Agency, one of 20 colleges or universities in the state to receive such a distinction.
---
"I attribute this recognition to all the hard work that Steven Van Oostenbrugge and certifying official Kristen Wuckert have done," said Keith Casey, Assistant Director of Community Outreach and Veteran Engagement at Concordia University Wisconsin. Van Oostenbrugge, PhD, MBA, CM, Concordia Ann Arbor's veterans resource center director, was notified of the award in late April.
Schools must attain a minimum of four of the seven criteria established by the agency to receive silver status.
Established process for identification of current student veterans
Veteran specific website
Active student veteran organization or club
Veteran-specific career services, resources, advising and/or outcome monitoring
On-campus veterans coordinator and/or designated staff point of contact
System to evaluate and award academic credit based on prior military training and experience
Monitoring and evaluation of student veteran academic retention, progress, and graduation rates
Gold designation is reserved for those schools meeting at least six criteria.
Concordia Ann Arbor currently has seventeen veterans enrolled in its program.  Both universities continue offering relief for individuals fighting an uphill battle to receive college credit for their years of military training, accepting up to 63 credits from veterans submitting an official joint service transcript and looking to maximize their GI benefits in obtaining their degree. That number far surpasses what most colleges and universities in Michigan and Wisconsin offer, according to a spokesperson for the U.S. Department of Veterans Affairs.
In 2015, Concordia University Wisconsin's veterans program became the first university in the state to open an American Legion Post on campus for veterans – Post 1881 – in recognition of the year it was founded. Several scholarships are available including The Tillman Scholarship, the premier academic fellowship for service members, veterans and spouses named in honor of former NFL star Pat Tillman, who played for the Arizona Cardinals.
Despite the worldwide pandemic, inquiries from veterans has been nearly the same at both campuses according to Casey, a retired United States Army colonel.
—
If this story has inspired you, why not explore how you can help further Concordia's mission through giving.