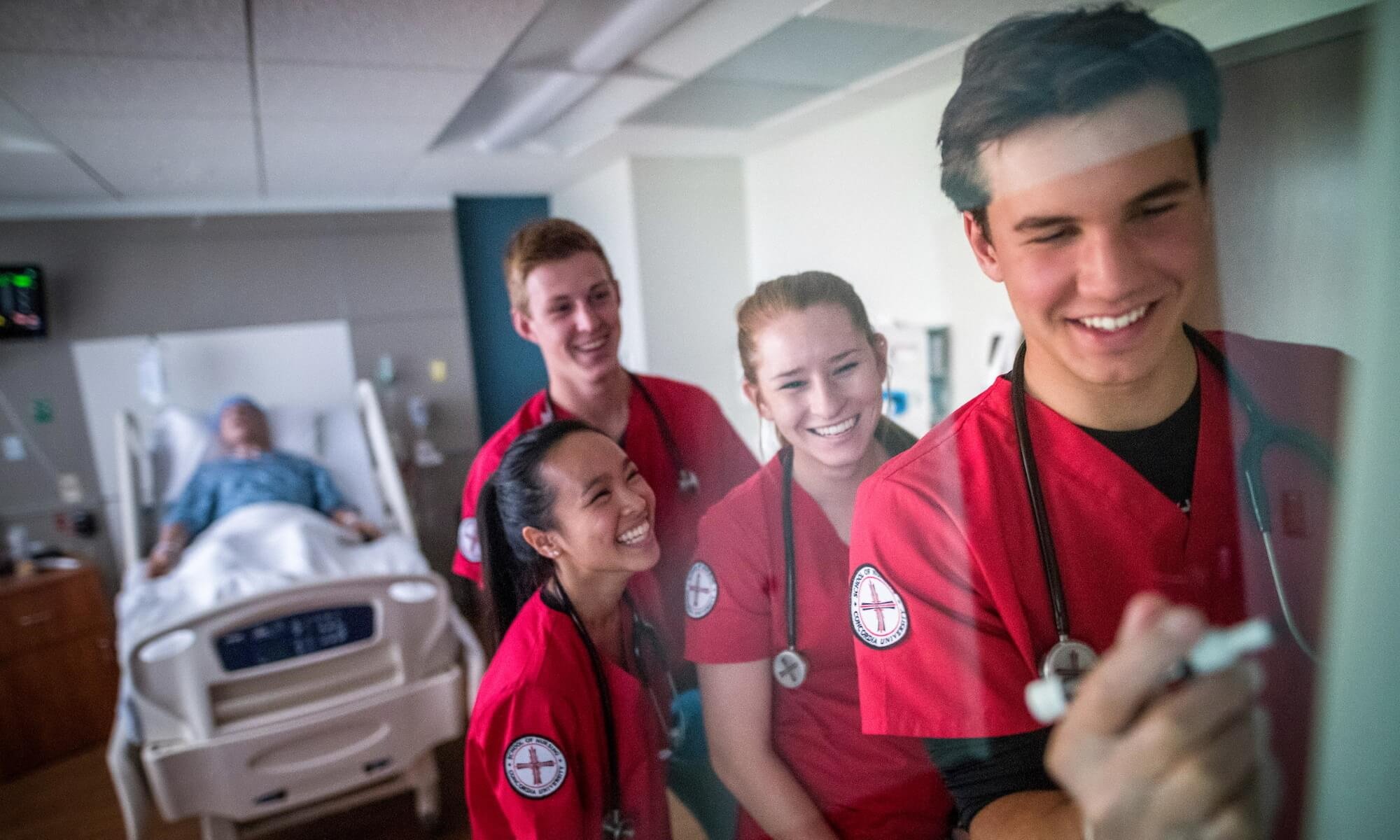 As many CU-Portland students continue to navigate their way through their school closure announcement, Concordia University Ann Arbor is extending an opportunity to provide real-time answers to students' questions and help them find their way.
---
CUAA is committed to making Portland students' transfer experience as seamless and successful as possible. To that end, we're providing two Zoom (Skype-style) sessions on Friday, February 21 that will cover topics including credit transfers and travel assistance specifically for students interested into the Bachelor of Science in nursing program.
While these sessions are specifically for students interested in nursing, we've committed to accepting all transfer credits from Portland students and formed a scholarship specifically for you. When you transfer to CUAA, you will join more than 1,000 students on campus and online who are actively engaged in service, leadership, and faith formation.
The School of Nursing Zoom sessions will provide opportunity to:
Talk in person to leaders in our Admissions and School of Nursing (i.e. They're sure to have the information you need!)
Receive real-time feedback and answers to your questions
Get a sense of the type of people you'll get to interact with at CUAA (We're kind of known for our close-knit community!)
Receive definitive and clear feedback on your next steps
When it'll happen
Zoom sessions will take place:
9 a.m. (PST) /12 p.m. (ET) Friday, Feb. 21
3 p.m. (PST) /6 p.m. (ET) Friday, Feb. 21
Who you'll talk with
Cindy Fenske, DNP, RN, CNE – Campus Dean, Associate Professor of Nursing
Deirdre Lozon – Assistant Director of Undergraduate Admissions and Transfer Admissions Counselor
Jesús Hernandez –Director of Enrollment, Student Enrollment and Engagement
About CUAA's School of Nursing
Concordia University Ann Arbor's School of Nursing is relatively young, launching classes in fall 2016, but benefits from some of the best resources within the Concordia University System and celebrates a team of nationally renowned faculty and staff experts.
Located just 3 miles north of CUAA's main campus in our "North Building," our nursing school boasts a state-of-the-art simulation center complete with five hospital rooms, eight clinic rooms, a 10-bed skills lab that acts as an emergency department, a three-room apartment, and a courtroom. The rooms are used daily as the setting for a variety of inpatient and outpatient simulations.
CUAA's nursing school is exceptional at skill-building. Not only does CUAA allocate more class hours to simulation than most of its competitors, the campus does not sacrifice valuable hands-on learning opportunities to do so. In any given week, students can expect to spend between 1 ½ to 5 ½ hours in simulations, at least double that of many nursing schools.
Learn more about our excellence in simulation here.
Come visit us!
If you decide a visit to our Ann Arbor campus is in order, we'd love to host you! We're providing vouchers that students can use for up to $250 toward your travel is you choose to visit campus by April 1. More details on the travel vouchers will be shared in the Zoom sessions.
One more thing
Concordia's Ann Arbor and Mequon campuses have received a high volume of Concordia Portland applications. Admissions personnel are working to review applications as promptly as possible. Please note there is an estimated three-day review period for transcripts after which an Admissions team member will be in touch to inform you of next steps.
Questions?
If you have questions about the information sessions, contact Assistant Director of Undergraduate Admissions and Transfer Admissions Counselor Deidre Lozon at Deidre.Lozon@cuaa.edu or 734-995-7312.
— This story is written by Kali Thiel, director of university communications for Concordia University Ann Arbor and Wisconsin. She may be reached at kali.thiel@cuw.edu or 262-243-2149.
If this story has inspired you, why not explore how you can help further Concordia's mission through giving.