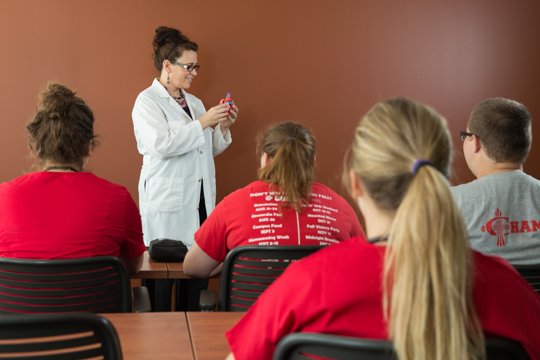 Concordia University Ann Arbor announced this week two recent hires who are among the first to join the University's School of Nursing faculty and staff.
---
Kathie Pereira, RN, was hired as nursing skills center coordinator, skills lab instructor, and clinical liaison. Anita Simmons, RN, joins the faculty as CUAA's simulation laboratory coordinator and director of Interprofessional Education (IPE). Both women began on Monday, April 18.
Concordia's new School of Nursing is located less than three miles north of CUAA's main campus in a former law school. Students who enrolled in the pre-nursing program at CUAA this spring will be among the first crop of students to begin their nursing program in the freshly renovated building this fall.
With its new program, Concordia is dedicated to training high-caliber Christian nurses who will bring a passion for patient-centered care into a wide range of healing contexts, said Dean Cindy Fenske, DNP, RN, CNE.
"I am confident our newest employees will be a great fit for the goals we have in mind for our new school," Fenske said. "There is an excitement in the air on campus that will continue as more faculty and staff are hired and as we get closer to welcoming the first nursing cohort in the fall."
Pereira brings with her eight years of experience as a registered nurse in general, progressive, and intensive care units. Her most recent positions, at Saint Joseph Mercy Hospital and on the Washtenaw Community College nursing faculty, provided her with relevant teaching experiences, specifically precepting new and experienced nurses and instruction in a clinical setting.
Pereira received her Bachelor of Arts from Concordia and her Bachelor of Science Nursing from the University of Michigan.
"I'm excited to be part of a University that will be placing good, quality nurses into the community," said Pereira. "Nursing is a difficult profession and we will have a high standard to produce nursing students who are confident and good at what they do."
As the first faculty member hired to the nursing school, Simmons has gained experience over the past several years instructing students within the clinical and lab settings. She also has a specific interest in the growing field of simulation, which will benefit Concordia nursing students as they critically problem solve situations they will encounter with their patients but in a safe, simulated environment.
"A big learning piece with simulation is debriefing in small groups afterwards," said Simmons. "We typically videotape simulations so we can discuss with the students what occurred, why they made certain decisions, and how they can improve."
Simmons most recently served as director of the nursing learning lab for Lourdes University in Ohio, managing the day-to-day operations of the skills/simulation lab, and as an adjunct clinical/lab instructor for the RN/PN programs at Monroe County Community College in Monroe, Michigan.
She received her Bachelor of Science in Nursing degree from Anderson University in Indiana, and her Master of Science in Nursing degree from Lourdes University.
Both Simmons and Pereira say they are eager to begin working with the nursing students when the school launches its first classes in the fall.
To apply to the Concordia University Ann Arbor School of Nursing, click here.
— Rachel Thoms served on Concordia University's Strategic Communications team from 2015-2022. Any inquiries about this story can be sent to news@cuaa.edu.
If this story has inspired you, why not explore how you can help further Concordia's mission through giving.