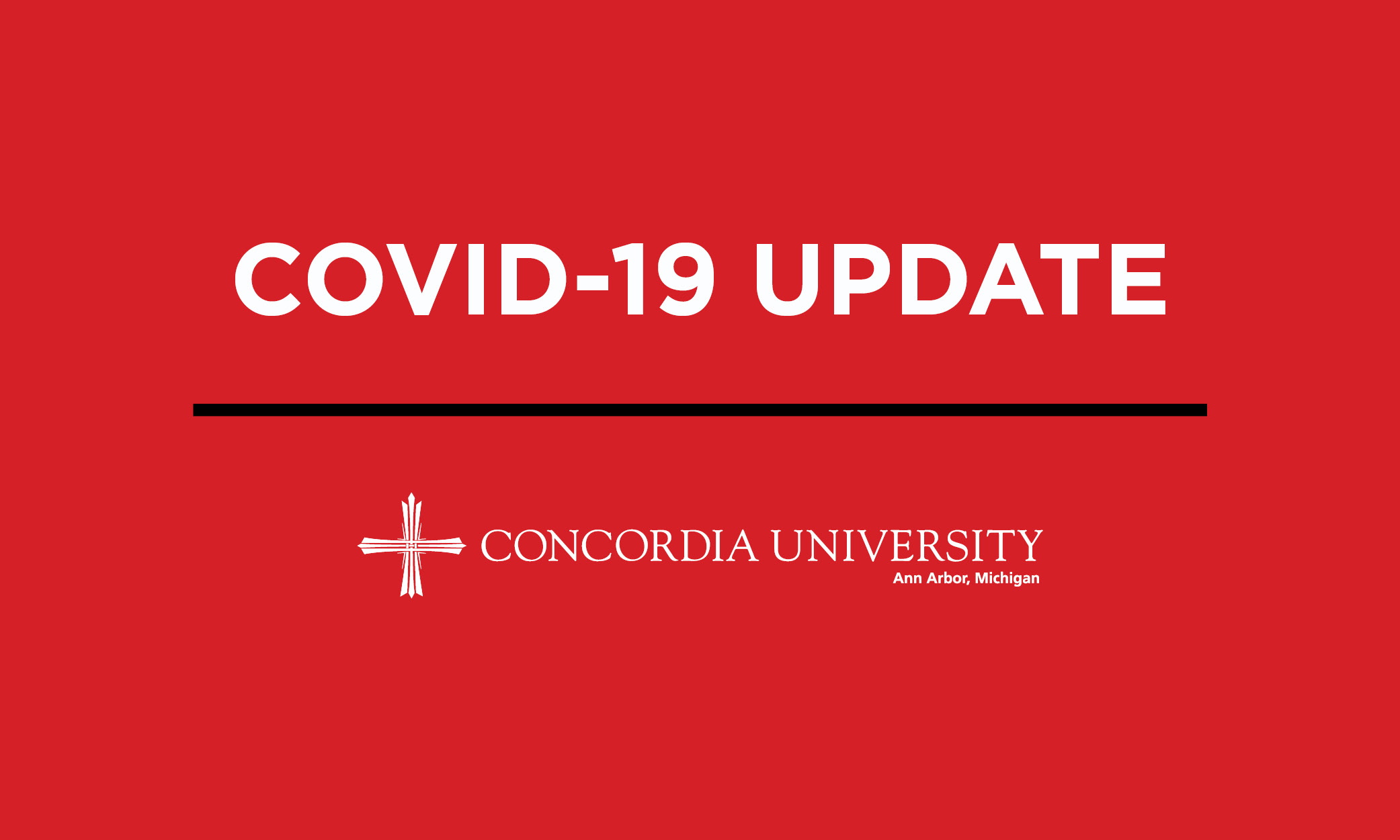 A message from Rev. Patrick T. Ferry, Ph.D, president of Concordia University Wisconsin and Ann Arbor, to students on March 17, 2020.
---
Dear Concordia Community,
We know you are following the fast-changing reports about the COVID-19 pandemic. These are challenging times. Daily the CDC, federal government, and state authorities recommend new measures to slow the spread of this disease. Social distancing and increased hygiene continue to be the best ways to reduce exposure and spread. We are fortunate that with your help and cooperation we already have moved to teach our courses online, limit campus activities, cancel or postpone events, intensify cleaning and hygiene, and take precautions to protect you, our employees, and our broader Concordia community. Know that the prayers of your Concordia leaders are daily lifted for you.
NEW ACTIONS: Out of an abundance of care, we are taking several significant new actions based on the evolving situation. To fully implement each of these will take some time, and we will continue to make information available as quickly as we can.
1.    We made the decision today to finish the academic semester online. Concordia University Wisconsin and Ann Arbor suspended face-to-face on-ground instruction effective Monday, March 16. All courses (including labs) are being delivered online (through Blackboard, Zoom, Panopto, etc.). This alternate delivery will continue through the end of the traditional spring term. The accelerated Center-based term slated to begin May 11 will be determined in the coming weeks.
2.    Graduation: Students will be able to complete the semester and have their degrees conferred. You can expect to graduate on time.
3.    Commencement: We have not made a decision about how and when to celebrate Spring Commencement 2020. The new CDC and state guidance and the spread of the pandemic will certainly affect our planning. It is our intention to make this decision at least 30 days before the current Commencement date.
4.    University Housing: 
a.    The majority of students living in residence halls left for Spring Break, but some did not or were unable to leave for a range of reasons (e.g. international students). For those who stayed in university housing, please be assured that we will continue to provide housing, food, and support as we work with you to find a solution that fits your circumstances. If you are a current residential student and do not have access to adequate housing for the remainder of the semester, please directly contact Dr. Steve Taylor, Vice President for Student Life (Wisconsin) or Dean John Rathje (Ann Arbor).
b.    We will soon determine our plan for pro-rating refunds for university room and board. We are working through the complexities of how best to do this. We will not have a specific plan or answers for a couple of weeks.
c.     If you left university housing, you should not return to retrieve your belongings until we establish a safe and orderly process to do so. We have limited access to many places on campus in order to meet state-mandated social distancing requirements and to protect the health and safety of those who are still living and working on campus. Residence Halls will be locked and your belongings will be safe. We know this is important to you and we will have more information in the coming days.
d.    Additional communication will be sent directly to resident students from Student Life with these specific details. Please check your Concordia email frequently.
5.    Campus Buildings and Centers: Most buildings, including the library, the bookstore and recreational facilities will not be publicly accessible until further notice. Library resources and services will be available online to assist with studies and research. We emphasize the need to exercise social distancing and hygiene as recommended in every location.
6.    On-Campus Dining: We are working with our partners at SODEXO to provide food service for the limited number of students who may have to remain on campus. The cafeteria will not be open to the general campus population.
7.    Campus Events: Out of an abundance of care for our fellow community members, all campus events on Concordia's campuses are cancelled and/or postponed through April 30, 2020. Many campus activities and events are transitioning to an online format. The Falcon Flyer (at Wisconsin) and the Concordia Current (Ann Arbor) will continue to be delivered by email each week with important updates for these activities. Please continue to use the Campus Calendar to schedule events so that we can continue to coordinate and promote your activities, even though they are happening online.
We will continue to evaluate all of these plans as we understand more fully the extent of the pandemic.
QUESTIONS AND INFORMATION: We understand how worrisome and difficult this is for everyone, and that our decisions affect each of you differently. Your administration, faculty, and Concordia staff are working together at every step to serve you, answer your questions, and support your learning. Please stay up-to-date on our website, through university social media, and certainly through direct communication with us.
You can help us too by staying current with our updates. We will use these updates to announce new actions, answer common questions, and guide you to the best places to receive assistance on specific topics.
IN CLOSING: We understand that all of you are grappling with the impact of this pandemic on your families, work, health, and financial situations. Thank you for your patience in such difficult circumstances.
____
We Are Concordia; hearts together. I am grateful for you. I am grateful for the care our administrators, faculty, and staff are taking to address so many critical issues. I am grateful for those working tirelessly to keep our University moving forward, serving students in mind, body, and spirit, and equipping each of you to live with uncommon purpose.
Most significantly, I am grateful to our loving God. Certainly, this is an unprecedented time for all of us. Not so for Him. His eternal presence is with us; and every hardship is won for us in Christ. It remains my prayer that you are daily strengthened in faith.
In Christ's Service and Yours,
Rev. Patrick T. Ferry, Ph.D
President
—
If this story has inspired you, why not explore how you can help further Concordia's mission through giving.